Invesco will launch the International BuyBack Achievers ETF on Feb 27
Thanks to a subscriber for this note which appeared on Seeking Alpha which may be of interest to subscribers. Here it is in full:
Invesco's (IVZ) ETF manager, PowerShares Capital Management LLC, is running with the success of the BuyBack Achievers Portfolio (PKW) and is launching its global counterpart at the end of February.

The International BuyBack Achievers Portfolio (IPKW) will provide access to global corporations that have effected a net reduction in shares outstanding of 5% or more in the trailing 12 months.

In a press release, Lorraine Wang, Invesco PowerShares global head of ETF products and research stated: "Our U.S.-focused flagship, PKW, has achieved a competitive long-term track record demonstrating the investment merit of the BuyBack Achievers methodology, and more broadly of smart beta. IPKW expands the range of tools investors can use to efficiently allocate the BuyBack achievers strategy across the globe."
Record low interest rates, abundant liquidity and tight corporate bond spreads have resulted in a perfect environment for companies to buy back their shares. This has allowed corporations to optimise their weighted average cost of capital by retiring older more expensive loans and to buy in equity, which in some cases has an implied yield in excess of that on the company's bonds. Buying back shares also flatters earnings per share, which is an additional motivation not least in a deteriorating top line growth scenario.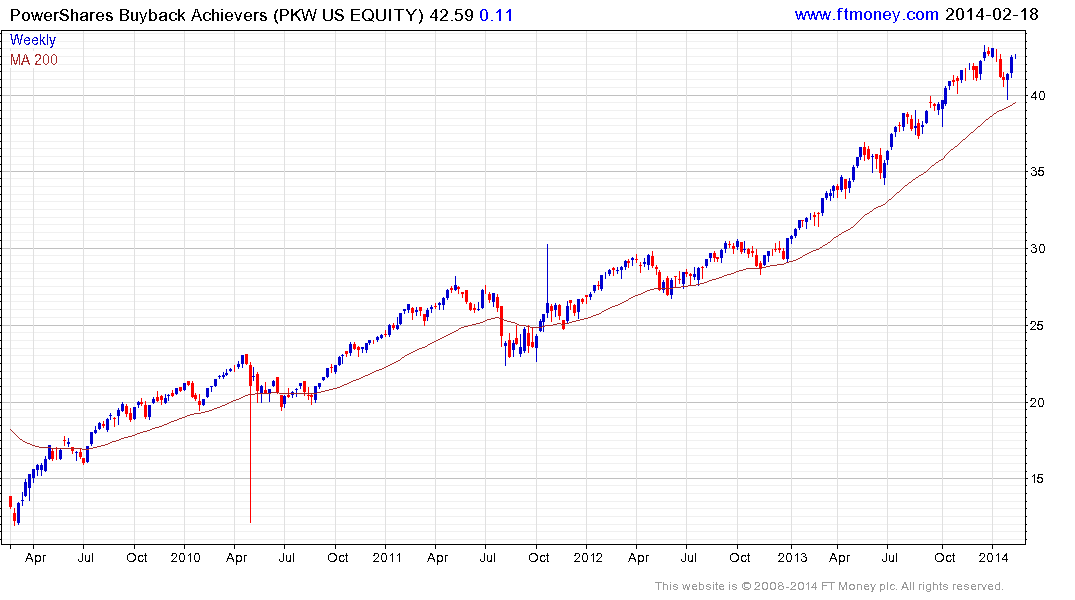 Buybacks have been most popular in the USA where companies have profited from the Fed's quantitative easing program and the Powershares Buyback Achievers ETF (PKW) has outperformed the wider market by significant margin. As European economies steady the potential for companies to access similar credit lines and buyback their shares is increasing. This should act as a tailwind for equity markets in the region. It remains to be seen just what Invesco's ETF will hold but it is likely to be an interesting proposition nonetheless.
Back to top