Invesco PowerShares Expands Smart Beta Suite with International BuyBack Achievers ETF
This press release may be of interest to subscribers. Here is a section:
BuyBack Achievers are companies that have effected a net reduction of 5% or more of their outstanding shares in the past 12 months, and have met additional criteria in accordance with the guidelines and mandated procedures of the NASDAQ OMX Group, Inc., the underlying index provider.

"Our US-focused flagship, the PowerShares BuyBack AchieversTM Portfolio (PKW) has achieved a competitive long-term track record demonstrating the investment merit of the BuyBack Achievers methodology, and more broadly of smart beta" said Lorraine Wang, Invesco PowerShares global head of ETF products and research. "The PowerShares International BuyBack Achievers Portfolio (IPKW) expands the range of tools investors can use to efficiently allocate the BuyBack Achievers strategy across the globe."
Corporations have made abundant use of Fed largesse to optimise their weighted average costs of capital. They have borrowed record sums to refinance legacy debt buy back shares and increase dividends. These actions have helped improve earnings per share, reduce interest payments and satisfy investor demands for yield. As a result the Buyback Achievers ETF (PKW) has outperformed the wider market over the last few years.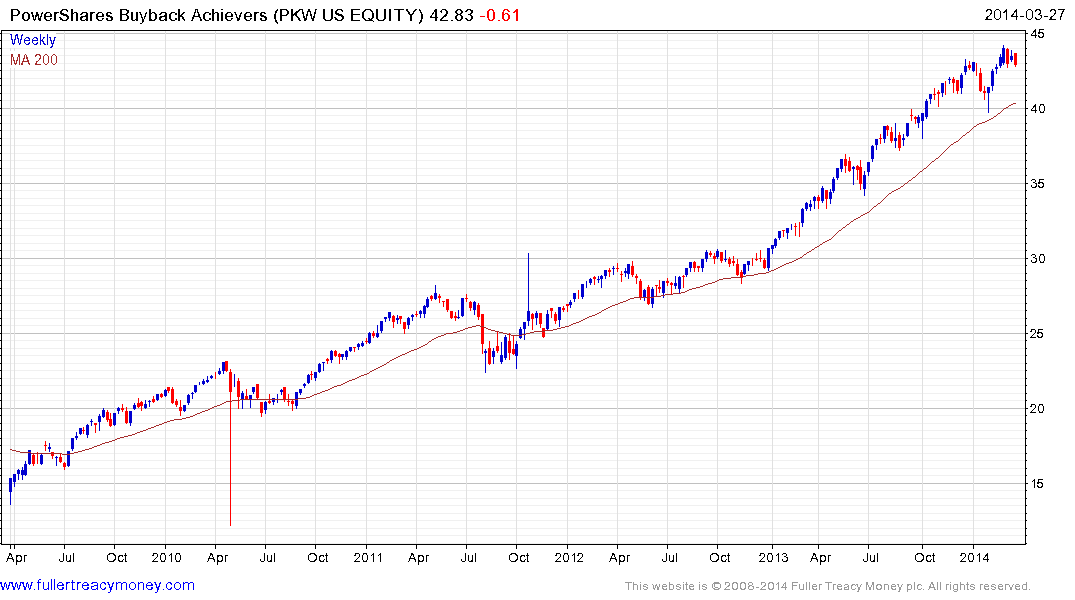 The pace of buybacks has been much less prevalent elsewhere not least the Eurozone where corporations have no history of attempting to curry favour from investors at quarterly meetings. Dividend growth also tends to be less of priority for European companies. For example, while a company needs to increase dividends for 25 consecutive years to gain entry to the S&P 500 Dividend Aristocrats Index, the hurdle for entry to the S&P Europe 350 Dividend Aristocrats is only 10 years.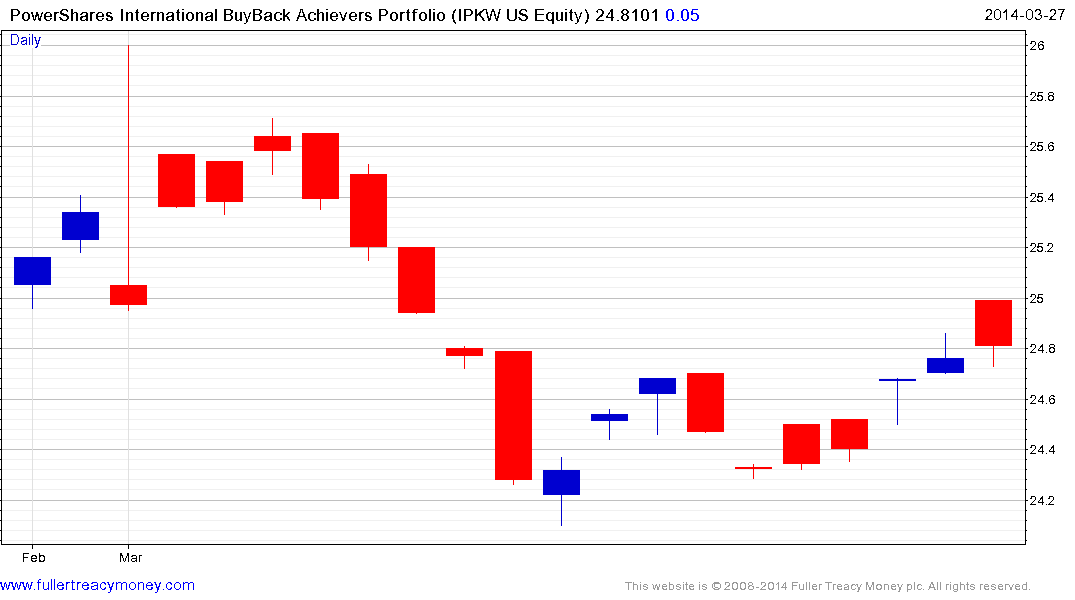 It is therefore notable that the new International Buyback Achievers ETF is most heavily weighted by Japan (28.56%), UK (21.87%) and Canada (13.65%). Despite the fact that Eurozone companies could benefit from buybacks and certainly have access to cheap credit to fund such operations, there is little evidence yet that they have opted for that route. While buybacks are generally positive for the share prices of the equities concerned, I wonder if the International version will be able to replicate the performance of its US parent.
Back to top