Inventory Woes Lead to Another Margin Miss
This article from Bloomberg may be of interest to subscribers. Here it is in full:
Concerns about company margins have been in focus as stock prices have slid this year. Another major US corporation is reporting a miss, which may add to anxiety about the upcoming earnings season.

Nike's fourth-quarter gross margin trailed estimates, with an 80 basis-point drop from the prior year, due to what the firm said were higher inventory "obsolescence reserves" in China, along with elevated freight and logistics costs. Production issues amid Covid shutdowns have been resolved, but shipping logjams are still an issue, boosting inventory as many items were stuck in transit.

Earlier this month, bellwether national supermarket chain Kroger also reported a profit-margin miss, because of some price cuts and higher supply-chain costs. That was exactly the combination of factors that's been a source of worry about corporate profitability.

Nike shares initially popped in postmarket trading, but pared some gains. Watch for more from the company on its 5pm conference call. Meantime, big banks, like JPMorgan, BofA and Morgan Stanley, are announcing their shareholder payout plans in the wake of the Fed's stress tests; shares were mixed with JPM dipping slightly.
Nike is another company dealing with high inventory levels. That's stranded capital until the excess levels are worked off. Given the seasonal nature of many product lines and the industry practice of bringing out new designs on a regular basis, there is a clear scope that significant discounting will be required to clear stock levels. That's good news for consumers, less so for Nike.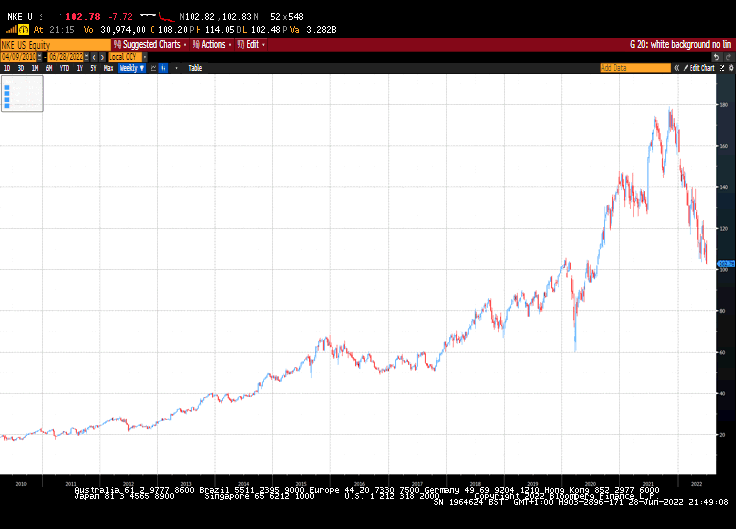 The challenge is that most customers overordered during the pandemic because they were worried about not being able to secure stocks in a timely manner and demand was breaking records. Now we have the opposite issue. Demand is very likely peaking and supply is freeing up as China's most recent COVID scare abates. It is very likely this same dilemma will become apparent in a large number of companies as this earning season kicks off.
Nike remains in a consistent downtrend and closed at new reaction lows today.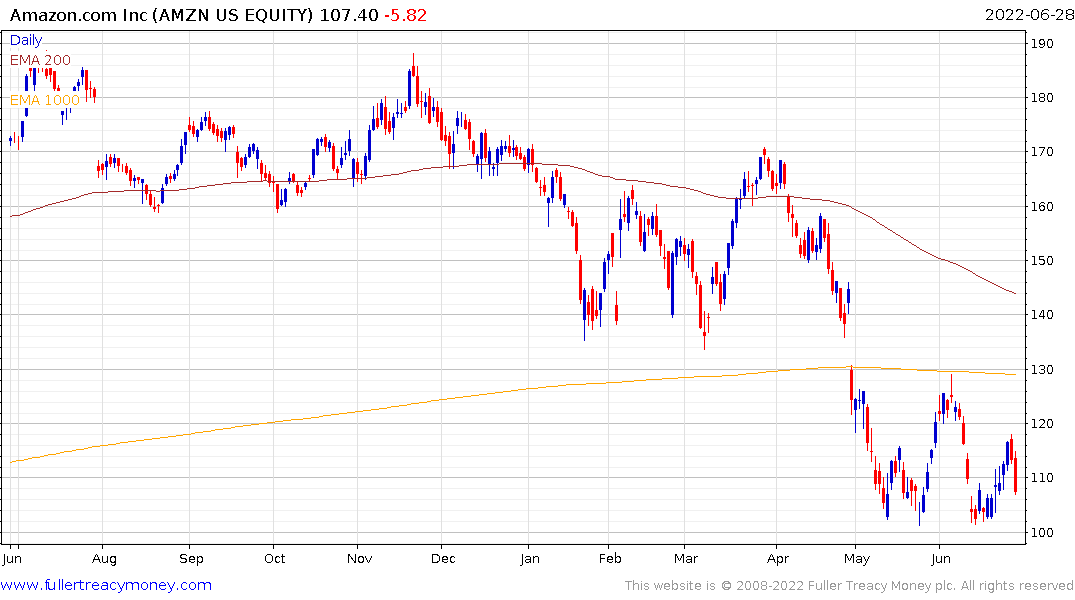 Amazon encountered resistance in the region of the 1000-day MA in two weeks ago and continues to distribute below that level. This remains a consistent downtrend.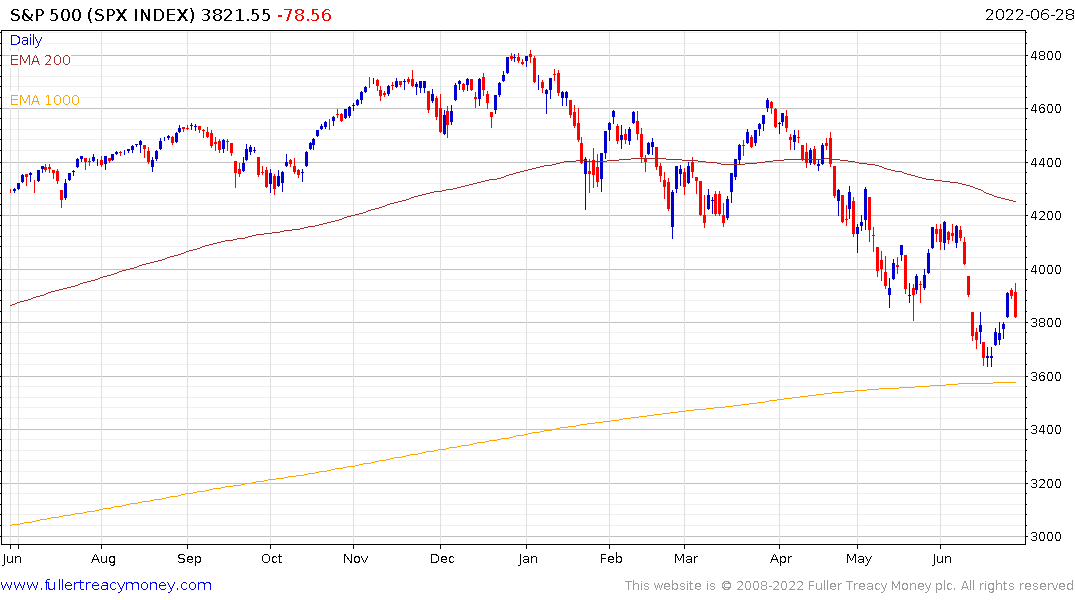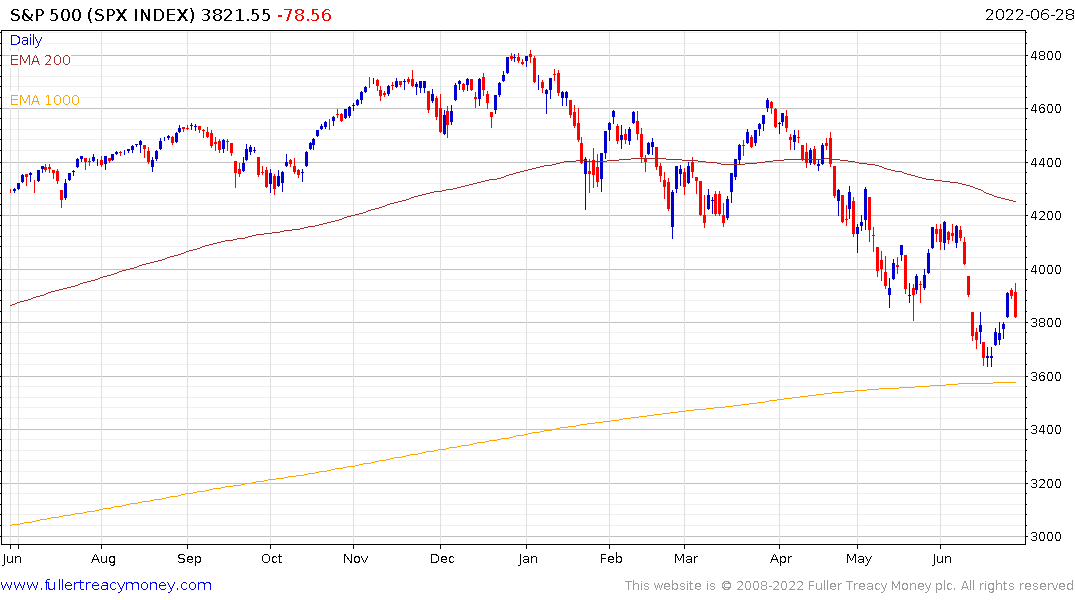 Both the S&P500 and Dow Jones Industrials Average posted downside key day reversals today and the Nasdaq-100 fell more than 3%.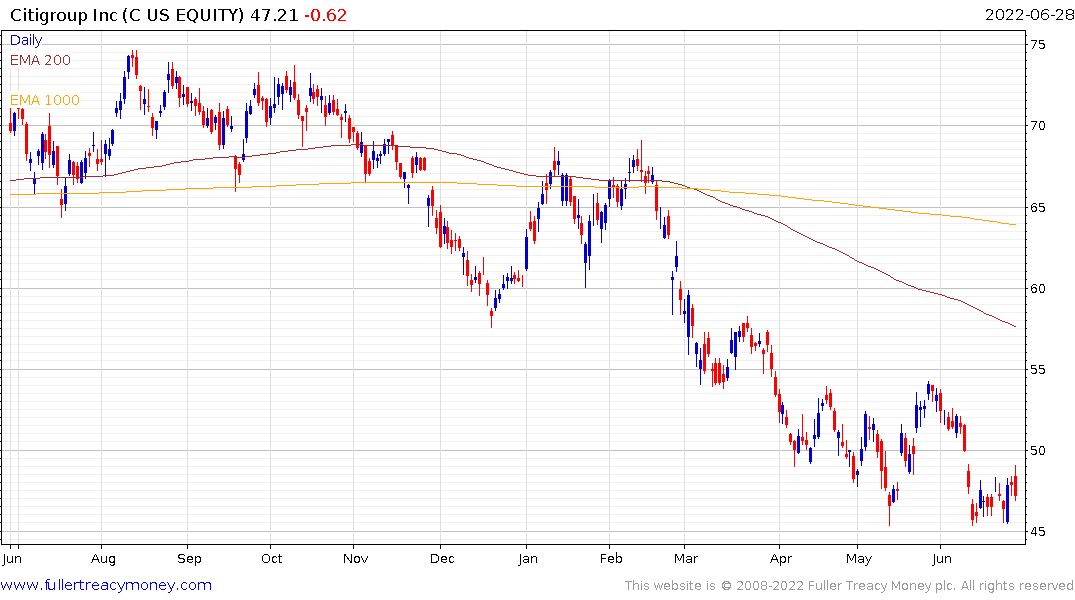 Dividend yields in the banking sector are improving. Citigroup now yields 4.3% even as the share trends lower.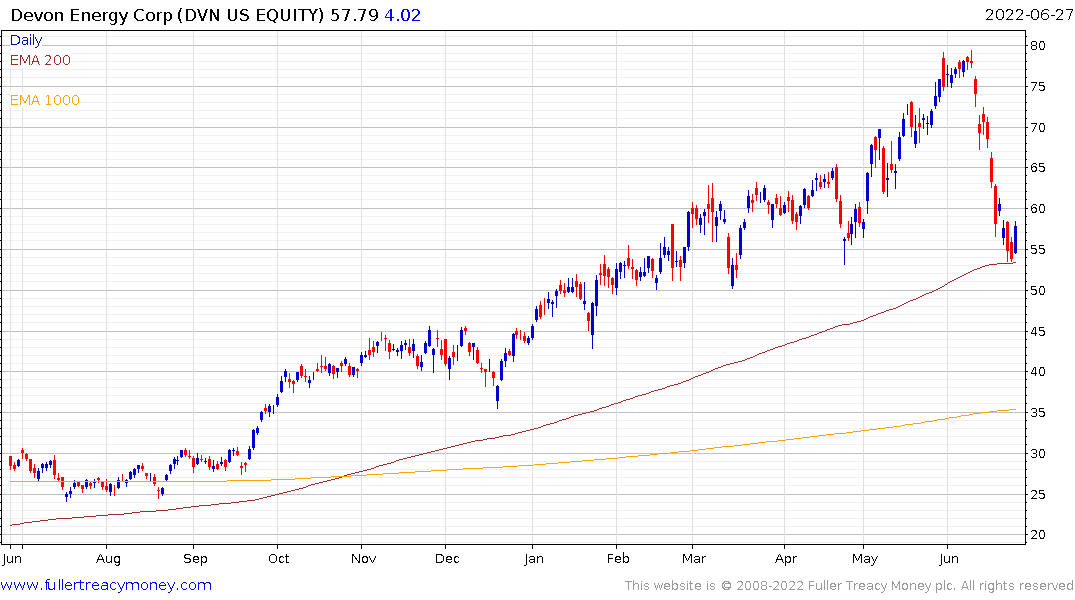 In the energy sector, Devon Energy pulled back sharply with the natural gas price following the temporary shut down of US export capacity. It is now firming from the region of the trend mean and yields 8.57%.
Back to top