Introducing One of the Fastest Electrodes For Batteries in the World
This press release from Nawa Technologies may be of interest to subscribers. Here is a section:
Breakthrough technology, based on patented Vertically Aligned Carbon Nanotube (VACNT) design, will bring revolutionary improvements in power, energy, lifecycle and charging time

NAWA's Ultra Fast Carbon Electrode is the fastest in the world, combining highest ionic, electrical and thermal conductivity

Revolutionary nano-sized 3D design means batteries are no longer limited by powder-based systems; increased performance for all batteries, particularly those in electric vehicles

Technology can improve power by a factor 10, energy storage by up to three, lifecycle by up to five and reduce charging time down to minutes instead of hours

Can be used with existing and advanced new battery chemistries; improved safety and more
eco-friendly with less reliance on rare-earth materials too

​NAWA's design can bring significant cost savings – electrodes account for almost 25 per cent of the cost of a battery while today's global lithium-ion battery market is worth in excess of $35 billion (Avicenne report 2019)
There is a great deal more money being invested in battery R&D today than a decade ago. It takes time for innovations to reach commercial utility but they do come eventually. Nama Technologies expects to have the first iterations of its technology available for sale in 2022. Considering the average time of about 4.5 years to double energy density that's about on schedule. It will also coincide when Tesla upgrades are expected to hit the market.
NAWA's first customer is Saft Groupe which was acquired by Total in 2016. The major oil companies are investing heavily in the future of energy because they have no choice. Fossil fuels are increasingly facing stiff regulatory and public opinion headwinds. At the same the march of technology is forcing companies to tackle competitive forces for the first time.
Hydrogen is being championed as an alternative by some because natural gas remains the primary feedstock for its production. Recharging stations and utility scale electricity buildouts are another alternative because batteries need to be charged. At least these represent growth potential and have scope for income production.
Meanwhile, the rationale for spending money on exploration or expensive production continues to weaken. The removal of secular growth arguments from the oil sector is playing havoc with the valuation of energy companies.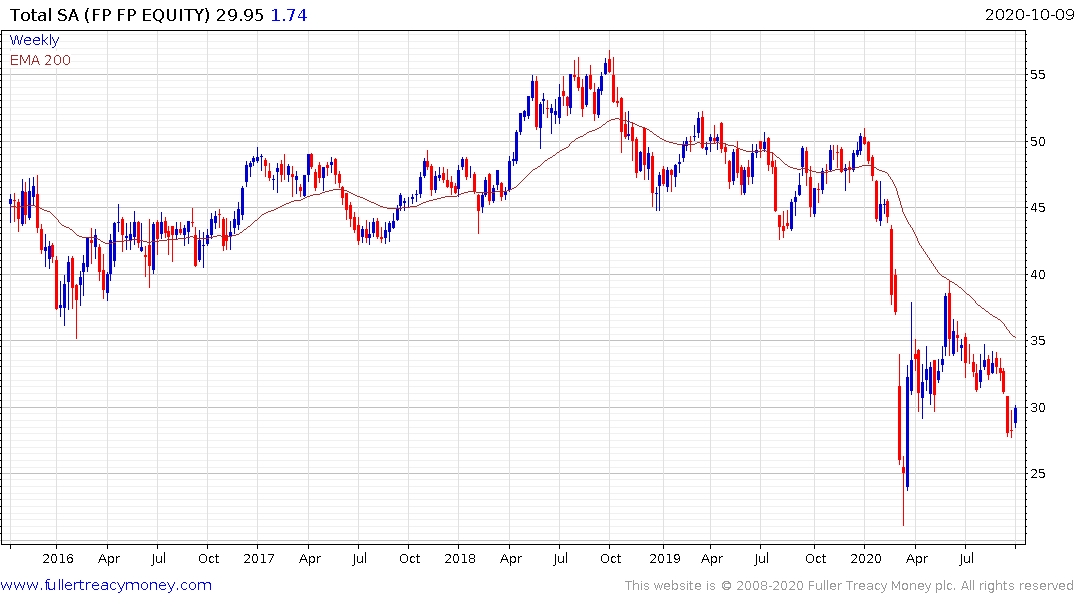 Total has steadied over the last week but will need to hold the recent low if recovery potential is to be given the benefit of the doubt.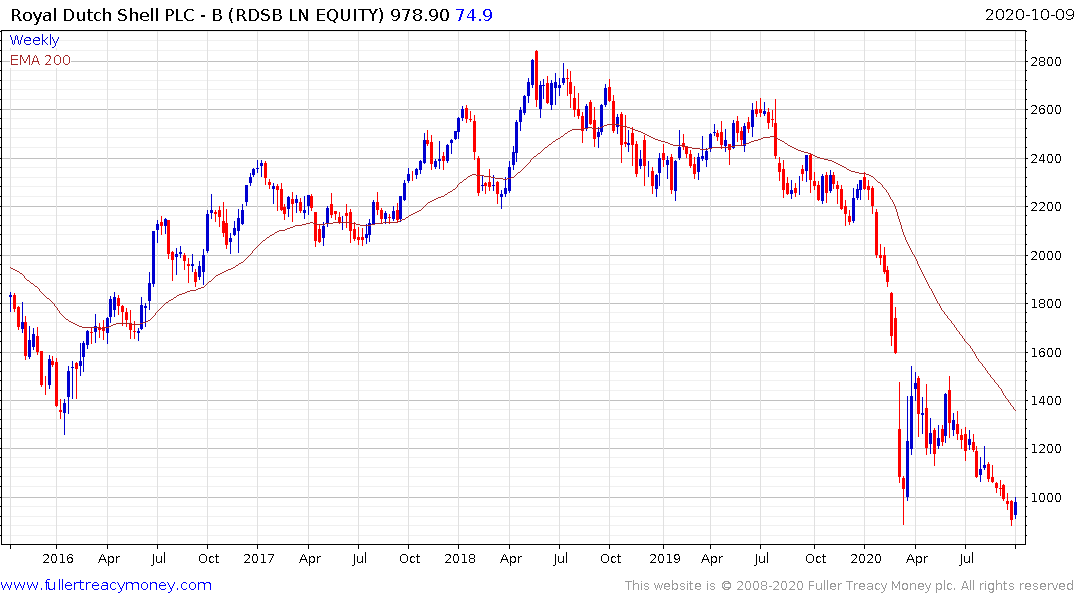 Royal Dutch Shell rallied this week to test the near-term sequence of lower rally highs. It will need to at least sustain a move back above the psychological 1000p level to confirm a return to demand dominance beyond short-term steadying.
Back to top