Insurance executive says death rates among working-age people up 40 percent
This article from WYFI.org may be of interest to subscribers. Here is a section:
"We're seeing right now the highest death rates we've ever seen in the history of this business," said Scott Davison, the CEO of OneAmerica, a $100 billion life insurance and retirement company headquartered in Indianapolis.

"The data is consistent across every player in the business."

Davison said death rates among working age people – those 18 to 64-years-old – are up 40 percent in the third and fourth quarter of 2021 over pre-pandemic levels.

"Just to give you an idea of how bad that is, a three sigma or 200-year catastrophe would be a 10 percent increase over pre-pandemic levels," Davison said. "So, 40 percent is just unheard of."

He said the data shows COVID deaths are greatly understated among working age Americans.

Davison says OneAmerica expects to pay out more than $100 million in short- and long-term disability claims due to the pandemic.

"Whether it's long COVID or whether it's because people haven't been able to get the health care they need because the hospitals are overrun, we're seeing those claims start to tick up as well," he said.

Because of this, insurance companies are beginning to add premium increases on employers in counties with low vaccination rates to cover the benefit payouts.
Middle aged people have been dying at an increasing rate in the USA over the last decade. Poor lifestyle habits, suicide, and an opioid epidemic contributed to that condition. Now the pandemic has resulted in an acceleration of the trend.
This kind of statistical aberration is an anomaly for actuarial tables. The other side of the argument is the class divide between the vulnerable people dying early, and those who pay life insurance premiums means companies have some build in insulation from this issue. They are raising premiums more to control for higher bond yields than the above narrative but it certainly makes for a compelling rationale.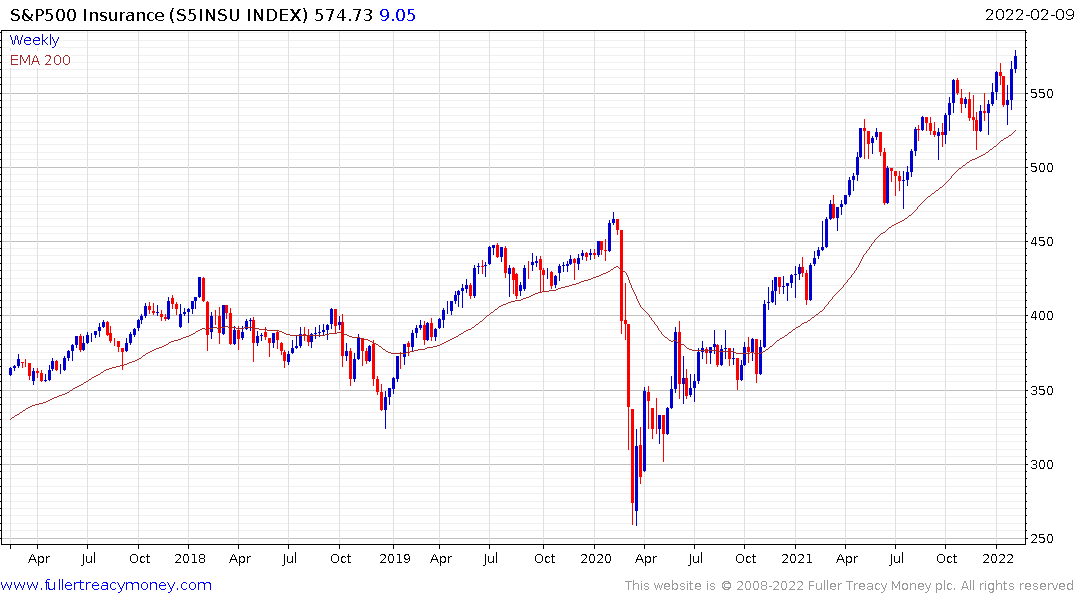 The S&P500 Life & Health Insurance Index has six constituents (Aflac, Globe Life, MetLife, Principal Financial Group, Lincoln National Corp and Prudential Financial). They have a great deal of commonality and the sector is breaking out in line with Treasury yields.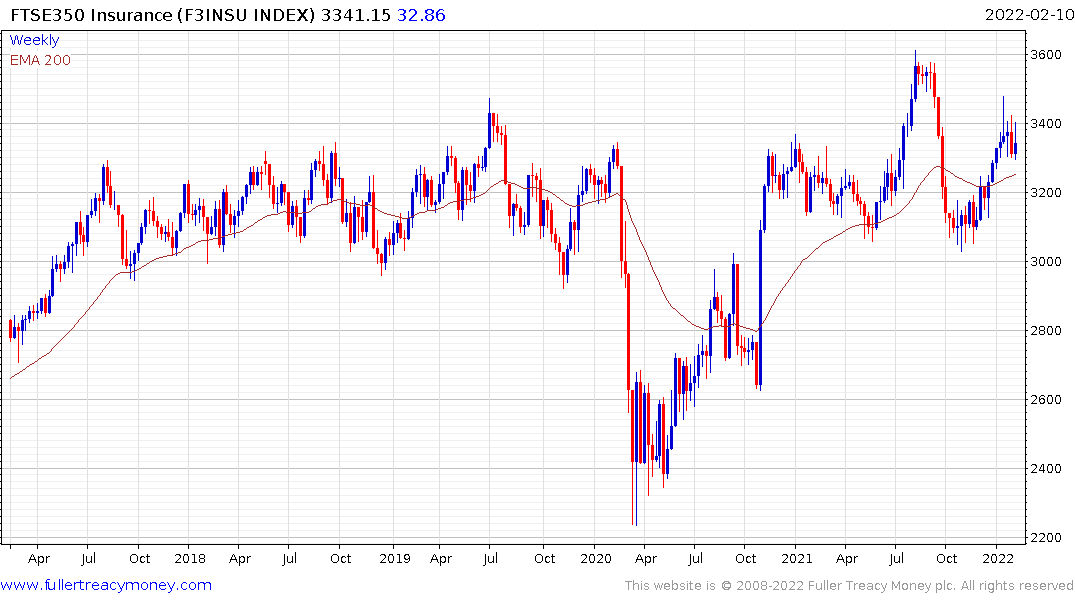 The FTSE-350 is heavily weighted by life insurers and is firming in the region of the highs posted since 2015.
Back to top