Insights in 140 Words June 13th 2014
Thanks to a subscriber for this edition of Deutsche Bank's interesting weekly note which may be of interest. Here is a section on the comparison between Nike and Adidas:
Nike versus Adidas - Forget about bragging rights during the World Cup (Nikes enclosed 70 per cent of those Brazilian and Croatian feet last night while a quarter wore Adidas boots) what matters to investors are returns. Here the big question is whether it is time to buy Adidas after years of underperformance versus Nike - although both share prices have more than quadrupled over the past decade. The German company is a third cheaper based on multiples of forward earnings. Partly that is due to forex headwinds and its struggling TaylorMade golf business (rounds played in America fell another 5 per cent in the first quarter). But what really matters is that Adidas's footwear sales in the US are 30 per cent down on last year with a 9 per cent market share falling fast. Stop that slide and a switch looks more compelling.
Both Nike and Adidas are Autonomies. While one way to look at them is to debate which is more likely to outperform, the other is to accept they are by far the largest sporting goods companies in the world. Under Armour certainly has a cool cache but has yet to venture beyond its domestic US market and is a fraction of their size. The same can be said for other popular local brands globally. However one sees the future, it is likely to incorporate both Adidas and Nike.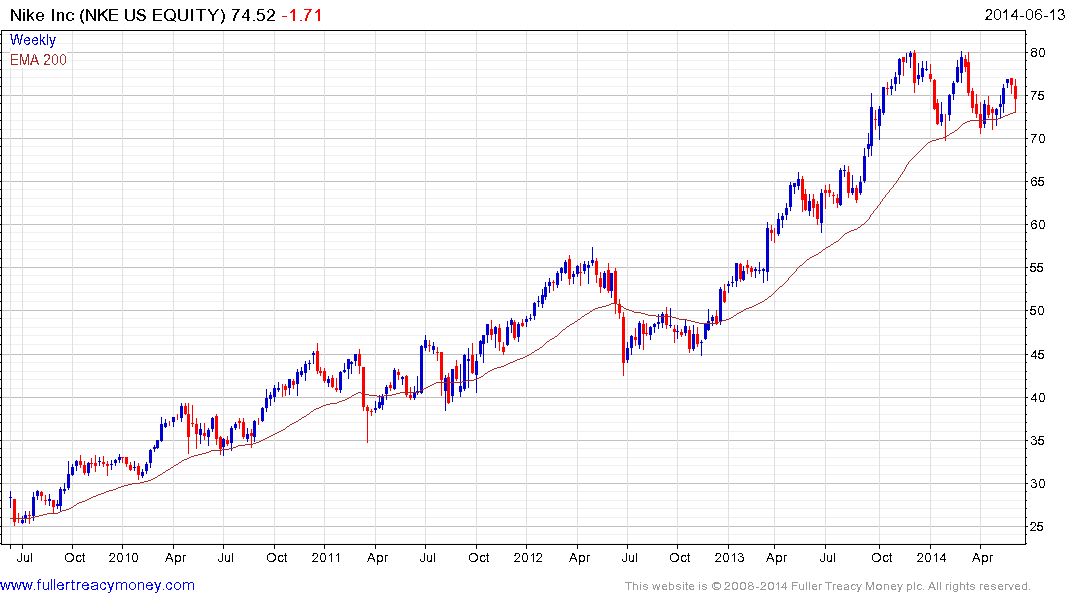 Nike is not cheap with an estimated P/E of 25. The share has posted two lower highs since December as it ranges below $80 but it will need to hold above $70 if the medium-term uptrend is to remain reasonably consistent.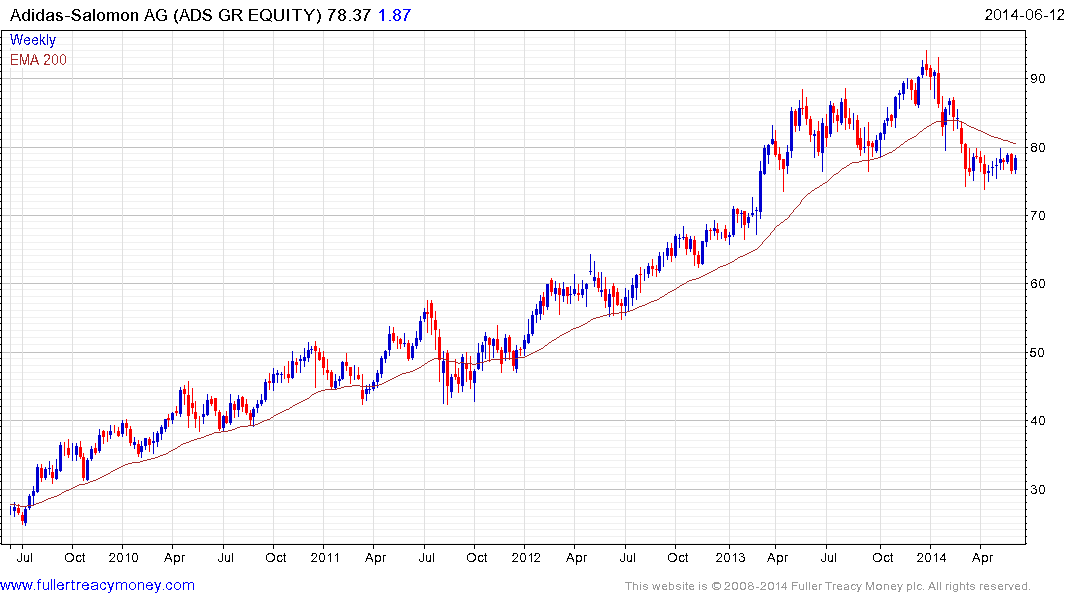 Adidas has a lower estimated P/E of 18 but has also experienced a more pronounced deterioration in its trend consistency. The share will need to sustain a move above €80 to begin to suggest a return to demand dominance.
Back to top