Big Plan by Google to Race Amazon to Your Door
This is an informative article by Jason Del Rey for Recode.net and may be of interest to subscribers. Here is a section:
Big retailers, however, are clearly taking these partnerships seriously. Instead of sending mid-level business development executives to strike deals with Google, some are negotiating at the top. Costco's CEO, for instance, flew out to Google's Mountain View, Calif., campus to meet with Google CEO Larry Page before agreeing to participate in the Google Shopping Express program. Costco CFO Richard Galanti also met with execs at Google on a separate trip. Galanti said it's important for Costco to consider new sales channels as more shoppers make purchases online.

"Why wouldn't Google just eliminate the merchant from the middle?" Faisal Masud, e-commerce chief at Staples

"We're pretty good at knowing what we know how to do and what we don't," Galanti said.

"We're not arrogant about it."

What's keeping some retail bosses awake at night, however, is the ongoing suspicion that Google could eventually build an Amazon-like marketplace in which the search giant sells products directly to shoppers and cuts out brick-and-mortar retailers altogether. Even some current Google Shopping Express partners see the potential for such an approach.

Fallows, for his part, was adamant that Google will not pursue this strategy.

"Very firmly no," he said. "Google is a platform and partnership business. We can't say that strongly enough."

Another fear among some retailers, according to RetailNet Group's Anderson, is that as long as the purchases keep running through Google instead of the retailer's site, Google will start to collect more and more valuable information on who buys what. Google could then use that data to attract more money from brands looking to promote their own product through Shopping Express no matter which retail store it comes from. Some of that marketing money, Anderson believes, could in turn be shifted away from funds these brands typically allocate to retail stores to promote individual products.

"Google may be in a position to go to Procter & Gamble and say, 'Why would you give [marketing] dollars to Target when you can just give them to us and we'll promote the brand whether the shopper decided to buy from Target or another retailer?'" Anderson said.

?Despite these concerns, Google has assembled a respectable group of partners to the program. Several of them say participating in the Google Shopping Express program gives them a way to evaluate whether it's more cost effective to offer same-day and next-day delivery themselves, through a partner or whether they should at all.
The retail sector is in a constant state of transformative development. This is particularly true in the USA where penetration of online shopping is higher than elsewhere. Since moving to Los Angeles, it is apparent that there is no shortage of retail space in West LA. Whether this is as a result of online eating into high street market share, the slow recovery of consumer appetites, high rents or the dominance of big box stores and malls is debatable. What seems clear is that the survivors on the high street are service oriented or tailor to a very specific niche.

The entry of Amazon and Google into the grocery market is a fresh interesting development. Since realising that we could do our Costco shopping online so that we could outsource the porting of heavy bulk items such as gallons of washing detergent etc. to someone else we've concentrated on pleasure shopping for fruit, veg and meat at Bristol Farms and Whole Foods. Both Amazon and Google's delivery trucks are regular sights around our neighbourhood.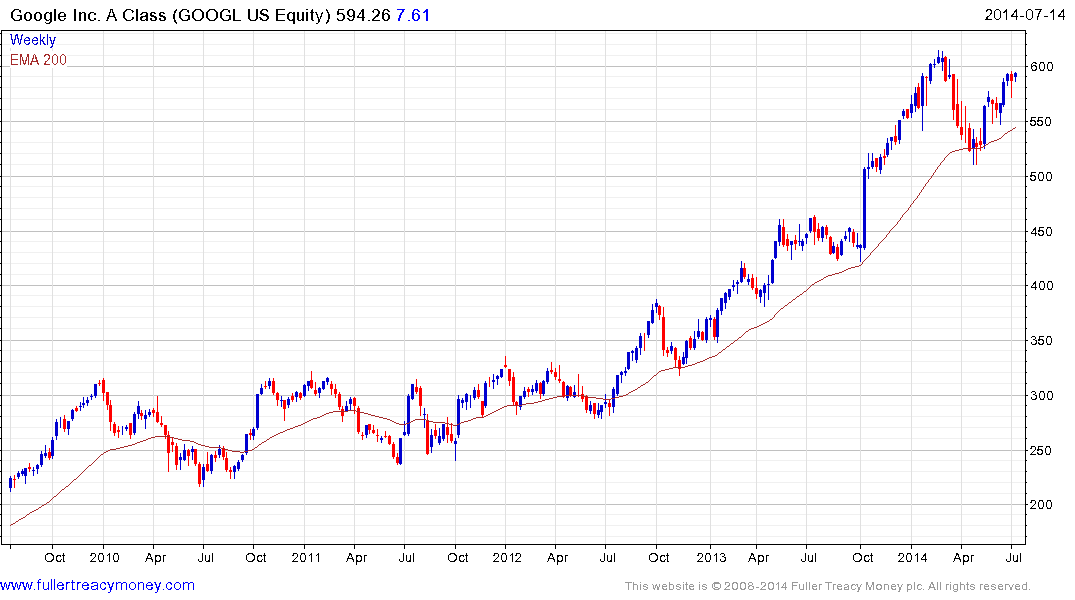 65.5% of Amazon's revenue originates from its Electronics and Other General Merchandise segment. Despite Google's foray into operating systems, solar technology, media and now retail and delivery, 98.9% of revenue continues to be generated by its Search Engine Advertising business. Between the two, Amazon therefore has more at risk from its delivery business than Google. Google regards the enterprise as a fresh seam of data it can mine, while for Amazon it represents an offshoot from its primary retail offering.

Google continues to hold a progression of higher reaction lows and most recently found support in the region of the 200-day MA from early May. While some consolidation in the region of the February peak is likely possible, a sustained move below $500 would be required to question the consistency of the medium-term uptrend.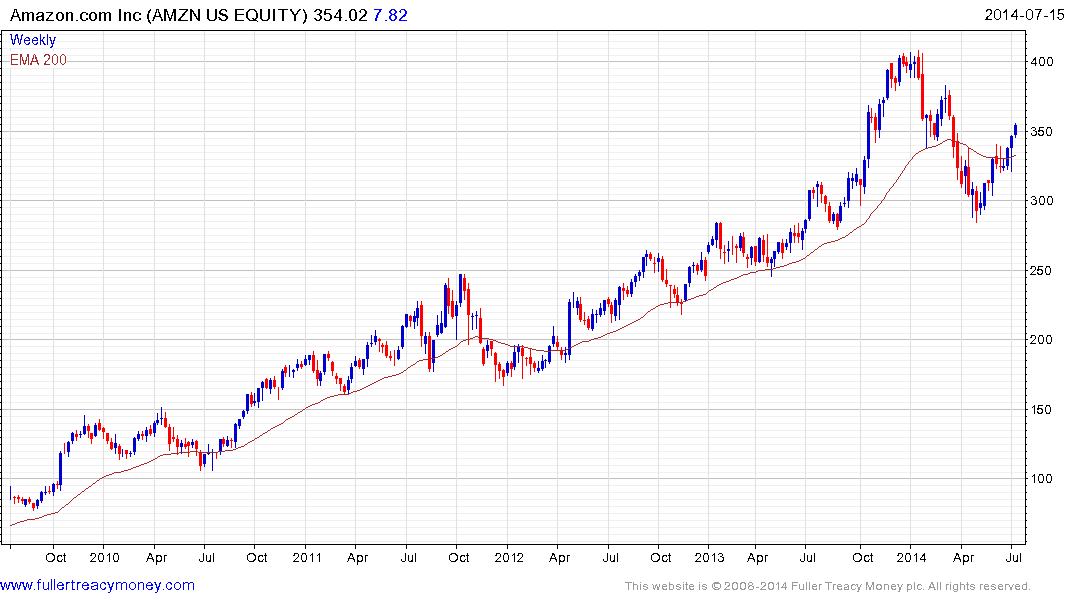 Amazon experienced its deepest pullback since 2008 between January and May and has since rallied to break its progression of lower rally highs. While some ranging below $400 is likely, a sustained move below the $300 area would be required to question medium-term potential for continued higher to lateral ranging.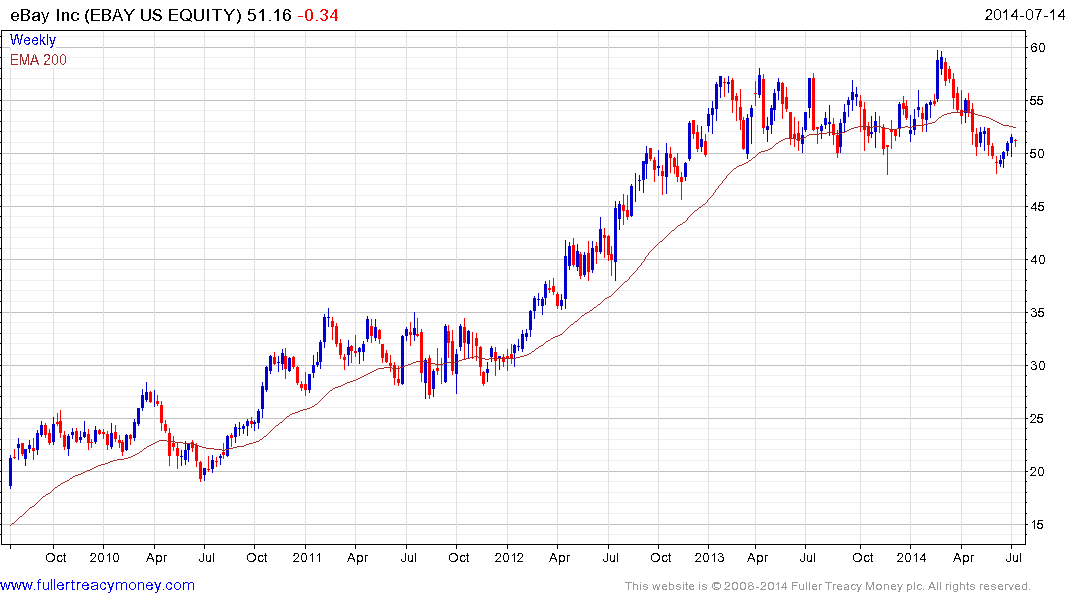 This article from Engadget suggests the Ebay Now service has failed to get off the ground on a sustained basis beyond the holiday period. The share posted a failed upside break in February and has returned to test the lower side of the 18-month range where it has found at least short–term support. It will need to stabilise above $48 on the next pullback to demonstrate demand dominance in this area.
Back to top