Inmarsat Spurns EchoStar Takeover, Calling It Lowball Offer
This article by Nick Turner for Bloomberg may be of interest to subscribers. Here is a section:
Inmarsat Plc rebuffed a takeover proposal from EchoStar Corp., saying the bid undervalued the British satellite company and its outlook as an independent business.

The "highly preliminary" offer was turned down by the board after discussions with its advisers, Inmarsat said in a statement on Friday. "It very significantly undervalued Inmarsat and its stand-alone prospects. The board remains highly confident in the independent strategy and prospects of Inmarsat."

EchoStar, founded by billionaire Charlie Ergen, has long been seen as a potential bidder for Inmarsat, along with SoftBank Group Corp.'s OneWeb. A stock slump at the London-based company has put it at the top of analysts' lists of potential targets for consolidation in the satellite industry, which is becoming increasingly crowded with a rising number of rigs going up to support new services such as in-flight Wi-Fi and transmission of digital photos.

A representative for EchoStar didn't immediately respond to a request for comment. The statement from Inmarsat followed a 13 percent surge in its shares on Friday, the most in a decade. The stock is still down by more than half over the past two years and has declined 3.4 percent so far in 2018.
The legacy satellite sector has collapsed over the last 18 months. There are two primary reasons for the decline. The first is the success of SpaceX and Blue Origin in deploying resuable rockets to increase the number of satellite launches. The second is the advent of nanosatellites which cost a fraction of what conventional satellites do and fly at much lower orbits.
The one redeeming point for older satellites is they are more robust, have greater capacity and last much longer. Nanosatellites on the other hand are very cheap but need to be replaced about every couple of years.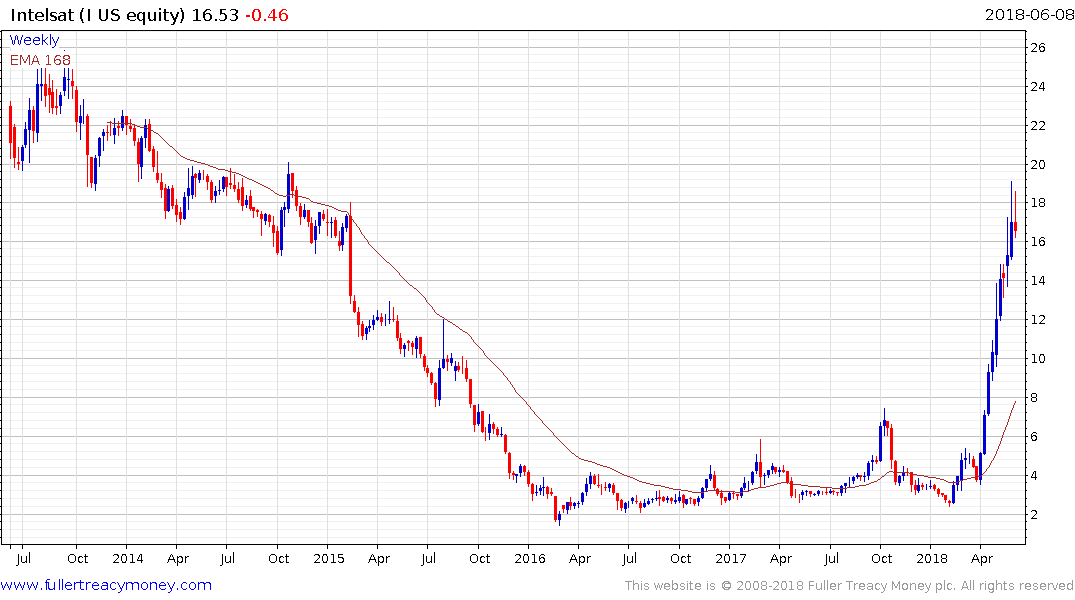 Intelsat was trading at $2.44 in February and hit a peak near $19 on May 31st. It's solution to the demise of its legacy business has been to propose opening up some of its bandwidth to the emerging 5G sector. The FCC is due to make a decision on whether to allow that in July.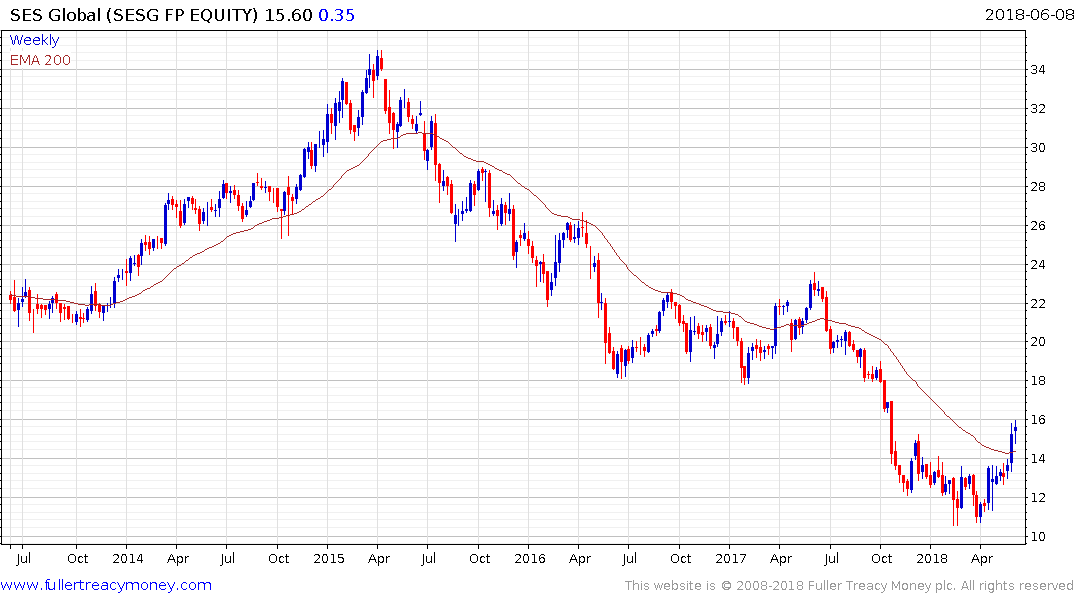 SES Global has partnered with Intelsat in that application and the share rallied last week to push back above the trend mean.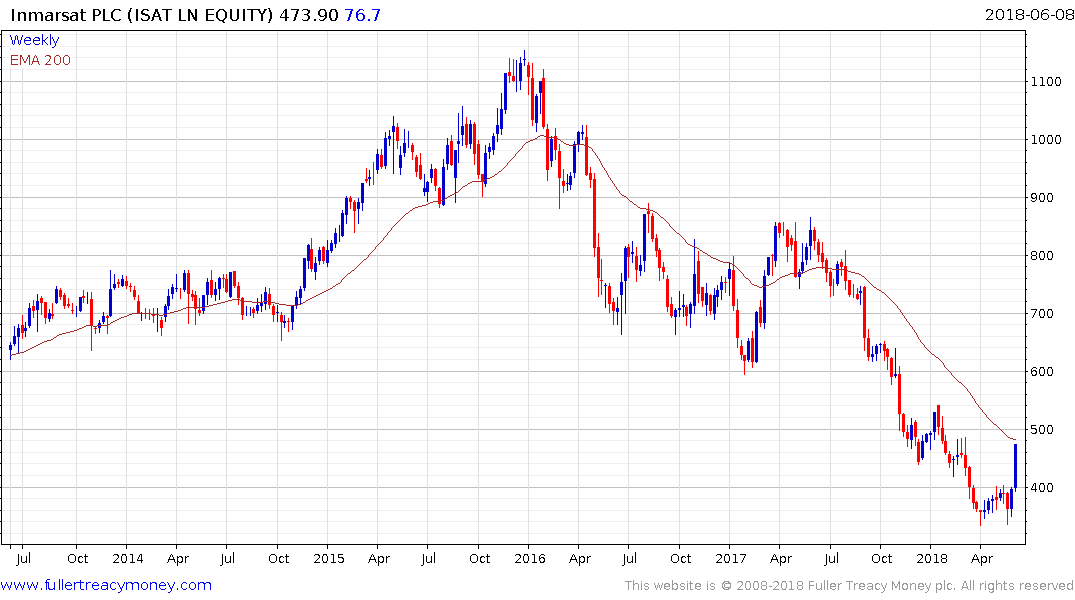 Interestingly Inmarsat has a similar pattern following this week's rejected bid for the company.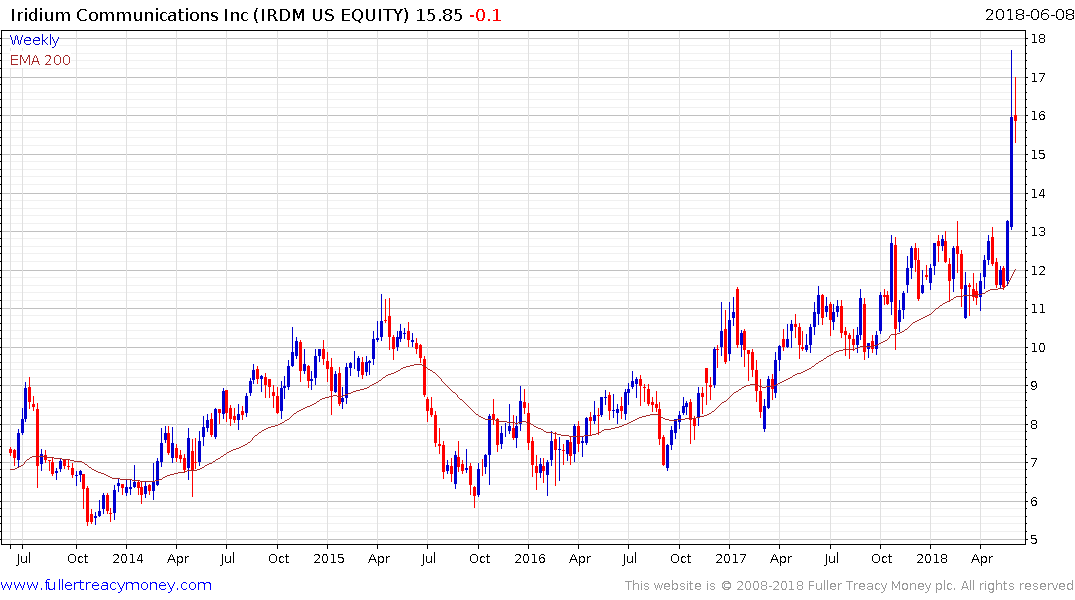 Iridium Communications spiked higher last week as the sector came under greater investor scrutiny and some consolidation is now underway.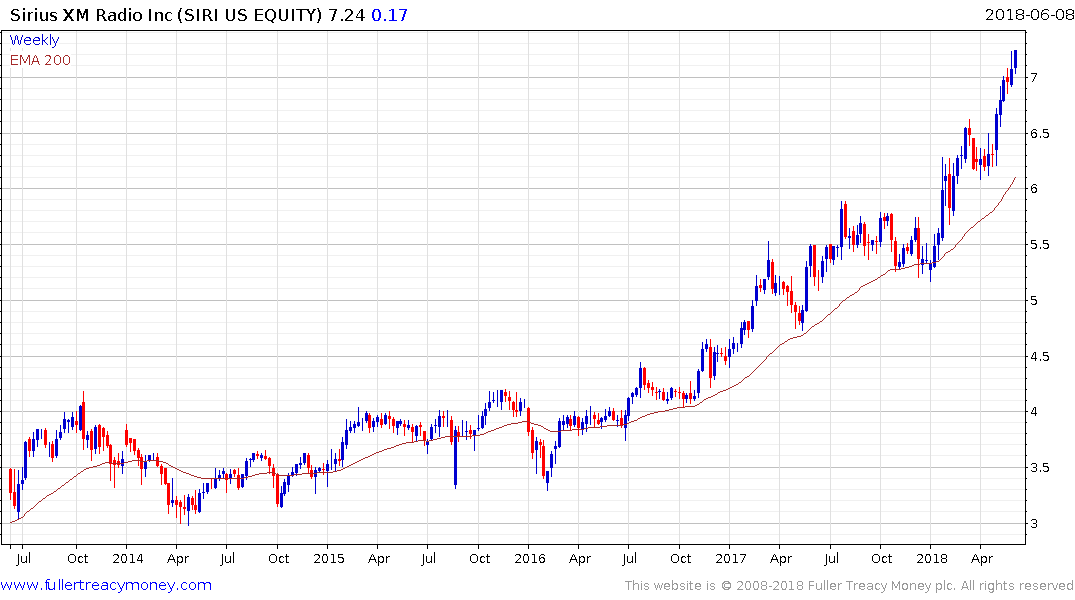 Sirius XM is somewhat overextended relative to the trend mean, but a sustained move below it would be required to question medium-term scope for continued upside.
Back to top