Infrastructure Stocks Tumble, Seen as 'Key Casualty' of Election
This article by Esha Dey and Brendan Case for Bloomberg may be of interest to subscribers. Here is a section:
"While Republicans have also spoken supportively about infrastructure, funding remains a key issue," he said in the report. "Particularly if Democrats take the presidency, we would expect a Republican Senate to recover its conservative fiscal focus."

With no "blue wave" sweeping Democrats to unified control of Congress, the outlook for a big boost in infrastructure is fading, Jefferies analyst Philip Ngsaid in a separate report. That's true whether President Donald Trump retains the White House or Democratic challenger Joe Biden ekes out a victory, with millions of ballots still to be counted in five key states.

Vulcan Materials, a supplier of building aggregates such as sand and gravel, dropped 6.9% to $139.84 at 11:37 a.m. in New York. Rival Martin Marietta slid 5.7% to $260.42. United Rentals, which provides construction and industrial equipment, declined 6.1% to $189.08. At their lowest for the session, all there were down the most intraday since March.
The polls were wrong…again. The media apparatus is not trusted by at least half of the population. The shy Republican is a very real phenomenon. Successive failures to come close to predicting the size of the unpopular party's support should cause some introspection for the media organisations. It probably won't because the media is more polarised than the politicians.
Americans have voted for divided government. If the result stands at Republican control of the Senate and Democrat control of the House the strongest ambitions of both parties will be curtailed. That's not necessarily a bad thing. It removes a source of uncertainty that big change was inevitable, while forcing political actors to compromise if they wish to achieve anything meaningful. They won't be happy about it and the tone of political discourse is unlikely to improve but the status quo has been sustained.
Another way of thinking about the election result is it was a referendum on lockdowns. The clear divide between the urban rural vote follows the willingness of people to wear masks and abide by social distances guidelines. There is a significant minority who are not in favour of lockdowns regardless of the caseload.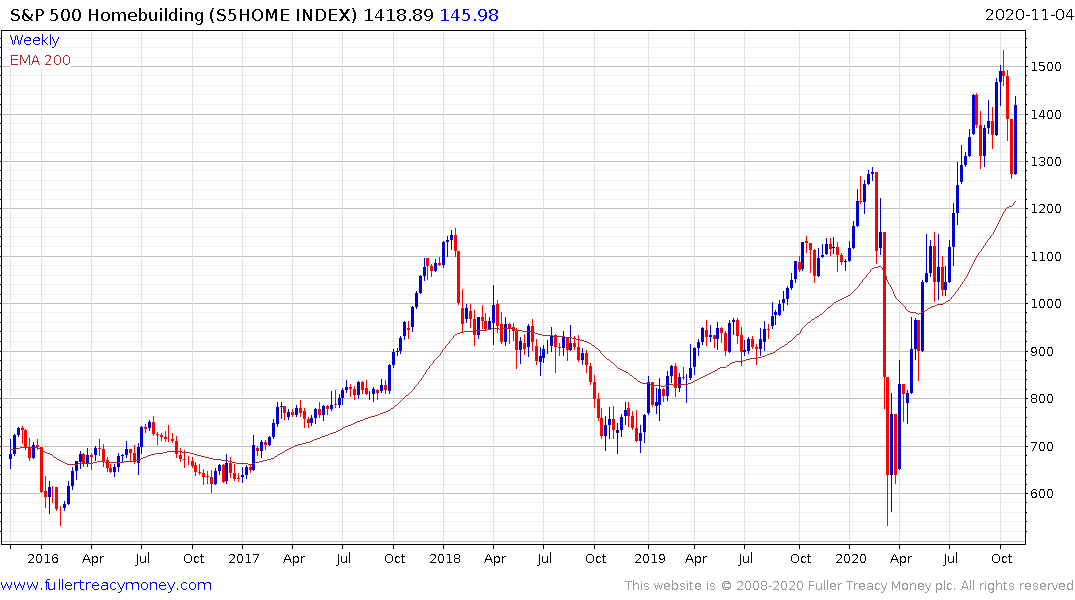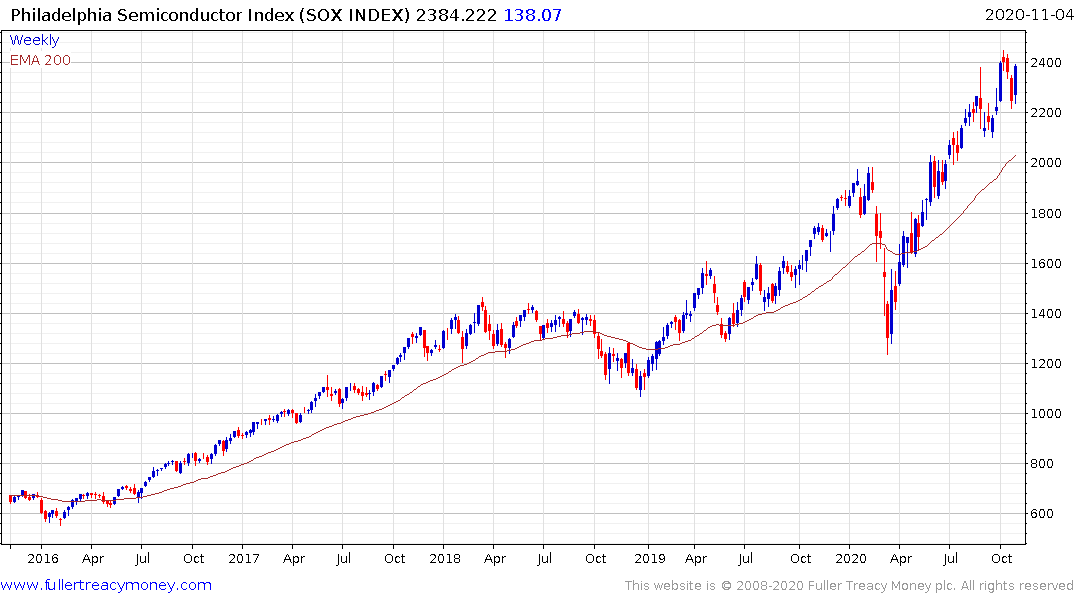 Meanwhile the stock market continues to rebound. The headline above is rather misleading because many infrastructure companies staged significant rebounds following weak opens today. The housing market has also rebounded meaningfully. The tech sector also rebounded in emphatic form on the basis that appetite for antitrust and higher corporate taxes will be diminished with divided government.
Back to top