Indonesia Set to Halt Nickel Ore Exports From End December
This article by Wahyudi Soeriaatmadja for the Straits Times may be of interest to subscribers. Here is a section:
Energy and Mineral Resources Minister Ignasius Jonan said on Friday that the nickel export curbs are "in line with President Joko Widodo's directives".

Indonesia's current account deficit reached US$31.1 billion (S$43.2 billion) in 2018. The widening deficits were an issue Mr Joko's political opponents frequently played up during his presidential campaign ahead of the April election. Mr Joko will be sworn in on Oct 20 to begin his second and final five-year term.

A senior government official had earlier argued that Indonesia could have recorded even higher deficits had the country not boosted efforts to climb up the value chain in the iron and steel sector, encouraging investors to build plants at home to process raw nickel into intermediate products such as stainless steel slabs.
Indonesia has long sought to gain more economic benefit from its commodity exports. That was particularly true of the tin market when exports were limited to refined products in 2013. The aim was to try and build up the domestic refining business but the collapse in prices in 2014 and 2015 killed off that idea. It now appears Indonesia is attempting to do something similar with nickel exports.


Indonesia is not as dominant a producer of nickel as it is of tin but it is the primary provider of pig nickel ore to China. That is where the outlook for a 100,000 deficit comes from. The price of nickel surged last week but is now really quite overextended and susceptible to some consolidation. The medium-term outlook, however, remains positive. Demand for nickel sulphide from the battery business remains in a demand growth phase.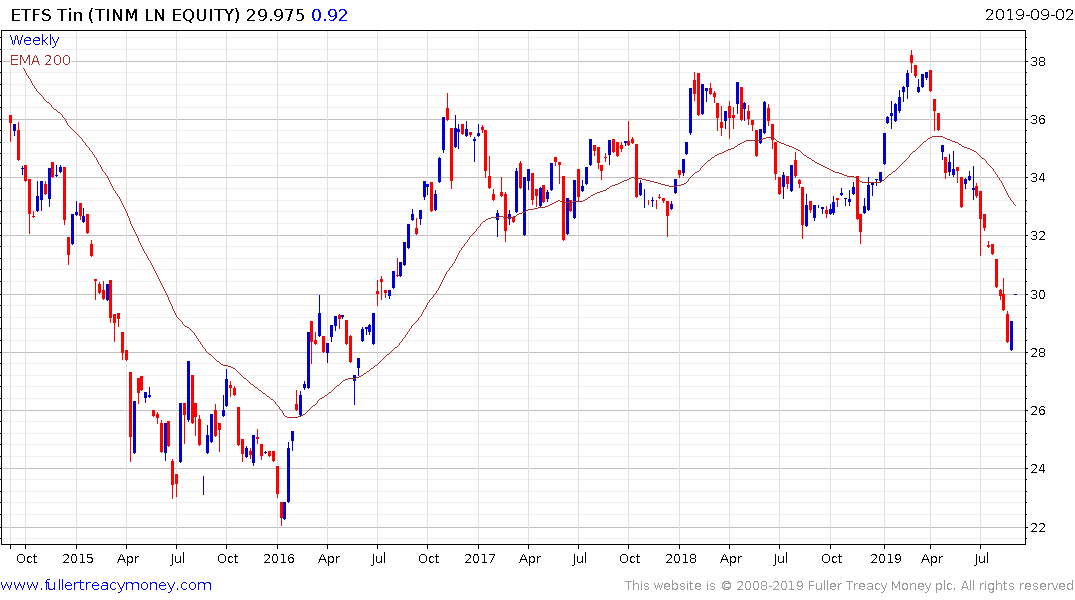 Tin trended lower in a consistent manner from the late February peak but the upward dynamic on Friday suggests a low of near-term significance and increases potential for a reversionary rally.
Back to top