Indonesia May Replace Economics Team, Vice President Says
This article by Ben Otto for the Wall Street Journal may be of interest to subscribers. Here is a section:
But growth has slipped to its lowest level in more than five years, and Mr. Widodo's team, in place for almost eight months, has failed to arrest the fall. Indonesia's stock index recently hit its lowest level in more than a year, wiping out all gains made since Mr. Widodo's election. Lackluster corporate earnings were partly the cause, along with waning confidence in the president's ability to shepherd his team to quickly implement his program.

Mr. Kalla acknowledged the economy was a problem, and said one of his and the president's priorities is to speed up spending on stalled infrastructure projects that are expected to inject billions of dollars into the economy. He pointed to a new law that makes it easier for the state to acquire land -- a long-standing sticking point for projects ranging from power plants to factories. The new rules are set to pave the way for a Japanese-funded $4 billion power plant to proceed after years of delay, Mr. Kalla said.

As falling global oil prices cut into Indonesia's oil-gas revenue, and tax collection so far coming up far short of targets, the government is working to attract more foreign direct investors. Mr. Kalla said that many companies "don't need more incentives" to invest in Indonesia, pointing to the large population and low labor costs that attract consumer companies and manufacturers. He said the government is trying to address old problems of acquiring permits for foreign workers, improving the roads and access to electricity, and helping to clear land.
Unfortunately for Widodo he did not receive the groundswell of support that Modi did in India which would have given him carte blanche to implement his reform agenda. Political infighting and obfuscation have characterised the environment in Indonesia since before Widodo's victory. Despite the fact a number of the policies he fought for have grudgingly been implemented, perceptions are that little has been achieved.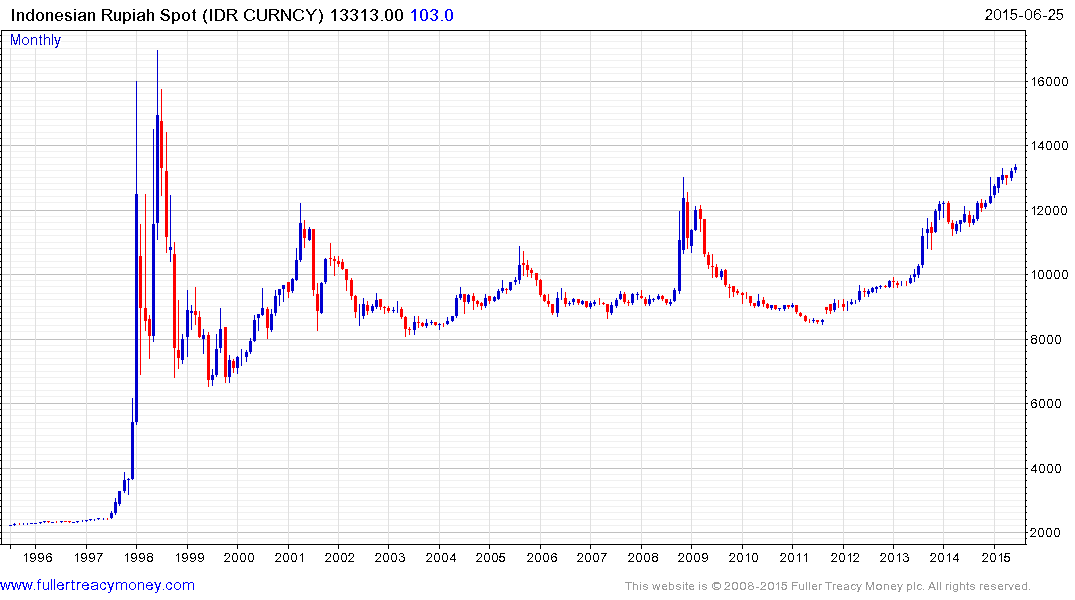 This is perhaps most apparent in the continued weakness of the Rupiah which continues to set lows not seen since the Asian Financial crisis. Whenever the currency finds support it has the potential to act as a catalyst to reignite foreign investor interest in the stock market.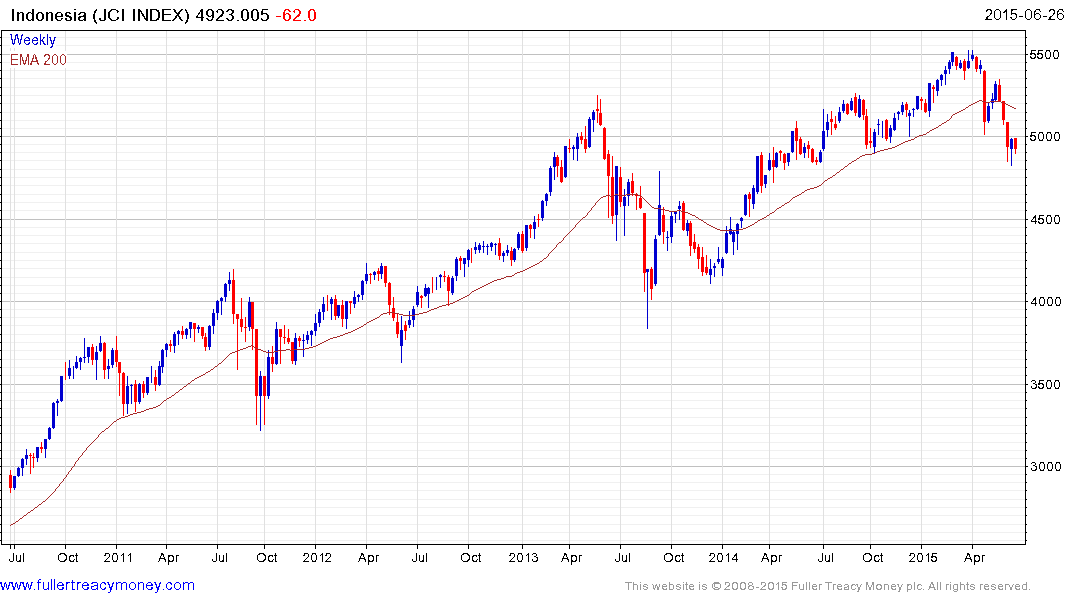 The Jakarta Composite has dropped approximately 10% since the March peak and a sustained move back above the 200-day MA will be required to check supply dominance.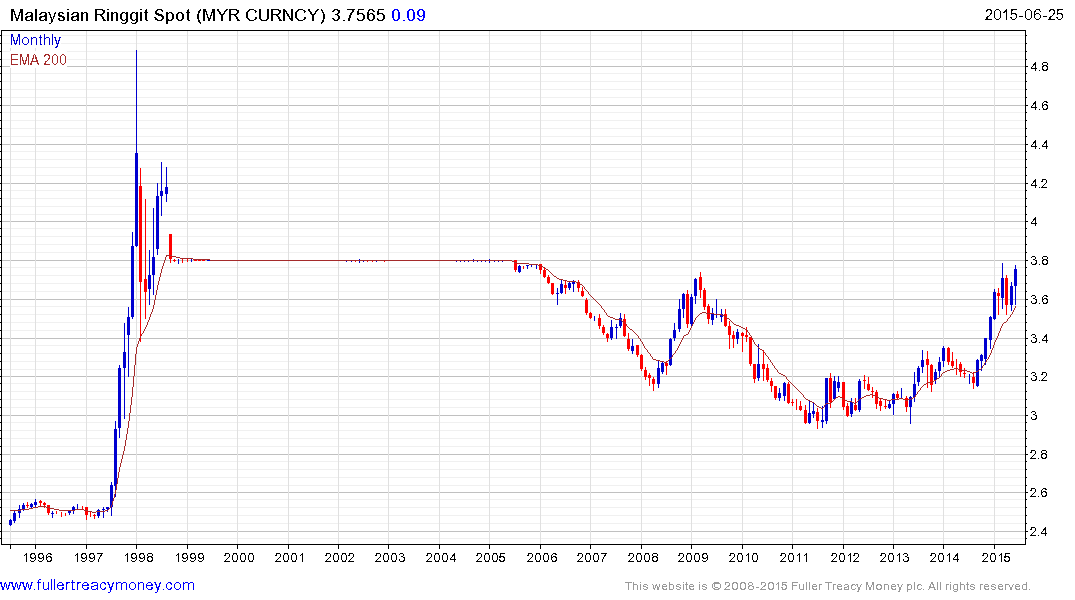 Neighbouring Malaysia shares a high degree of commonality with Indonesia. The Ringgit moved to a new all-time low against the Singapore Dollar last week and is testing the psychological MYR3.8 level against the US Dollar.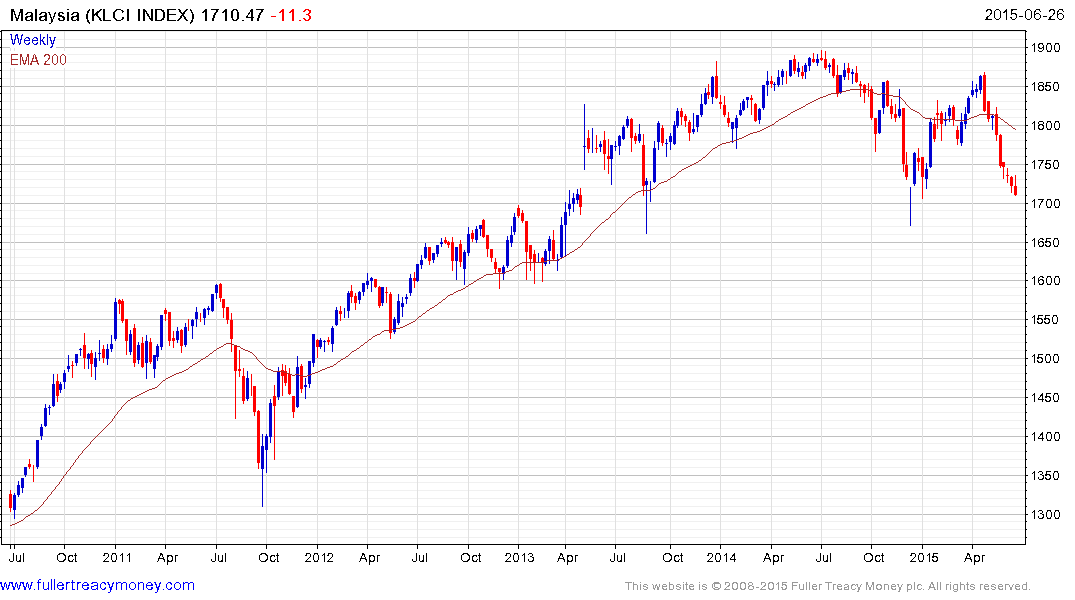 The Kuala Lumpur Composite Index has Type-3 top formation characteristics and while a short-term oversold condition is evident, a sustained move above 1800 would be required to question medium-term supply dominance.
Back to top