Indonesia Eases Mineral Ore Ban as Freeport Keeps Copper Exports
This article by Yoga Rusmana and Agus Suhana for Bloomberg highlights some important developments in the industrial metals sector. Here is a section:
Indonesia's President Susilo Bambang Yudhoyono signed a regulation for the ore ban, Energy and Mineral Resources Minister Jero Wacik told reporters, after an 11th-hour meeting of government ministers in Cikeas, West Java, yesterday. The rule, which goes into effect today, permits exports of minerals that are processed or refined in the country.

The decision will ease concerns about disruptions to copper shipments and is a compromise that reduces the impact of the ban on the country's mining industry. Indonesia accounts for 3 percent of the global copper supply, 18 percent to 20 percent of nickel and 9 percent to 10 percent of aluminum from bauxite, according to Goldman Sachs Group Inc. estimates.

?"The essence of the government regulation is to uphold the 2009 Mining Law that means starting midnight on Jan. 12, exports of mineral ore will be banned," said Hatta Rajasa, the Coordinating Minister for the Economy. "That means all must be processed or refined."
As a major producer of industrial metals Indonesia has a vested interest in attempting to reap the greatest possible benefit from its production. Insisting that the ore is processed domestically before export is one such attempt. Fostering additional development of the domestic manufacturing sector would be a logical next step in that policy. This initiative is likely to be bullish for nickel and tin and may represent a medium-term bullish catalyst to reignite investor interest.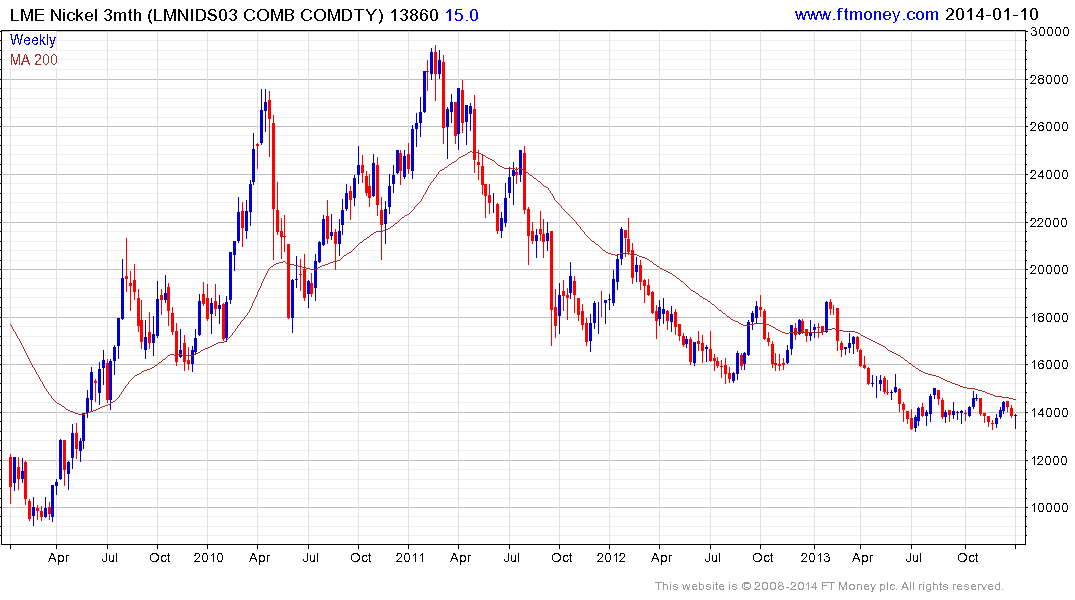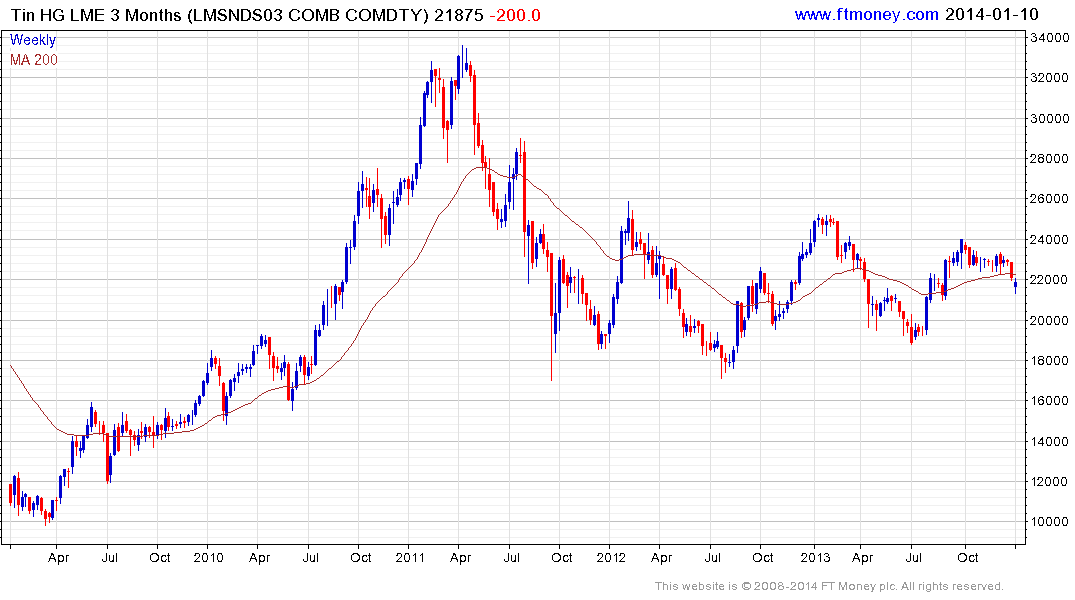 Nickel has been ranging mostly above $13,500 since July and is currently rebounding from the most recent retest of that level. Tin has been ranging mostly between $18,000 and $25,000 for nearly two years but found at least short-term support last week and a clear downward dynamic would be required to check potential for additional upside.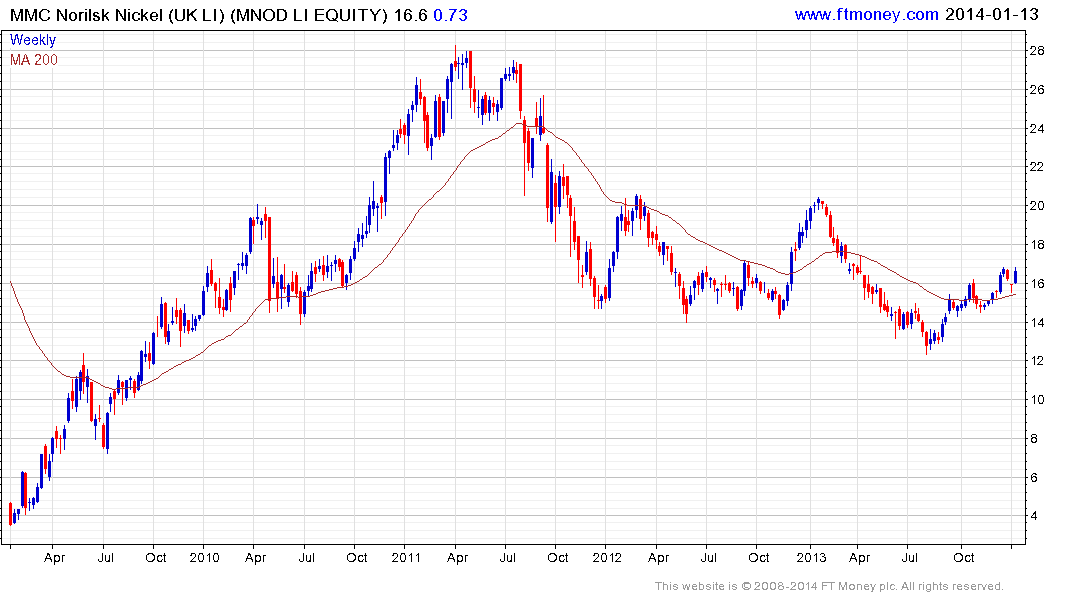 UK listed Norilsk Nickel failed to sustain a break below $14 in July and continues to rebound suggesting a retest of the upper side of the 2-year range near $20 is a medium-term possibility.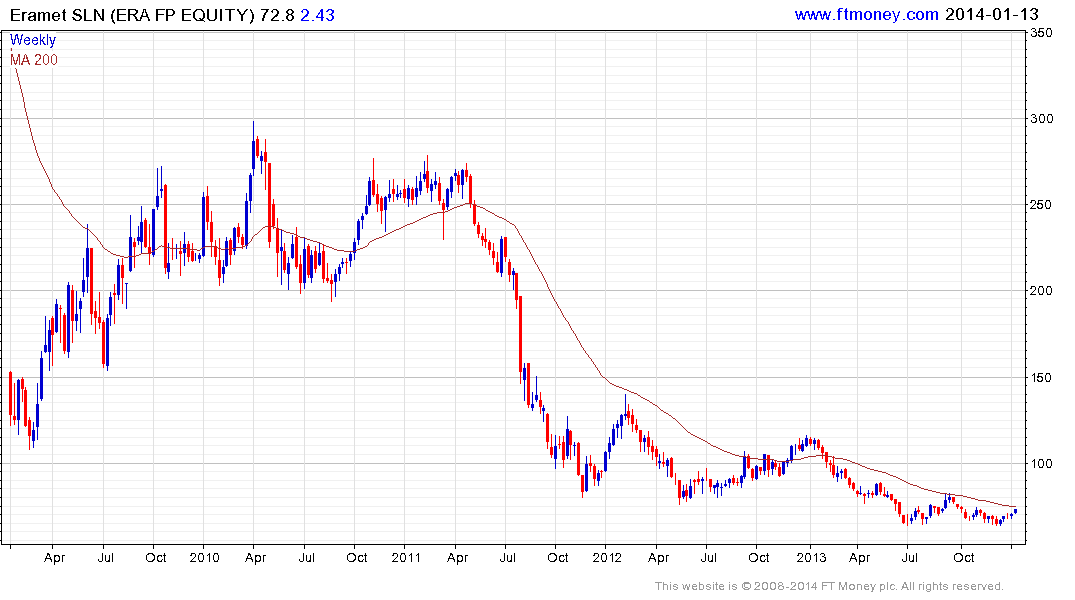 Approximately 25% of France listed Eramet¡¯s revenues are derived from nickel. The share has lost downward momentum following a decline of 80% from the 2011 highs and is currently rallying from the €60 area. A break in the progression of lower rally highs would begin to suggest a return to demand dominance beyond the short term.
Back to top