Indian Equities Fall as Turkey Turmoil Sparks Contagion Worries
This article by Abhishek Vishnoi for Bloomberg may be of interest to subscribers. Here is a section:
Indian stocks fell as turmoil in Turkey sparked worries of potential market contagion and damped investors' appetite for Asia's best performing equity market.

The S&P BSE Sensex fell 0.6 percent to 37,644.90 in Mumbai after rallying to new highs in 10 of the past 15 sessions. Risk assets fell globally as Turkey's lira extended its slide to record lows Monday after the nation's president showed no signs of backing down in a standoff with the U.S.

State Bank of India Ltd. slumped more than 3 percent after a third straight quarterly loss while HDFC Bank Ltd. fell 1.1 percent after its deputy managing director resigned. The Sensex's 14-day relative strength index closed above the oversold demarcation of 70 in nine out of last 12 sessions. It ended at 69.83 on Friday.

"Turkish lira-led influence seems dangerous as risk-off will impact Indian equities as well," Deven Choksey, managing director at KR Choksey Shares & Securities Pvt., said by phone from Mumbai. "One should be cautious in putting in new money for the near term as sentiment weakens."

So far, of the 47 NSE Nifty 50 companies that have announced results, 27 have either met or exceeded average analyst estimates, as per data compiled by Bloomberg. Tata Steel Ltd. will announce results later in the day. The Sensex has advanced over 10 percent this year, holding its place as the best performing market in the Asia-Pacific region.
The Indian Rupee broke downwards today to a new all-time low held the decline throughout the trading session. That weakness is in contract to the high degree of volatility seen in the South African Rand and suggests the selling pressure is more committed.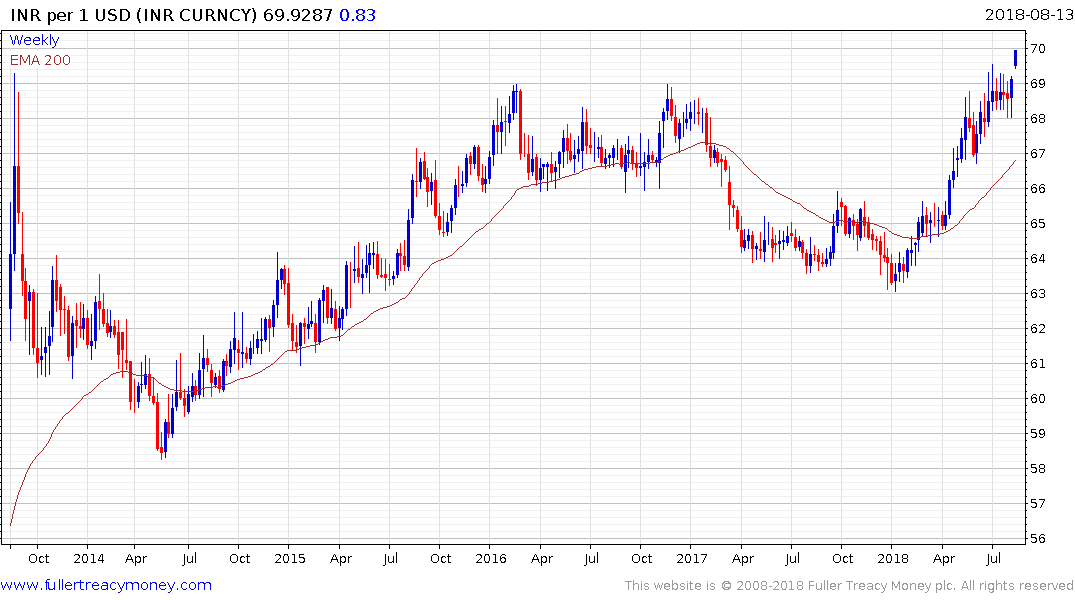 The Rupee has been ranging mostly above INR69 since 2013 and from 2016 until early this year looked like it was capable of trending higher. However, the depreciation seen so far this year has revisited the potential for currency market weakness and that is likely to have an influence on the stock market and foreign investor perceptions of potential upside. Moreover, the fact the Rupee ranged for so long holds out the prospect it has significant room to fall if the breakdown is sustained.
The counter argument is India's inflation has been falling and its foreign currency debt was less than 20% at the end of 2017 so it is under less pressure than other emerging markets. Therefore, with the right mix of policies the recent weakness can be arrested. However, the price action suggests it is now for the bulls to prove their case.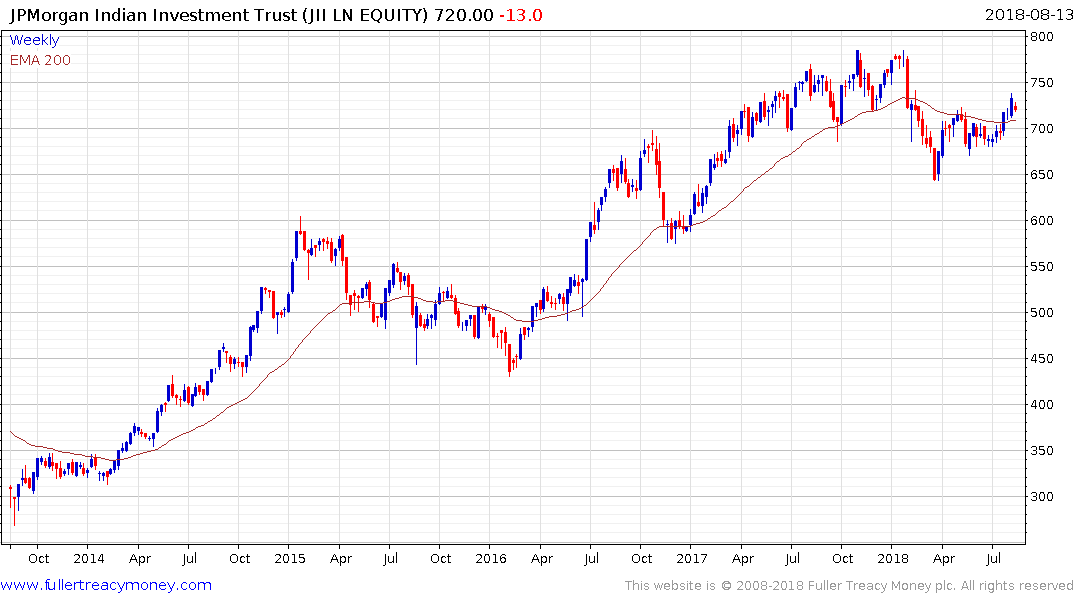 The JPMorgan India Trust had rallied back to trade above the trend mean but pulled back today to retest that level and a clear upward dynamic will be required to signal a return to demand dominance.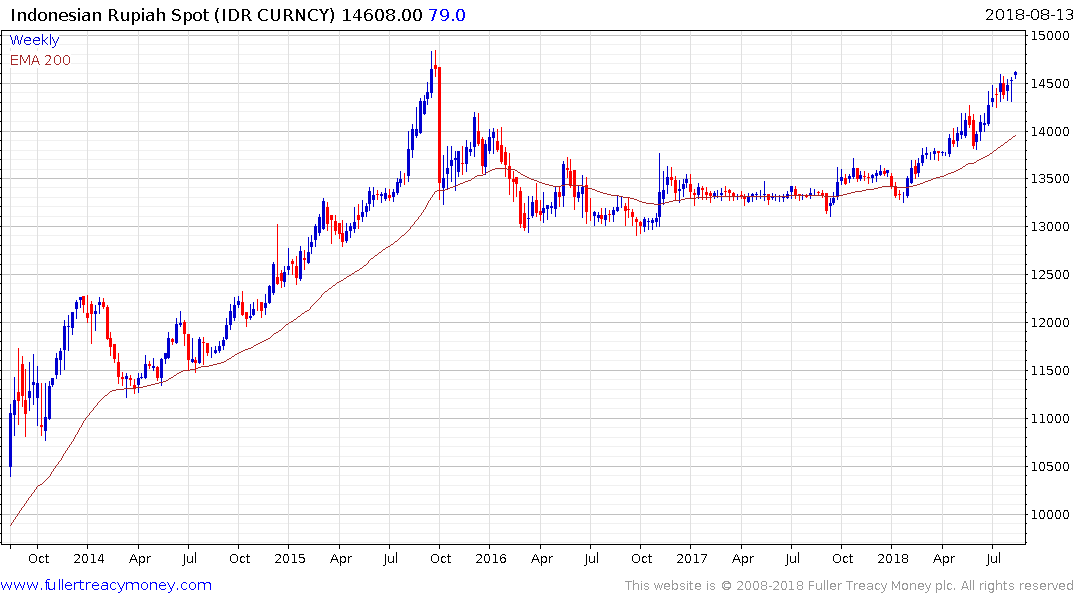 Elsewhere in Asia the Indonesian central bank is due to meet to discuss interest rates on Wednesday. With the Rupiah back testing its lows against the Dollar they may feel compelled to act in order stem selling pressure.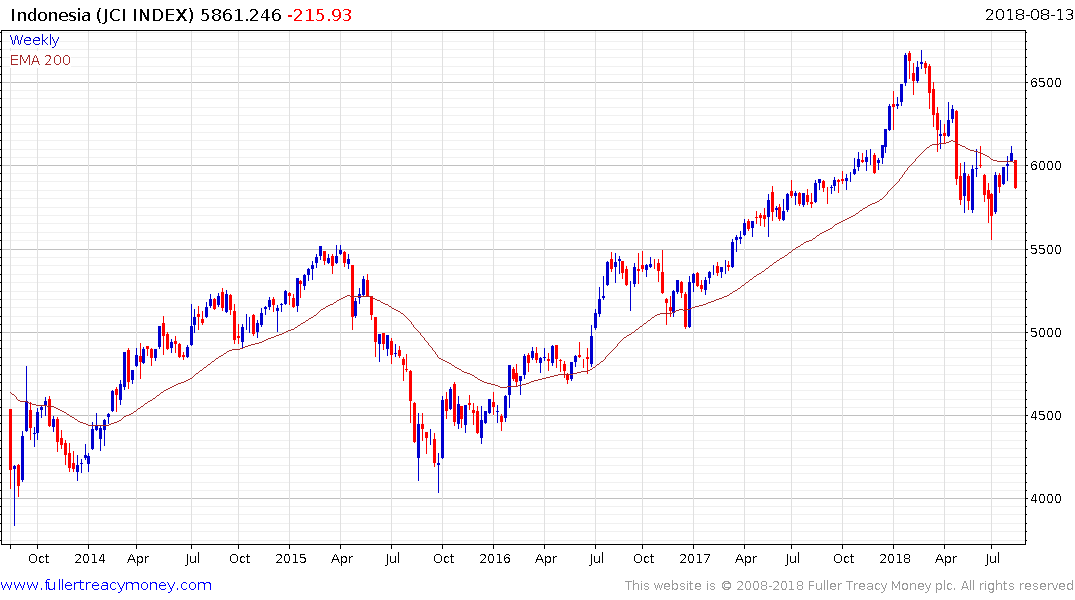 The Jakarta Composite Index pulled back from the region of the trend mean today and a sustained move back above 6000 will be required to signal a return to demand dominance.
Back to top