Indian e-Commerce
Thanks to a subscriber for this topical report from Deutsche Bank which may be of interest. Here is a section:
India in a nutshell: India is a large emerging market in terms of population and formal retail is still underpenetrated. E-Commerce spend today is mostly in online travel and future growth of B2C e-tail (physical goods) is likely to be driven by large, well-funded competitors who can speed up online adoption. The key risk is how quickly profitability arrives given the size of the market, the intensity of competition, and consumer behavior. Market estimates1 put the current and future size of the Indian e-commerce market at only 3% to 7% of Chinese levels, with significant upside through consumer adoption.

Formal retail under-penetrated in India: Market estimates2 put the size of the Indian retail market at cUS$350bn, but formal retail at only 5% of that total.

E-commerce nascent but growing: Market estimates3 look for the overall ecommerce market to grow from US$22bn in 2014 to US$86bn in 2018 (40% CAGR). Within just B2C e-tail, estimates are for expansion from cUS$4bn in 2014 to cUS$18bn by 2018 (45% CAGR).

E-commerce to target the wealthier demographics: c60m households (c25% of the overall population) in India control c60% of retail spend in 2015E; these households are forecast to double in absolute numbers by 2025, with spending power to triple over the same period. Wealth concentration and limited broadband penetration (c11%) could potentially create a two-tier market: 1) wealthy cohorts, where online spend centers on consumer discretionary items (electronics, clothes, etc) and where the longer-term opportunity is in migrating their online spend to include consumer staples (diapers, consumables, food), and 2) the mass-market, where spend levels are likely to be lower but increasing mobile penetration, a lack of formal retail/alternatives, and sheer numbers could prove formidable over time.

Low internet penetration but high growth: Less than 20% of the population had internet access in 2013 (214m) but this figure looks set to grow to c500m by 2018 (c36%), driven by mobile internet penetration leapfrogging desktop5

Market cap per internet user is low: In Western markets, the market cap for the e-commerce sector on a per internet user basis is nearly 15x that of India. The ratio is nearly as stretched even when compared with similar emerging markets such as APAC, where the e-commerce market cap on a per user basis is nearly 10x that of India. This indicates the huge opportunity left for ecommerce penetration and growth in India. As discussed, India has over 200m internet users but less than 10% of those users purchase online. In the next few years (and decades), more retail spend is likely to shift online, closing the gap with its global peers.
Here is a link to the full report.

As China's e-tail companies make large public splashes in the international markets, the question of where India's online champions are is a relevant one. The country has a similar population size to China but its infrastructure and openness to foreign investment and joint ventures lags far behind its neighbour. Nevertheless as broadband access improves, smartphone penetration increases and online banking spreads the potential for online retailing to take off just as it has elsewhere is high.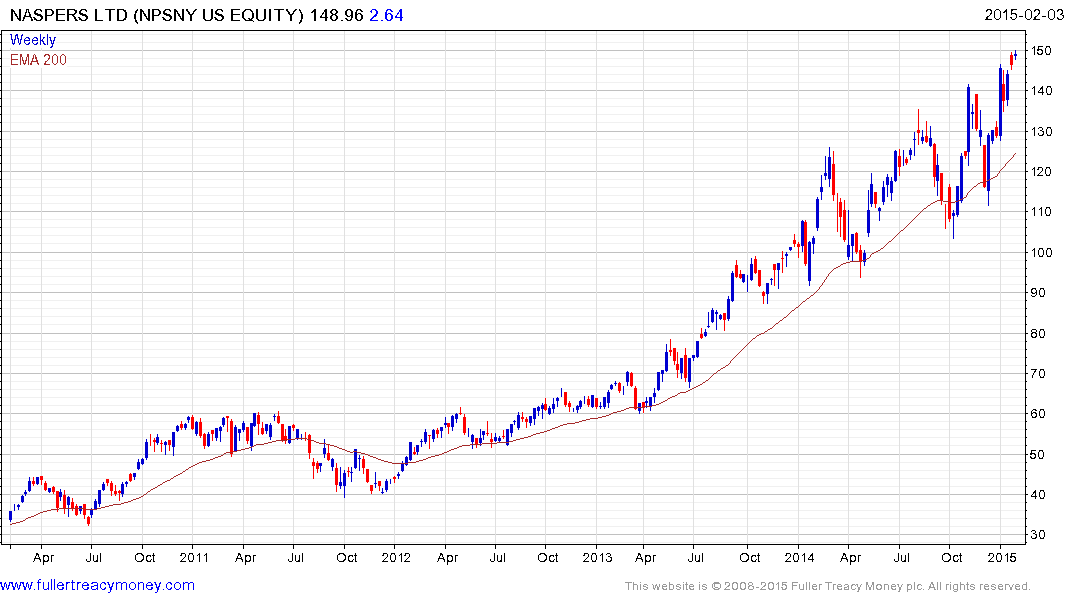 Naspers is an emerging market powerhouse with internet, pay tv and print assets spread throughout Africa, Asia and Latin America. As a result, while it has substantial operations in India, they are not a dominant part of the company's revenue stream. The share is trading on an aggressive forward P/E of 55 and yields 0.25%. Due to its global operations it has been relatively insulated from the weakness of the Rand and the US listed ADR remains in a reasonably consistent uptrend. While somewhat overbought in the short term, a sustained move below the 200-day MA, currently near $125, would be required to question medium-term scope for additional upside.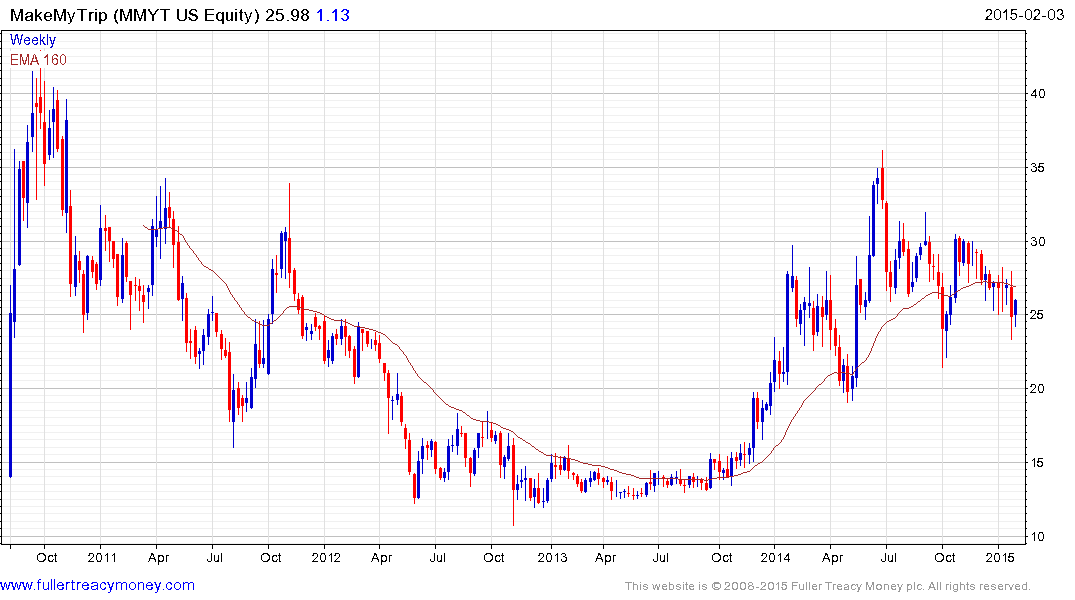 US listed Makemytrip has a market cap of approximately $1 billion and has yet to turn a profit. The share trended lower following its IPO before bottoming in late 2012 and breaking out of its base in late 2013. Despite a great deal of volatility it has held a progression of higher major reaction lows since, and has recently returned to test that progression. It will need to hold the $22 area if potential for continued higher to lateral ranging is to be given the benefit of the doubt.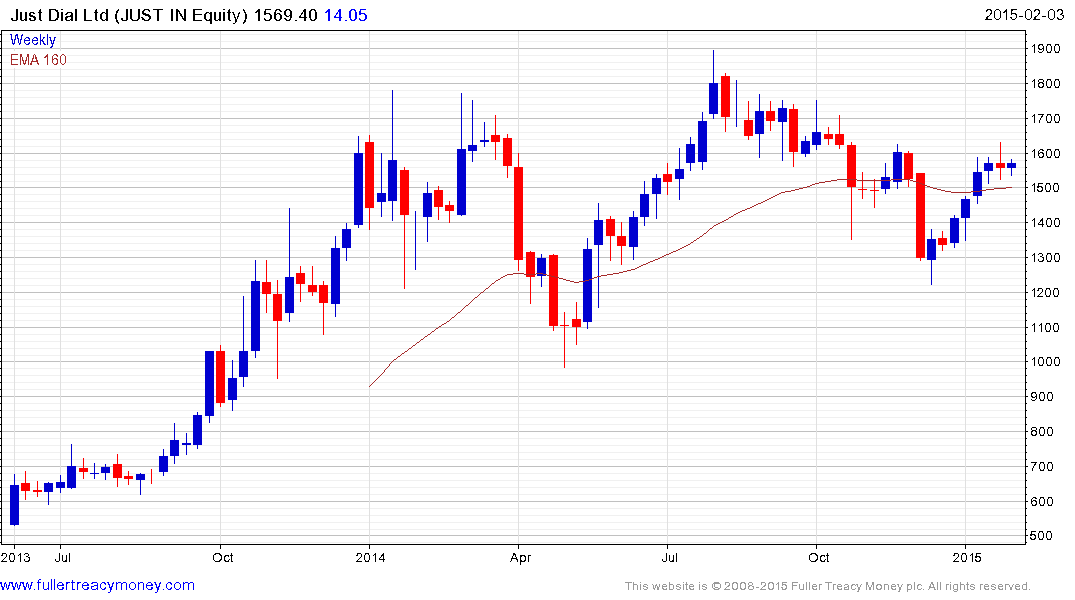 India listed Just Dial has a Luxembourg listed warrant but otherwise does not have an overseas listing. The share has found support in the region of the 200-day MA during pullbacks since its IPO in 2012. A sustained move below INR1200 would be required to question medium-term scope for additional upside.
Back to top