India's GDP can grow to $40 trillion if working-age population gets employment: CII report
This article from The Hindu.com may be of interest to subscribers. Here is a section:
"The golden period of 30 years between 2020-50 where our working age population will bulge can be an important horizontal enabler to bolster growth, even as the developed world including China ages," the report notes.

The report adds that over the years, India has experienced rising literacy rates, but level of vocational training/skilling is low, which gets reflected in the high unemployment rate among the educated. "Closing the skill gaps of its qualified workforce will be critical, as India depends more on human capital than its peer countries that have a similar level of economic development," it said, adding that skilling and reskilling require a coordinated response from the government, industry, academia even as COVID continues to cause structural changes to the workplace.

"The reversal in India's structural transformation back toward agriculture is a sign of fall back to subsistence employment. Enhanced safety nets through PM-KISAN and the MGNREGA will be critical investments needed to ensure that incomes of small and marginal farmers are protected and their basic needs are met… But manufacturing and services will still have to be the two key growth engines going forward," it said.
Given the trajectory of emerging market development over the decades, it is stating the obvious that India needs to do whatever is necessary to improve employment opportunities for its millions of young people. The fact the conversation is taking place is at least a good starting point.
China's one child policy ensured fewer responsibilities for its massive young population. That eased the process of urbanization and created long-term issues with replacement numbers. As the trend of outsourcing manufacturing and unionized jobs to China ebbs, there is clear opportunities for India to pick up investment flows.
A commonly quoted statistic is China used more cement between 2011 and 2013 than the USA did in the whole 20th century. Even today the country accounts for more than half of global supply. India has a long way to go to come even remotely close to building on that scale. The stakes could not be higher. Not only does India have hundreds of millions of young people demanding a chance at a better life, but per capita consumption of scarce domestic resources, like water, go up as development progresses. That's a recipe for unrest at the best of times, so India needs to accelerate its plans.
I've seen a lot of discussion about web bulb temperatures recently and obviously, people from hotter climates are better prepared to tolerate hotter weather. However, the intensity of heat waves is certainly magnified by the proximity of cities. This is a concern India will need to deal with as development progresses.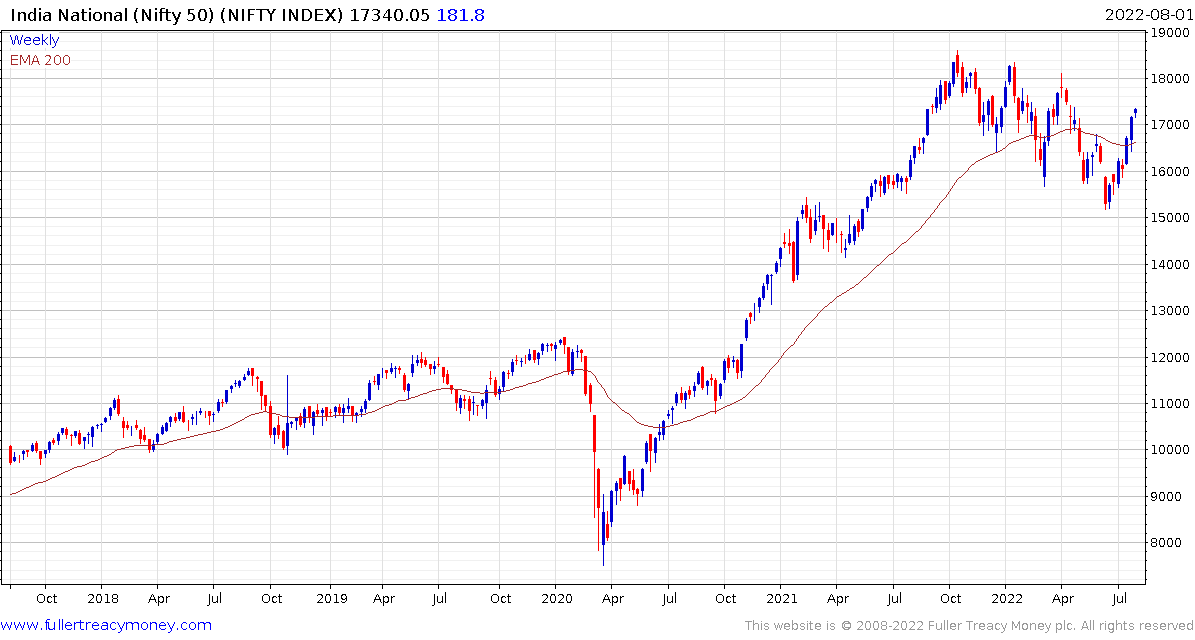 The Nifty Index rallied last week to break the eight-month downtrend.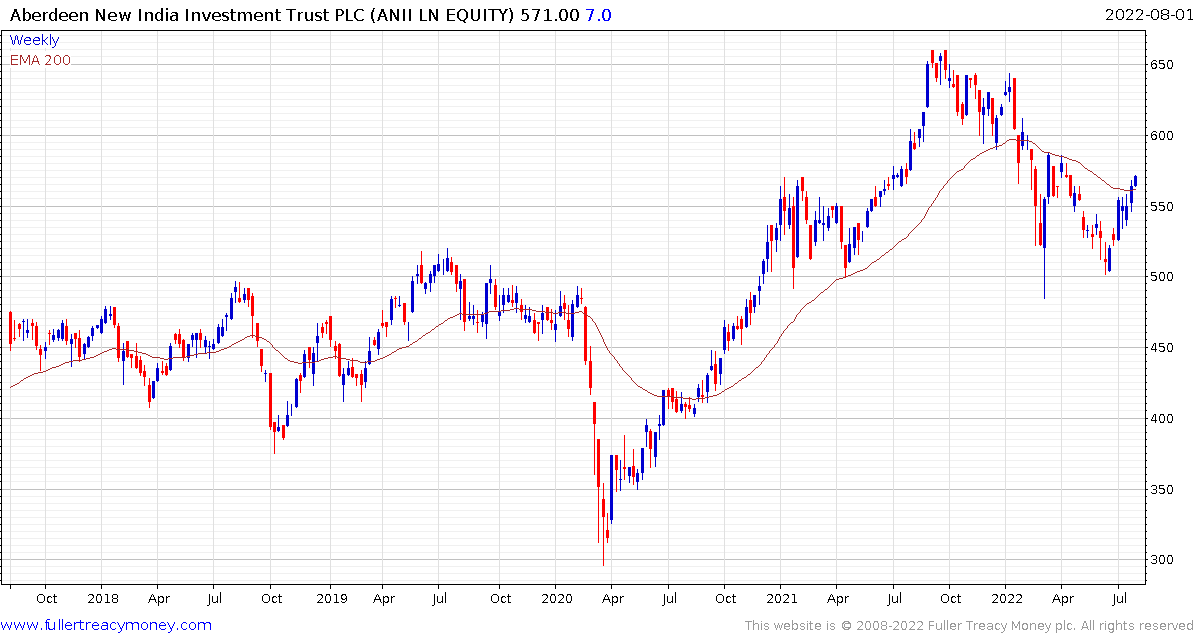 The Aberdeen New India also extended its rebound from the region of the 1000-day MA last week.
Back to top