India's Digital Leap - The MultiTrillion Dollar Opportunity
Thanks to a subscriber for this highly educative heavyweight 124-page report from Morgan Stanley which may be of interest. Here is a section:
Digitization is that idea in India, right now. The government and the Central Bank are on a mission to rapidly formalize and financialize the Indian economy. India has introduced a universal biometric identification system (Aadhaar), initiated measures to boost financial inclusion (Jan Dhan), moved to a new fully online value-added goods and services tax system and implemented real-time payment systems (Unified Payments Interface and Bharat QR). Coupled with rising smartphone penetration, likely doubling from 300 million to nearly 700 million by 2020, these changes are driving India's digitization. We expect a step change in India's per capita income, banking system and stock market performance over the coming years. The channels of change include more financial penetration,
greater tax compliance and increased credit to micro enterprises and consumers.

?The result could be a multi-trillion dollar investment opportunity. Aside from the near-term teething issues involved in execution of such big changes and other cyclical problems faced by the economy, there is scope for visible shifts in economic activity starting in 2018 eventually leading to India being a) the third-largest economy in the world with a GDP of US$6 trillion, b) among the top five equity markets in the world with a market capitalization of US$6.1 trillion and c) the country with the third-largest listed financial services sector in the world with a market cap of US$1.8 trillion by 2027. We also expect India's consumer sectors to add about US$1.5 trillion to their current market cap of US$500 billion over this period.

There are implications beyond India. The concomitant increase in e-commerce, consumption basket, financial products and investments will make India a significant market for global corporations. Most importantly, if India succeeds, it will become the template for other emerging nations. While increasing financial inclusion has been the policy objective across emerging nations, India can provide leadership with its unique model. Hence, it is very important for corporates, investors and policymakers across the globe to observe and understand these developments in India. Indeed, there may be lessons for developed countries too.
Here is a link to the full report.

Governance is Everything but it is not an absolute designation. Governance is all about the trajectory of policy and in India we can unabashedly say the trend is upwards. That is of course in full realisation that is it coming from a low base.

I was particularly enlightened by the sections on Aadhaar which is the initiative, now almost complete, to collect biometric data from the country's entire population. On first blush, it would be tempting to think of this as more about control than enlightenment but providing unique internet access to a large
illiterate population means biometric data's individual signature is in fact an elegant solution.

My enthusiasm towards India was revitalised last year with the successful roll out of cheap nationwide 4G. Putting the internet in the hands of more than a billion people is one of the most positive productivity enhancing advances anyone could wish for. Smartphones allow unfettered access to education, banking, retail, insurance, social media, advertising, business opportunities and communication that will allow a digital ecosystem to flourish.

By rolling on the GST model for taxation, which was a major undertaking, the government now has the ability to collect payments both online and offline. That's an important step in the attempts to demonetise the system since online money is easier to track, less prone to counterfeiting and provides easier access to banking facilities.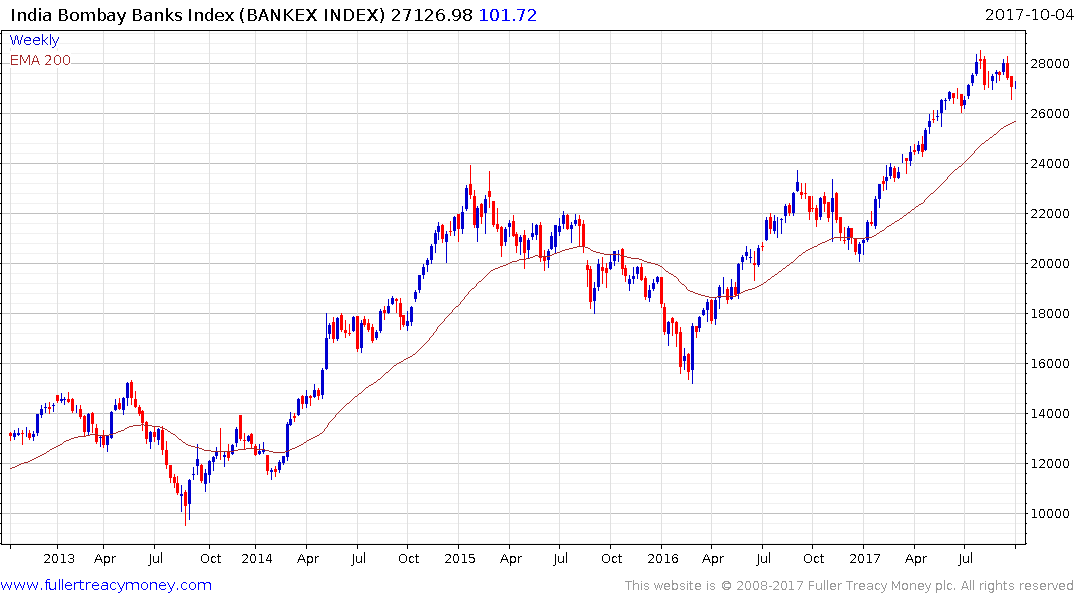 The Bombay Banks Index is currently in a process of consolidation following an impressive rally over the last few months. A sustained move below the trend mean would be required to question medium-term scope for additional upside.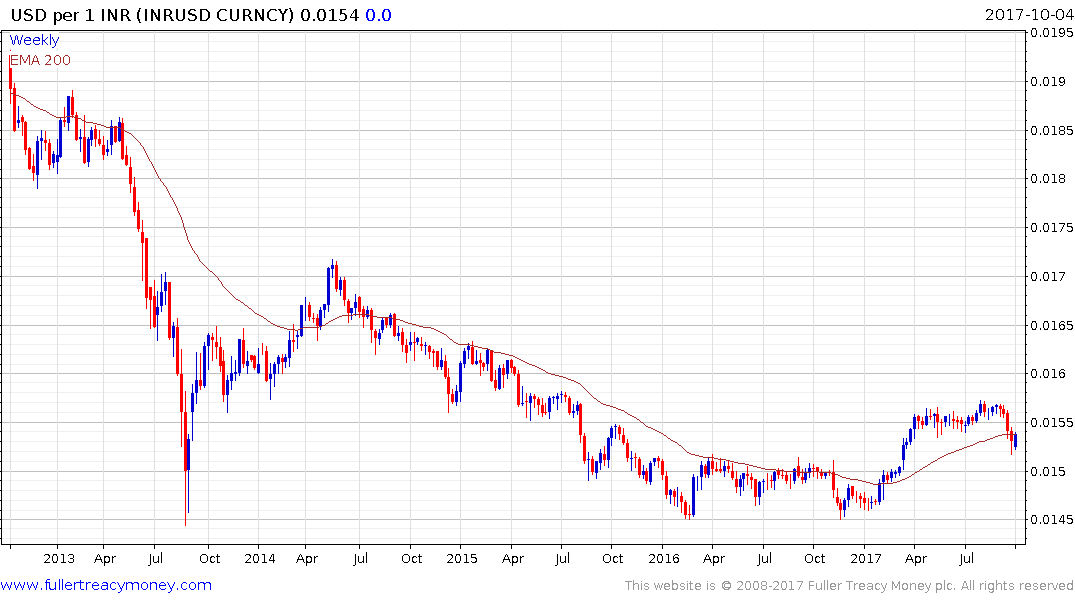 The Rupee rallied earlier this year to break a medium-term progression of lower rally highs and has been ranging for much of the last few months. It pulled back in September to test the region of the trend mean and will need to hold the current area if medium-term recovery potential is to continue to be given the benefit of the doubt.
Back to top