India Plans To Tap Smaller Russian Banks As Sanctions Hit Local Exporters' Payments
This article from Bloomberg may be of interest to subscribers. Here is a section:
The Indian government is exploring ways to reach out to smaller Russian banks that have not been sanctioned, according to an official in the Ministry of Commerce. One of the routes being considered is via smaller Russian banks that are outside the ambit of sanctions, said the official, who isn't authorised to disclose details and spoke on the condition of anonymity.

An alternative method of setting up a rupee mechanism has also been discussed, the official said. In looking for a solution, India may look to a system it had established nearly a decade ago for payments to Iran. Caught in the regulatory crossfire, Indian exporters are also worried that their shipments might be left unattended at Russian ports with no insurance.

"Earlier, we came to know that the Export Credit Guarantee Corp. of India has removed its umbrella insurance cover for Russian exports. Now, we hear there is going to be a case-by-case evaluation," said Rahul Singh, an exporter of engineering goods, including electrical machinery, to Russia.

To complicate matters, large amounts of engineering goods have already been shipped, said Singh. He has now reached out to the government regarding this. "Even if we receive payments, there will be a significant delay."
India is just one example of how trade settlement has been upended by sanctions on Russia. Getting paid for goods already sent is a major headache but who in their right mind would send more without having some security that future payments will be forthcoming. This is going to have a significant knockon effect for both the Russia and wider emerging markets sector.
India is also a significant purchaser of Russian military hardware and is refraining from sanctioning the country because it needs the imports. This section from a recent article may be of interest:
India needs Moscow's diplomatic support and weaponry to deal with neighboring China, particularly after the two nations clashed along their Himalayan border. India and China have been in conflict over the past two years, with both sides amassing troops, tanks and artillery guns.
Modi's government is also confident Washington will look the other way on this issue as India becomes a more important U.S. partner in taking on China in the Asia-Pacific region, the people said. India is part of the so-called Quad group with the U.S., Japan and Australia that has sought to counter China's influence.
During the Cold War countries outside of NATO plotted their own course between the competing forces. When I was 12, I was a keen fisherman and birdwatcher. For my birthday my parents asked my cousins in London to find me a pair of binoculars. On their next visit they brought me a Carl Zeiss model that was manufactured in East Germany, so the price was much more accommodative than the West German versions.
If we are looking at a long and protracted tension between NATO and Russia there is clear scope for India to become an interlocuter for trade between the two regions. The USA and Europe dare not alienate India since it is their best hope for a counter balance to China in Asia. That's a medium-term hypothesis for a new status quo. In the short-term a significant period of adjustment will be required.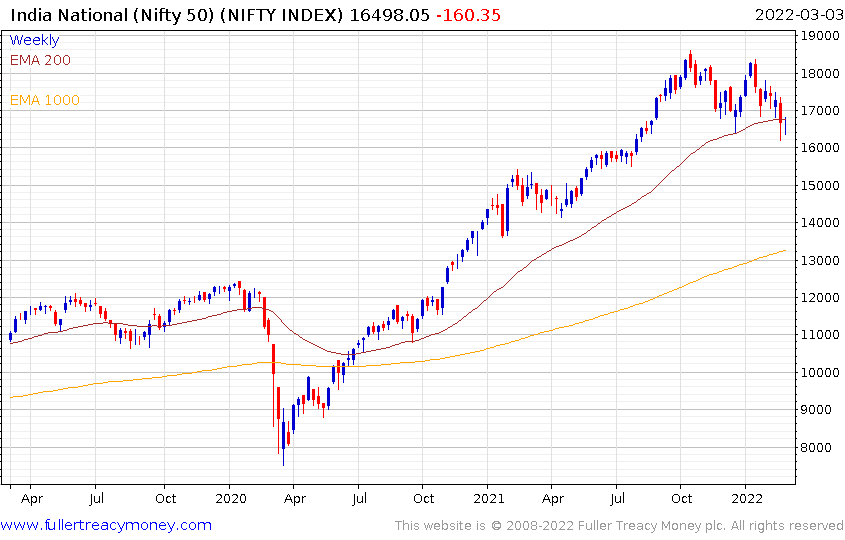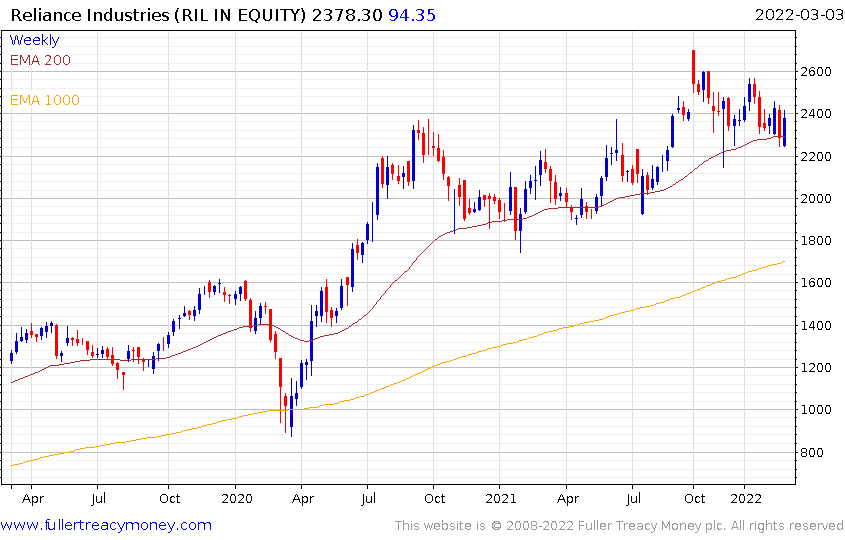 The Nifty Index is still holding in the region of the trend mean. Reliance Industries' refining business must be thriving in the high oil price environment. The share is currently firming from the region of the trend mean.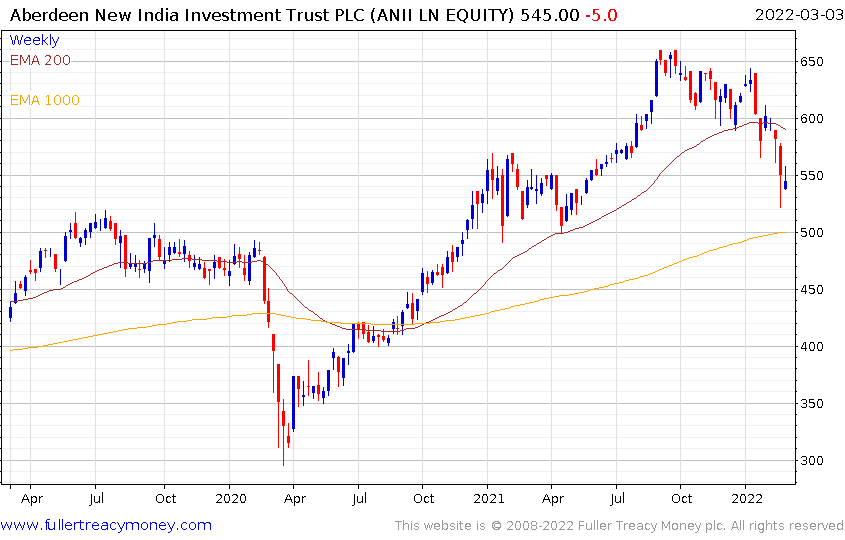 The Aberdeen New India trust experienced a deep pullback over the last two month and is now testing the region of the 2021 lows and the upper side of the 2017-2020 range.
Back to top