India Offers Land Twice Luxembourg's Size to Firms Leaving China
This article by Shruti Srivastava for Bloomberg may be of interest to subscribers. Here is a section:
Providing land with power, water and road access may help attract new investments to an economy that was slowing even before the virus hit, and is now staring at a rare contraction as a nationwide lockdown hit consumption.

The government has hand-picked 10 sectors -- electrical, pharmaceuticals, medical devices, electronics, heavy engineering, solar equipment, food processing, chemicals and textiles -- as focus areas for promoting manufacturing. It has asked embassies abroad to identify companies scouting for options. Invest India, the government's investment agency, has received inquiries mainly from Japan, the U.S., South Korea and China, expressing interest in relocating to the Asia's third-largest economy, the people said.

The four countries are among India's top 12 trading partners, accounting for total bilateral trade of $179.27 billion. The foreign direct investments by the four nations between April 2000 and December 2019 stands at over $68 billion, government data shows.

Making unused land available in special economic zones, which already have robust infrastructure in place, is also being examined. A detailed scheme for attracting foreign investments is expected to be finalized by end of the month, the people said.
India has the most favourable demographics of any large population country in the world. Many people speak English and it has a democratic imperative to deliver on improving standards of living. The missing link has always been the corrupt bureaucracy which stands in the way of infrastructure development and industrialisation. If that is finally starting to change companies will have the benefit of lower labour costs to lure them away from China.
The challenge in the short term is in how quickly India can get over the coronavirus economic hiatus. So far, the spread has been relatively well contained with lower numbers of deaths reported and we have not seen stories of bodies piling up in the streets like in Ecuador. Meanwhile, the lockdown was eased over the weekend and while cases continue to rise demographics may be playing to India's advantage.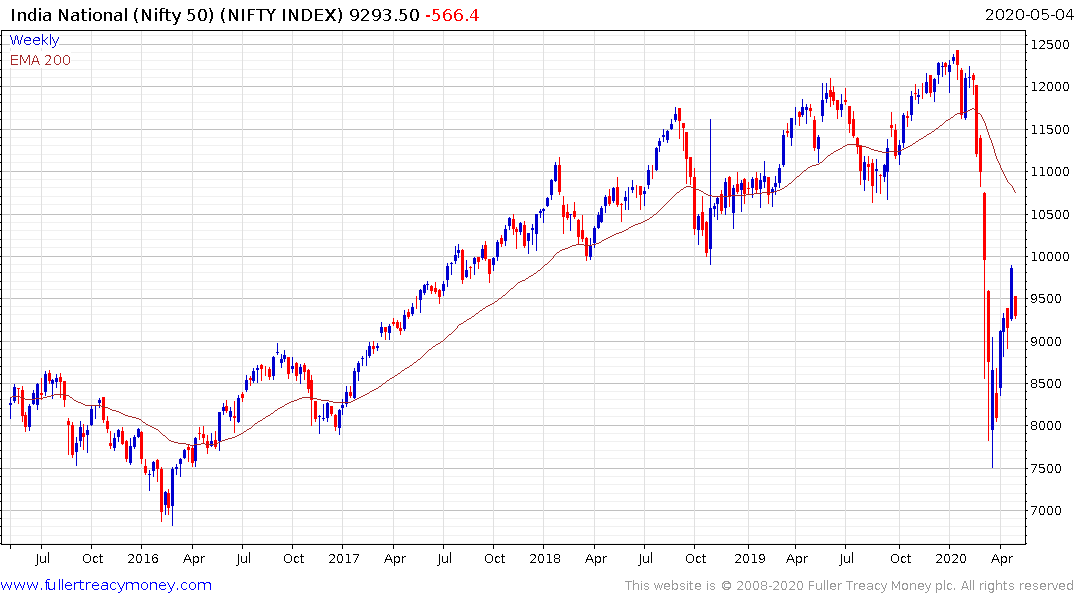 The Nifty Index unwound about half its decline over the last six weeks. Some consolidation of the short-term overbought condition is now likely. The primary arbiter of whether a low in is will be in how well the Index funds support above the March nadir.
Back to top