India Has Designs on Toy Manufacturing
This article by Raymond Zhong for the Wall Street Journal may be of interest to subscribers. Here are two sections:
In the world's second-most-populous country, manufacturing wages today are less than half China's, after adjusting for productivity: $5.36 an hour compared with $14.60, according to Boston Consulting Group. Labor will be abundant and wage-growth stable, some factory owners reckon, for more than a decade.

Whether that is enough to offset other shortcomings that have stymied India's rise as an export power—including roads and ports that badly need upgrading, power cuts and cumbersome bureaucracy—remains to be seen.

And

John Leung, chairman of GFT Group Ltd., a manufacturer of Transformers, "Star Wars" and other toys for Hasbro that is based in China's Guangdong province, said he plans to start producing soon from a rented factory in Chennai.

Eight years ago, GFT shifted much of its production from China to Vietnam, where today the company's workers earn around $215 a month, less than Chinese counterparts' salaries. But Vietnam is quickly becoming saturated with factories, Mr. Leung said.

"In the next eight to 10 years, Vietnam will be finished," he said. He said Hasbro, based in Pawtucket, R.I., had urged him to set up shop in India.
Efforts are underway to develop machines that can cut and sew without human intervention but as of today every piece of clothing we wear requires someone to sit at a sewing machine and do the work. It's time consuming and boring but there are a lot of people who want a lot of clothes so it is a major employer. The result is the garment industry is incredibly cost sensitive and will situate wherever labour is cheapest.

India does not have the manufacturing capabilities of China or indeed even some of its smaller neighbours. It has long been known for offshoring and other services as well as manufacturing for the pharmaceutical sector. At present it could be argued that India does not even produce enough garments to satisfy its own population. If the country is to achieve its development goals it will need to grasp the opportunity provided by the desire of manufacturers to migrate from China because if it waits another decade high population African countries will take the opportunity instead.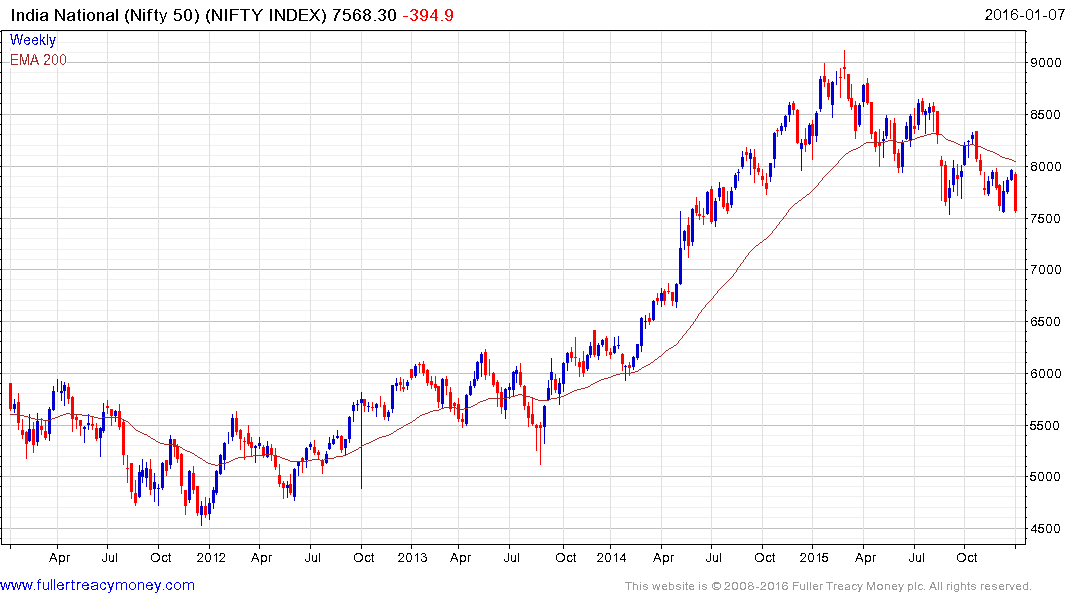 The Nifty Index has held a progression of lower rally highs since hitting a peak near 9000 in March last year. It encountered resistance in the region of the 200-day MA last week and is now testing the lower side of the three-month range. A clear upward dynamic will be required to begin to check potential for additional weakness while a break in the sequence of lower highs is needed to signal a return to medium-term demand dominance.
Back to top