India and the Iran deal
This article by Tanvi Madan for Brookings Institute may be of interest to subscribers. Here is a section:
In some ways, India has been preparing for a deal for several months, re-engaging Iran at the highest levels. Since February, the Indian national security advisor, transport minister and foreign secretary have traveled to Iran, and the foreign minister intended to do the same until her meeting was postponed. Most recently, Prime Minister Narendra Modi met with President Hassan Rouhani on the sidelines of the Shanghai Cooperation Organisation summit in Ufa, Russia last week. He reiterated an invitation for Rouhani to visit India and said he looked forward to visiting Iran as well.

India never stopped engaging with Iran and some of the recent trips may have taken place even in the absence of the deal. There are certain imperatives for the relationship that make it important for India regardless (mentioned below). Furthermore, after spending its first year focused on India's immediate neighborhood, the Asia-Pacific and the G-7, the Modi government has made clear its intention to "look west" over its second year, including with high-level trips to Central Asia (completed), Israel, Palestine, Jordan, and Turkey (for the G20 summit). This engagement becomes easier and more crucial for Delhi with the Vienna deal, which has implications for India in the energy, economic and geopolitical spheres.

And

?Indian oil and gas companies have been active in Iran in the past – albeit not without problems – and they will likely consider returning. State-owned oil and gas company ONGC has been trying to win the rights to develop a block in the Persian Gulf that it had discovered years ago. A delegation of petroleum ministry and state-owned energy company officials visited Iran in the spring to explore other opportunities. In the private sector, Reliance Industries, which had investments in and exported refined products to Iran, might also take another look at upstream projects and the possibility of resuming exports of petroleum products. At its peak in 2008-09, India was exporting over $1 billion worth of petroleum products to Iran; after Reliance stopped exporting, there was a sharp decline in that figure to less than $50 million in recent years.
As a major consumer of energy products and with very little in the way of domestic resources India has had little choice but to engage with Iran throughout its period of isolation. Iran will be keen to develop its export markets in order to boost income and potentially displace some of its regional competitors. Both China and India represent obvious growth markets.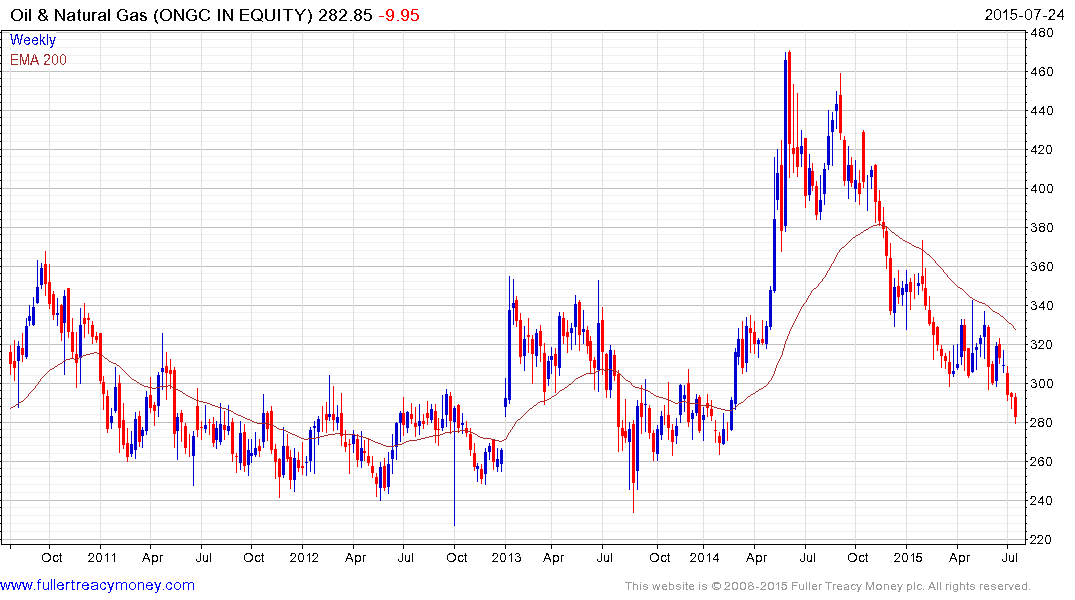 ONGC already has operations in Iran. This may give the company a preferential position in negotiations to develop new fields in future and represents a medium-term advantage. However the weak oil price represents a near-term headwind and the share has now unwound all of last-year's gain. A break in the yearlong progression of lower rally highs would be required to begin to suggest a return to demand dominance.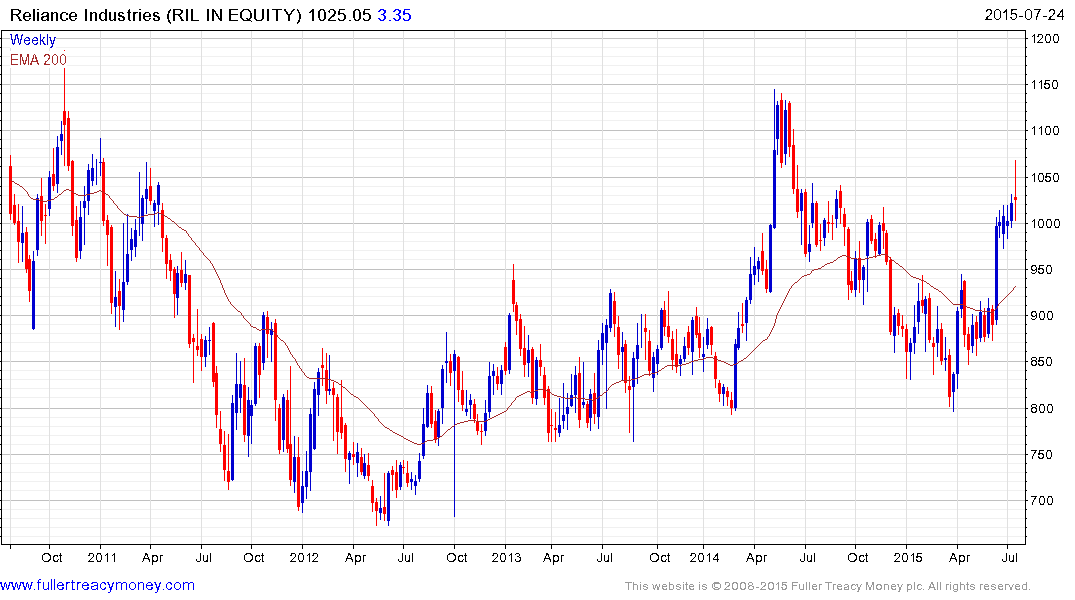 As one of India's largest companies and its largest refiner Reliance Industries has benefitted from the low oil price. The share has been ranging mostly between INR 800 and 1200 since 2009. It is somewhat overbought in the short term but a sustained move below the 200-day MA, currently near INR930, would be required to question current scope for continued higher to lateral ranging.
Back to top