If you traded crypto on Coinbase, the IRS might be coming for you
This article from Quartz may be of interest to subscribers. Here is a section:
Shockingly, the IRS has not updated its policies on crypto taxes since they were written in 2014. The following year, only 804 Americans declared taxes on crypto gains—despite an estimated 500,000 to 1.2 million people owning bitcoin that year. Add another three years of taxes, and that's a lot of money that is owed.

Many people currently wrestling with their returns don't know that they're meant to declare their bitcoin earnings. And there's no one to tell you: When filing taxes online through US websites like TurboTax or H&R Block, there isn't a checkbox that asks if you sold cryptocurrency that year. And as cryptocurrency is written on top of blockchain technologies, which is an immutable public ledger, it's likely that tax fraud will become harder to get around in a future dominated by crypto.

So let this be a warning: Declare all your wallets, even the ones the IRS can't yet see.
Bitcoin remains in a bear market but is likely to continue to remain under pressure for at least the next week as investors weigh how to account for the bumper return bitcoin posted in 2017. The price peaked in December and quickly fell from $19,511 to $10,775 but it started the year at $994.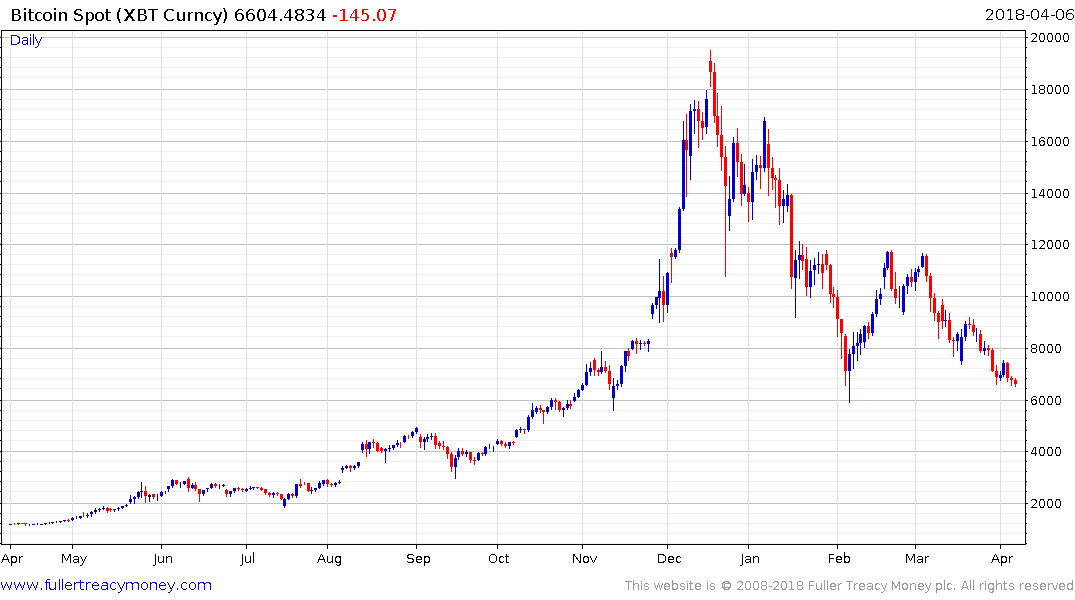 Most people who bought Bitcoin last year will not the cash on hand to pay taxes if they engaged in altcoin trading or have seen their adjusted gross income increase as a result of short-term capital gains which are taxed at the individual tax payers nominal rate. There is the possibility that bitcoin will be sold to fund the payment of taxes which is likely to remain a headwind until after April 17th.
Back to top