If you bought $100 of bitcoin 7 years ago, you'd be sitting on $75 million now
This article from CNBC highlights the current spate of excitement about bitcoin. Here is a section:
On May 22, 2010, Hanyecz asked a fellow enthusiast on a bitcoin forum to accept 10,000 bitcoin for two Papa John's Pizzas. At the time, Hanyecz believed that the coins he had "mined" on his computer were worth around 0.003 cents each.

Bitcoin mining involves solving a complex mathematical solution with the miner being rewarded in bitcoin. This is how Hanyecz got his initial coins.

The cryptocurrency has many doubters as it continues to be associated with criminal activity, but it has still seen a stunning rally. Here are two facts, on Bitcoin Pizza Day, however, that highlight this:

While being worth $30 at the time, Hanyecz pizzas would now cost $22.5 million at current bitcoin prices.

If you bought $100 of bitcoin at the 0.003 cent price on May 22, 2010, you'd now be sitting on around $75 million.

A number of factors have been driving the rally:

Recently passed legislation in Japan that allows retailers to start accepting bitcoin as a legal currency has boosted trading in yen, which now accounts for over 40 percent of all bitcoin trade

Political uncertainty globally has driven demand for bitcoin as a safe haven asset

A debate within the bitcoin community about the future of the underlying technology behind bitcoin known as the blockchain has been taking place. There was fear at one point this could lead to the creation of two separate cryptocurrencies but those worries have largely subsided with an alternative, more palatable option now being put forward.
At the Tech Symposium I spoke at in London last week Charlie Morris made a number of important points about bitcoin which I found very educative. The most important of these was his point relating to the fact that bitcoin is a digital asset rather than a currency so it is a misnomer to describe it as a cryptocurrency. The best way to value bitcoin is in the strength of the network supporting it and therefore it is a barometer for the prevalence and acceptance of blockchain.
Based on that metric we at least have something against which to base a valuation for the asset. However that does not mean prices cannot become overvalued regardless of what metric is used or indeed undervalued.
Here is a link to his report from April anticipating a premium.
What I find interesting is how much interest in bitcoin has grown over the last few months. When I last logged into fiatleak.com a few months ago the vast majority of flow was related to Chinese trading. That appears to have changed with the USA, Brazil and South Africa making up a greater proportion of trading.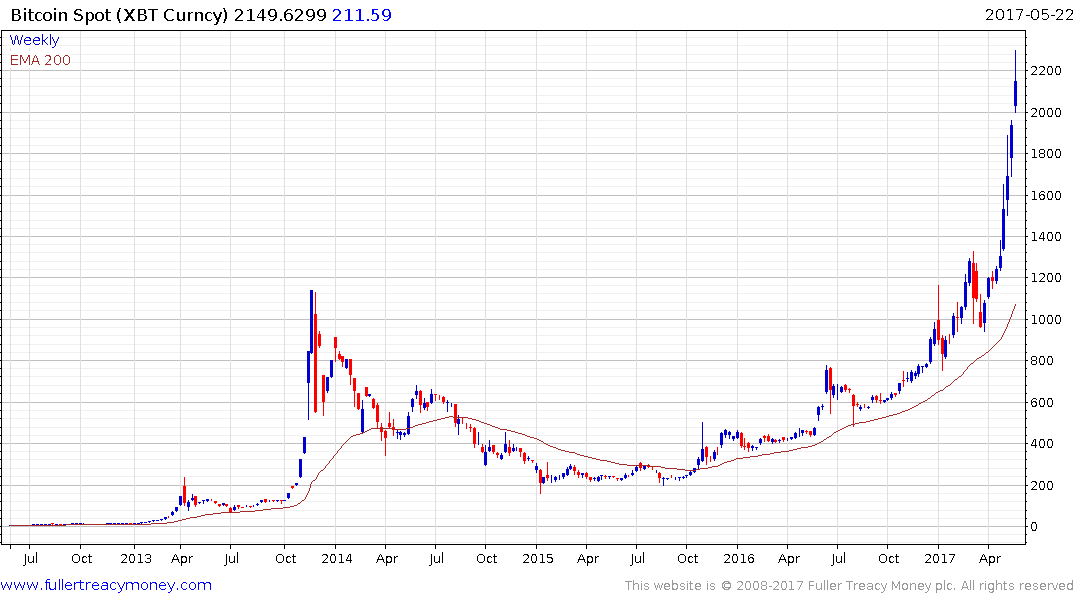 Considering how quickly the price is accelerating that is perhaps not so surprising since rising prices need to attract an increasing number of buyers if levels are to be sustained not to mind improved upon. At an overextension relative to the trend mean of over 100% a pullback, when it comes, is likely to be violent. The fact that CNBC is running headlines like that posted above signals, at least to me, that the market is getting hot.
Back to top