IBM to deliver 200-petaflop supercomputer by early 2018
This article from ExtremeTech may be of interest to subscribers. Here is a section:
More supercomputer news this week: The US is responding to China's new Sunway TiahuLight system that was announced Monday, and fast. First, the Department of Energy's (DOE) Oak Ridge National Laboratory is expected to take delivery of a new IBM system, named Summit, in early 2018 that will now be capable of 200 peak petaflops, Computerworld reports. That would make it almost twice as fast as TaihuLight if the claim proves true. (We had originally reported in 2014 that both Summit and Sierra would achieve roughly 150 petaflops.)

TaihuLight (pictured below) now sits at number one on the twice-yearly TOP500 list of the fastest supercomputers in the world, with a Linpack benchmark score of 93 petaflops and a claimed peak of 124.5 petaflops. The latest TOP500 announcement Monday caused a bit of a stir. Not only is TaihuLight roughly three times faster than China's Tianhe-2, the prior champion, but it also uses no US-sourced parts at all for the first time, as it's powered by Sunway 260-core SW26010 processors that are roughly on par with Intel Xeon Phi, as well as custom proprietary interconnect.
Supercomputers might be a somewhat esoteric topic but the fact China has developed the fastest computer in the world without requiring US sourced components is a major testament to the technological competence it has achieved. In turn that should help Chinese researchers to further develop artificial intelligence and big data projects.
IBM's commitment to develop the next iteration in this race is also a testament to their prowess not least as Intel appears to be moving towards developing new memory rather than chips. This also highlights the limitations of Moore's Law as the width of resistors approaches two atoms. Quantum computing represents a possible solution to that problem, at least for some functions, and IBM has one of the few functioning prototypes.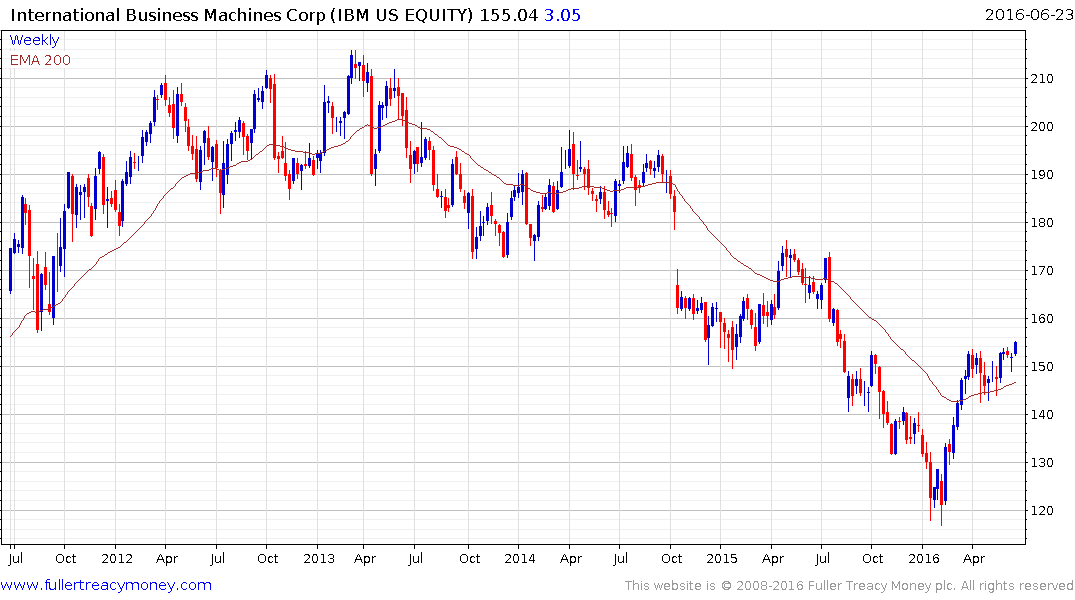 IBM's share has been consolidating above the 200-day MA since March and a sustained move below it would be required to question medium-term recovery potential.
Back to top