IBM brings quantum computing to the masses
This article by Colin Jeffrey for Gizmag may be of interest to subscribers. Here is a section:
Though not a full-blown quantum computer (the IBM processor comprises just five superconducting qubits) it does represent the latest advances in IBM's quantum architecture that the company claims may one day scale up to create very much larger, more complex quantum processors and eventually lead to the development of a universal quantum computer, which could solve some of the problems that simply can't be solved using classical computers.

?"Quantum computers are very different from today's computers, not only in what they look like and are made of, but more importantly in what they can do," says Arvind Krishna, senior vice president and director, IBM Research. "Quantum computing is becoming a reality and it will extend computation far beyond what is imaginable with today's computers. This moment represents the birth of quantum cloud computing. By giving hands-on access to IBM's experimental quantum systems, the IBM Quantum Experience will make it easier for researchers and the scientific community to accelerate innovations in the quantum field, and help discover new applications for this technology."

Housed in the IBM T.J. Watson Research Center in New York, the processor uses five qubits formed by superconducting metals embedded on a silicon chip. As Gizmag reported last year, IBM researchers showed that breakthroughs in detecting quantum errors were possible by bringing superconducting qubits together in a lattice arrangement, and it is this quantum circuit design that is brought to bear in IBM's cloud-connected processor with advanced parity measurement error correction protocols.

Although universal quantum computers do not yet exist, IBM believes that medium-sized quantum processors of 50-100 qubits will be a reality within the next decade. A quantum computer created with just 50 qubits would already be more powerful than any of the world's top 500 supercomputers.
As silicon transistors get progressively smaller and draw closer to the absolute limit of one atom thick the race has been on to develop alternatives. So far there is no clear winner but there are a number of potential technologies that could hold the answer. Among these are quantum computing, DNA computing, optical or light based computing and graphene based chips.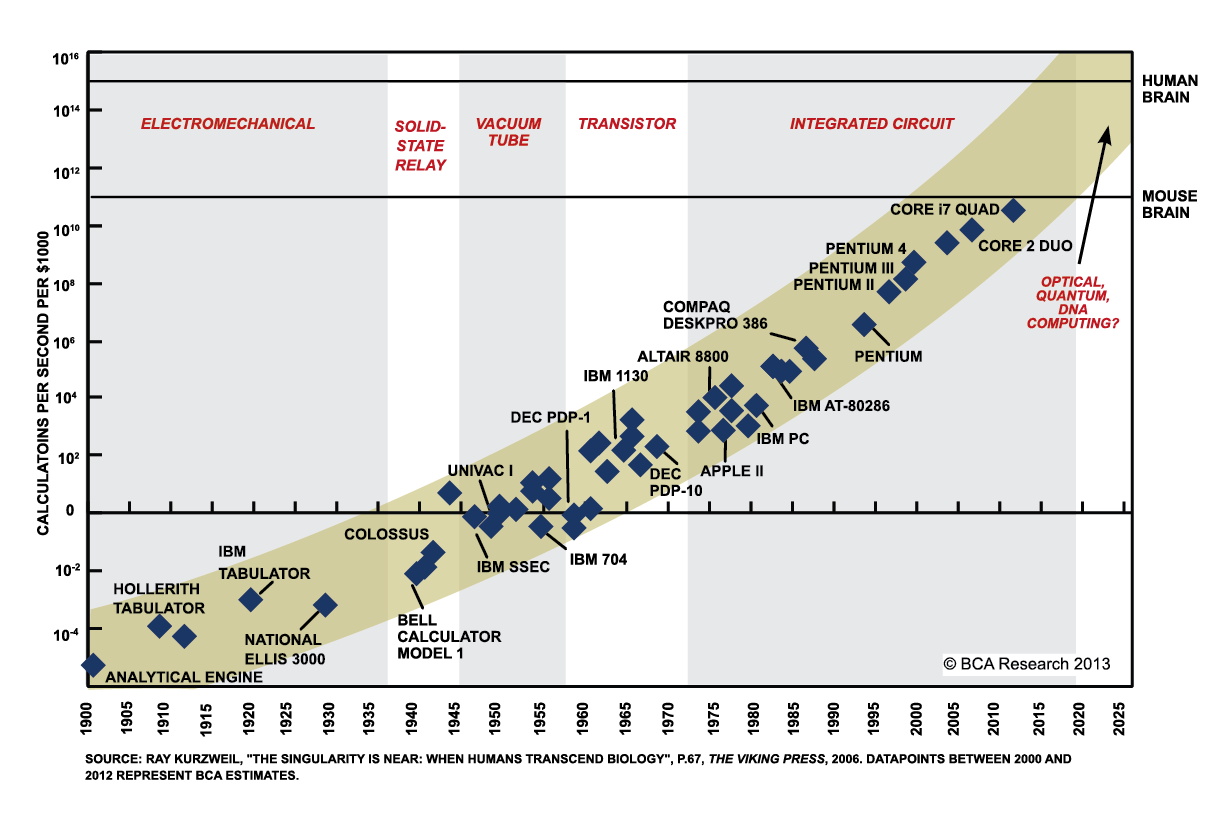 This image from Ray Kurzweil highlights just how much progress has been made and what is required if the trajectory of technological development is to proceed.

From an investment perspective computing as a service remains a growth market with large numbers of companies continuing to migrate onto the cloud. We all have powerful mobile devices but the heavy lifting of big data computing is increasing likely to be done in a central location and accessed via the web. That's good news for companies like IBM which have long pioneered spoke and wheel centralisation and also been at the forefront of major innovations. The challenge for IBM is whether it can successfully capitalise on the progress it has made with the Watson artificial intelligence and quantum computing.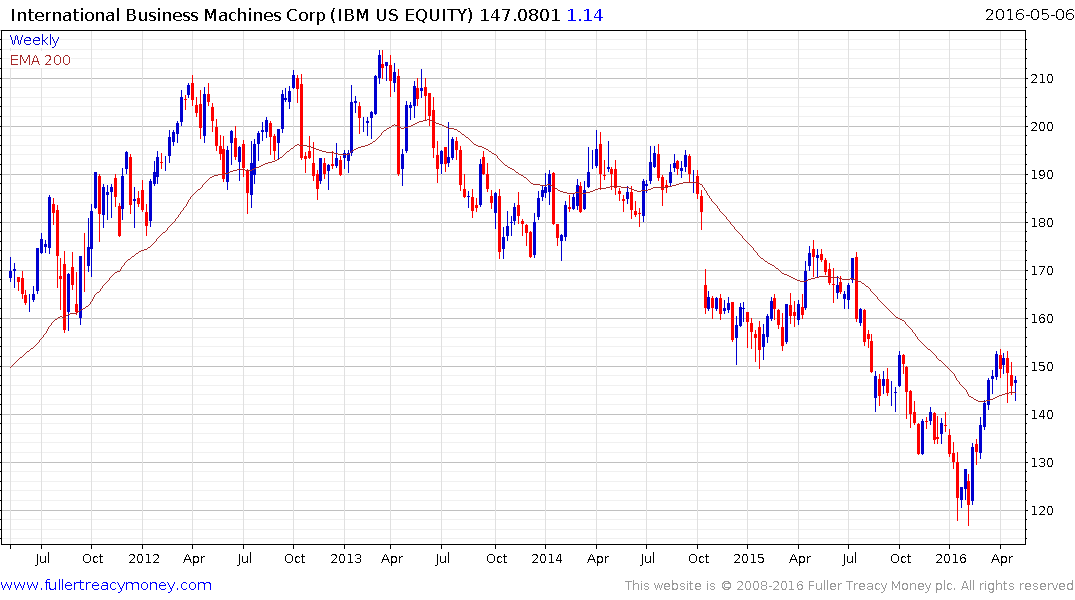 The share almost halved between 2013 and early this year but has since staged an impressive reversionary rally. It firmed this week from the region of the trend mean and a sustained move below $140 would be required to question medium-term potential for additional higher to lateral ranging.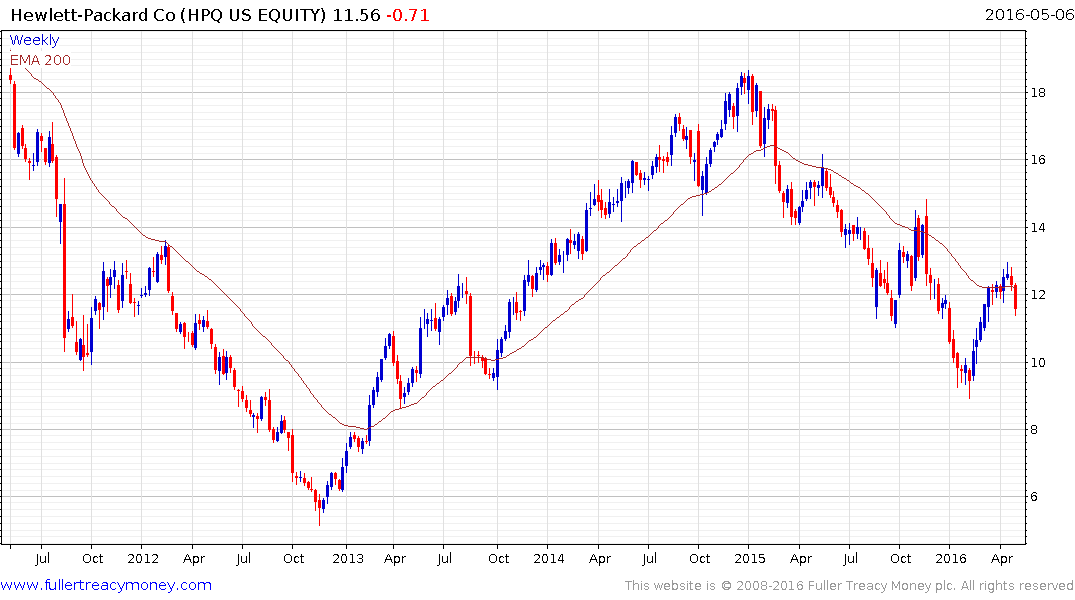 Building super computers represents part of Hewlett Packard's Enterprise Storage and Servers segment which accounts for about 15% of revenue. The share pulled back from the region of the trend mean this week and will need to sustain a move above $13 to question medium-term supply dominance.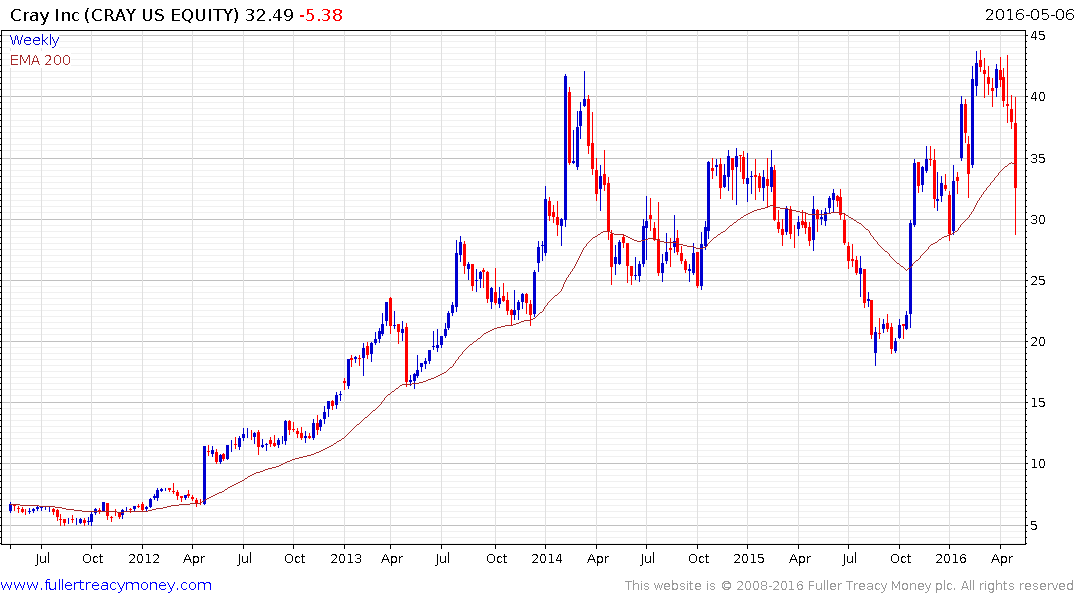 Cray which builds super computers missed expectations for earnings this week and dropped to test the region of the January lows. It steadied today and will need to hold the $30 area if potential for additional higher to lateral ranging is to be given the benefit of the doubt.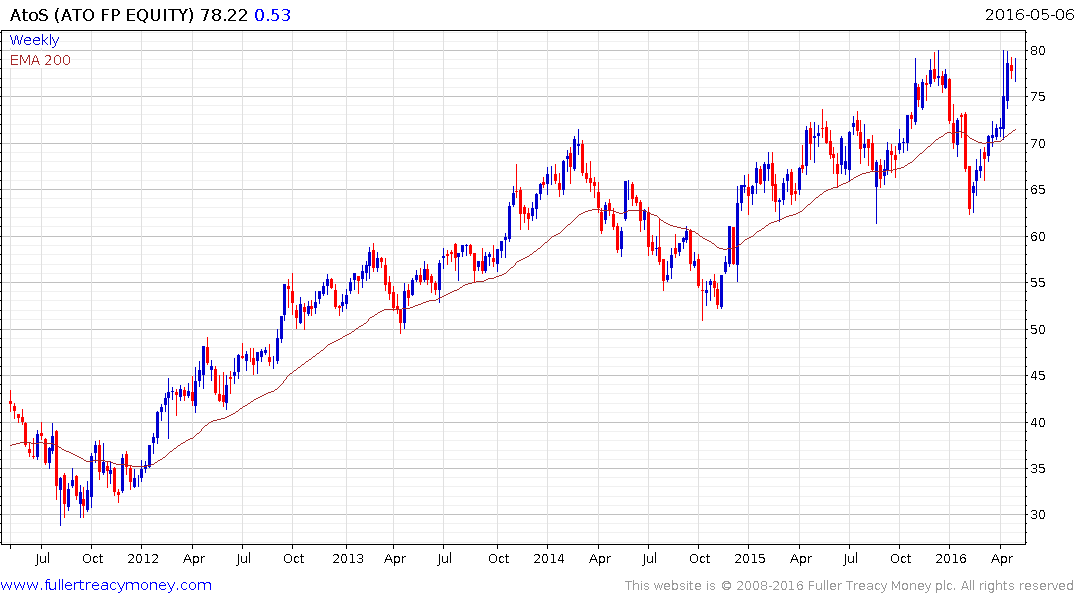 French listed Atos, owner of Bull super computers, remains in a reasonably consistent medium-term uptrend and is currently consolidating in the region of its previous peak.
Back to top