Europe Readies MiFID Rollback to Increase Recovery Investment
This article by Alexander Weber and Silla Brush for Bloomberg may be of interest to subscribers. Here is a section:
"The current crisis makes it even more important to not impose burdens where they are not strictly necessary," the commission said in the document. "Many stakeholders believe that increasing small and midcap research would lead to greater liquidity in those issuances."

The change could take effect in early 2021, according to an official familiar with the plans, but still needs approval from the European Parliament and the bloc's 27 member states. When the coronavirus pandemic brought Europe's economy to a grinding halt in March, politicians, regulators and central
bankers focused first on facilitating bank loans to keep companies afloat. Now the goal is to avoid an excessive reliance on debt, which is seen as keeping firms from investing in their future and could even threaten their survival.
The coronavirus has been a clear accelerant for trends in just about every asset class the changes being wrought in the Eurozone are among the most momentous. In the last few months, we have seen a clear evolution of the cooperation inside the Eurozone, a willingness to dispense with the fiscal strait jacket, willingness to implement shared fiscal responsibility, a willingness to donate funds to debt stricken southern countries and now the relaxation of strict financial sector regulations. This is the clearest signal in a decade that the EU is once more moving towards closer cohesion.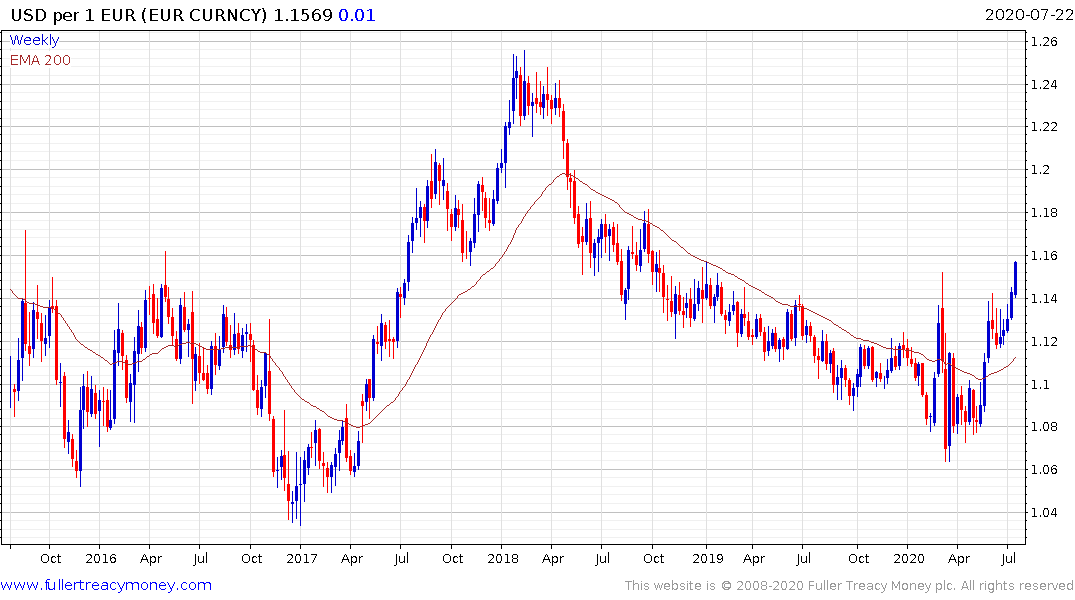 The Euro broke out to new recovery highs today which is as much about the weakness of the Dollar as it is about the potential for the Eurozone to coalesce around the new trend of cooperation.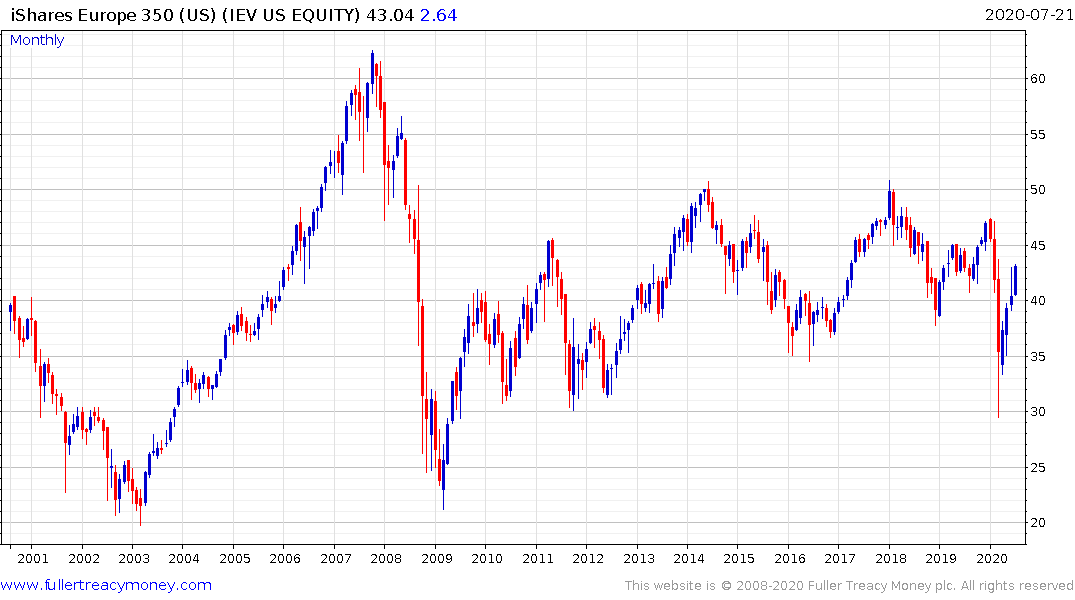 The Dollar denominated iShares Europe ETF has been ranging in a volatile manner for a decade. It is now rebounded from the lower side and clear break in the sequence of higher reaction lows would be required to question potential for additional upside.
Back to top