Worst Korean Jobs Figures in Nine Years Undermine Moon's Agenda
This article by Jungah Lee for Bloomberg may be of interest to subscribers. Here is a section:


South Korea's jobless rate hit the highest level in nine years, adding to evidence that President Moon Jae-in's minimum wage hikes are doing more to harm employment growth than they are to raise incomes.

The seasonally-adjusted unemployment rate reached 4.4 percent in January, the worst figure since January 2010, when it was 4.7 percent. The median forecast of economists was for 3.8 percent. Meanwhile, jobs growth slowed to 19,000, down from 34,000 jobs in December.

Moon's administration hiked the minimum wage by 11 percent this year, following a 16 percent increase last year.
South Korea is the world's 11th largest economy so it does not tend to be factored in when analysts talk about synchronised global economic expansion. However, it is often a lead indicator for the global economy because of the nation's focus on exports like cars and consumer electronics and its proximity to China. South Korea's slowdown in late 2017 presaged the global slowdown concerns that animated markets for much of 2018.
Against that background the South Korea Won has, conspicuously, been among the most stable of all currencies against the US Dollar.
The deleterious effects of sharply higher minimum wages on employment prospects should be a cautionary message to other countries planning on pursuing similar strategies. The minimum wage in many of the USA's largest cities is heading towards $15 within the next couple of years and that is only going to boost the case for automation among mid-sized to large companies but it is will be a death knell for small companies with only a few employees. Therefore, rather than fomenting inflation higher minimum wages have the capacity to be deflationary.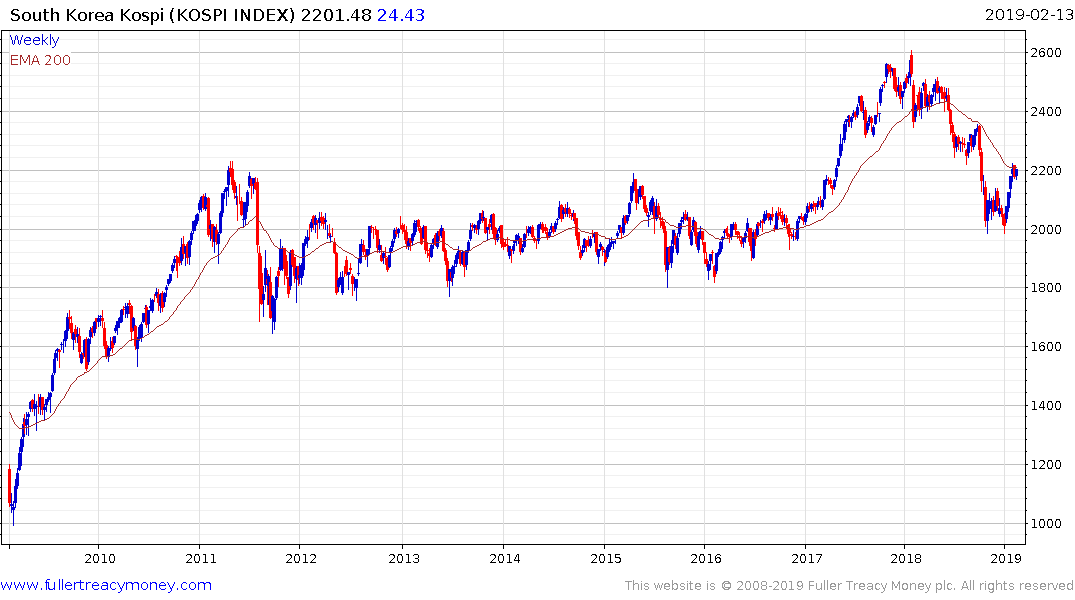 The Kospi Index has bounced from the psychological 2000 level and is now back testing the region of its trend mean. It needs to sustain a move above the 2200 level if a return to medium-term demand dominance is to be credible.
Back to top