Lucapa announces discovery of largest pink diamond in 300 years
This article may be of interest to subscribers. Here is a section:
Lucapa Diamond Company has announced the discovery of what is believed to be the largest pink diamond in 300 years, Associated Press reported on July 27. Named the 'Lulo Rose', the 170-carat gemstone was found in the Lulo alluvial diamond mine in the central African country of Angola, according to a statement on the company's website.

"Only one in 10,000 diamonds is coloured pink. So you're certainly looking at a very rare article when you find a very large pink diamond," Lucapa chief executive Stephen Wetherall told the Associated Press. It is expected to fetch a high value when auctioned, but Wetherall suggested its colour could give it an even higher premium.

Lulo is a 3,000km2 concession in Angola's Lunda Norte diamond heartland, approximately 630km east of the Angolan capital of Luanda. Over the past decade, exploration by Lucapa and its partners Endiama (Angola's national diamond company) and Rosas & Petalas has been successful in proving up one of the world's most prolific alluvial diamond fields at Lulo, along with >100 kimberlite pipes, says Lucapa's website.
Pink diamonds are highly prized by both consumers and investors and a stone of this size is a very rare commodity. It could fetch a price in excess of the miner's current market cap.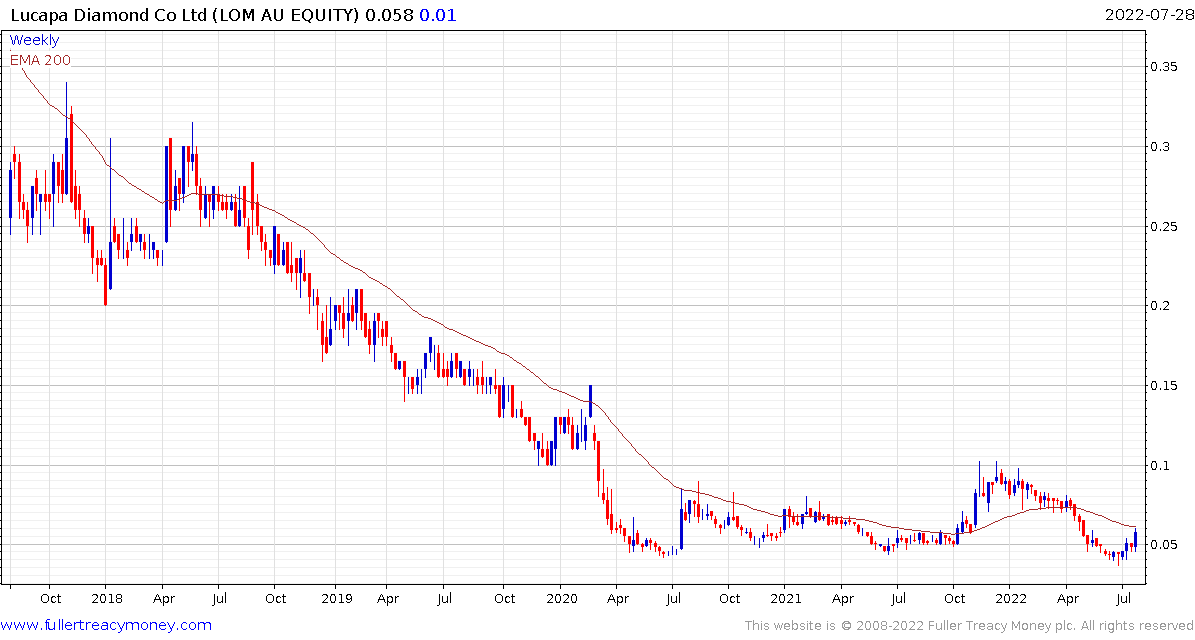 Lucapa Diamond is firming from the lower side of a two-year base formation.
Back to top