How Trump's Lumber Tariffs May Have Helped Increase Home Prices
This article by Peter Eavis for the New York Times may be of interest to subscribers. Here is a section:This article by Peter Eavis for the New York Times may be of interest to subscribers. Here is a section:
Want to better understand what may happen in the United States economy as President Trump pursues his combative trade policies?

Look no further than the lumber that goes into many houses in the United States.

Long before the sharp clash with Canada at the Group of 7 meeting this weekend, the Trump administration imposed tariffs on lumber imports from Canada, which American home builders use in large quantities. The United States Commerce Department contended that Canadian companies were selling lumber into the United States at unfair, subsidized prices.

Those tariffs, which took effect last year, combined with other factors to drive up the price of lumber in the United States. As a result, the anti-dumping and countervailing duties, as the tariffs are officially known, have added to the cost of housing in the United States at a time when homes are becoming less affordable. The Trump administration's tariffs on steel and aluminum, and any others that follow, could also contribute to rising costs for businesses and consumers.
This article is representative of the narrative which has gripped the lumber market for most of the last 12 months but is also behind the CME's decision to widen limits on a rolling basis to try and contain speculative fervour.
Those efforts are now bearing fruit with the lumber price pulling back sharply from its peak and falling the expanded limit of $15 today. A weaker than expected mortgage approvals figure might have lent a tailwind to bears but the actions to pressure leveraged traders are a more important factor in the future market.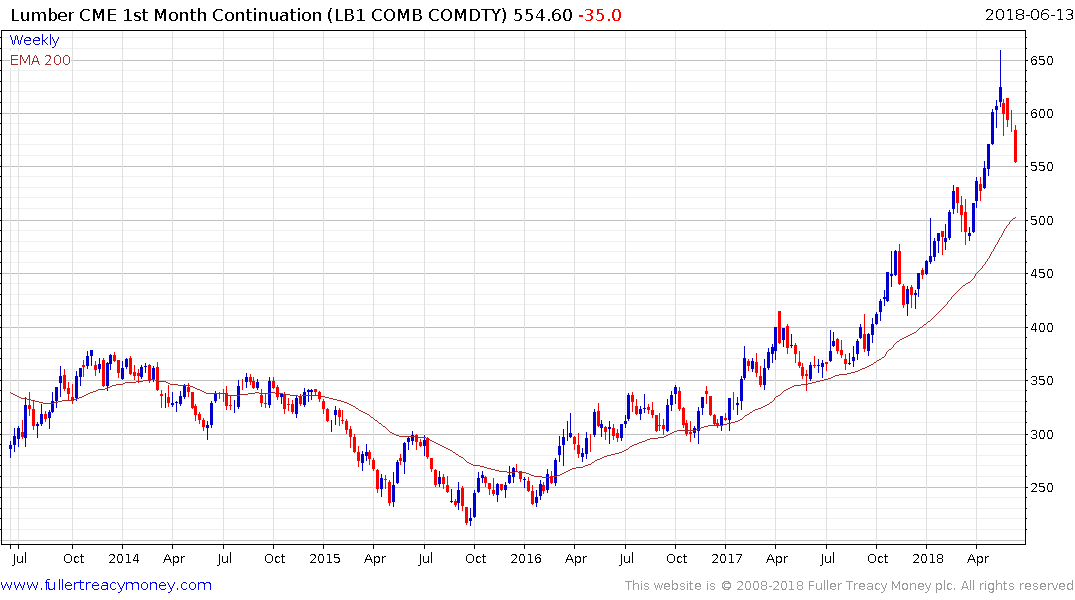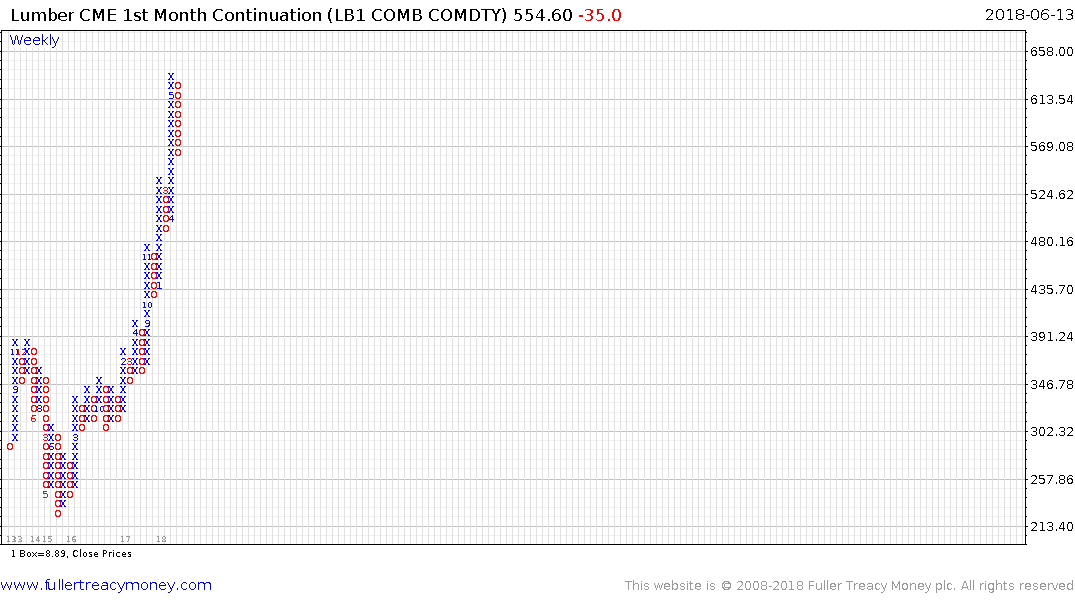 Lumber has now posted its largest reaction since the advance began in late 2015 and posted its first lower low on the p&f chart suggesting a peak of medium-term significance. The upper side of the underlying range near $450 will be an important region of potential support if the breakout from the 25-year base is to be sustained.
Back to top