How the Flynn Charges Box In Trump
This article by Noah Feldman for Bloomberg may be of interest to subscribers. Here is a section:
The content of the Flynn-Kislyak conversations deepens the narrative that special counsel Robert Mueller has been building: Earlier guilty pleas revealed Russian efforts to connect with the Trump campaign; this one reveals official contacts between the Trump team and Russia after the election -- contact significant enough for Flynn to lie to the FBI about.

The fact that the lies concern Russia makes it politically harder for Trump to fire Mueller or to pardon Flynn than if the charge had involved Flynn's other legal woes over his unreported lobbying for Turkey.
The Mueller investigation of ties between the Russian government and the Trump administration represents a potential powder keg for the political arena which could potentially bleed into the markets. It is looking increasingly likely that the tax legislation will get passed ahead of the release of whatever conclusions the investigation reaches but it is a wild
card that could contribute to volatility.

Here is a section from a note by Russell Napier on the subject:

How long will President Erdogan continue to struggle to service a foreign currency debt burden that is 48% of GDP through the mechanism of ever-higher domestic interest rates? The ultimate destination of this policy might need to be a level of domestic growth that creates a current account surplus and thus an ability to finance net capital outflows? With the current account deficit at 4.1% of GDP such a growth slowdown might have to be very painful indeed, both economically and politically.

The President has long called for a reversal in policy, one in which the people he describes as 'foreign loan sharks' will no longer 'enslave' his country through driving up interest rates. Could the tipping point to change opinion into action be a court case in lower Manhattan? Sanctions would intensify the pain and the President's commitment to paying off the 'foreign loan sharks' might diminish quite quickly.

Zarrab almost certainly has another story to tell that is unrelated to this trial, but is critically connected to the fate of Trump former National Security Advisor Mike Flynn. According to a story broken by The Wall Street Journal, the US special counsel Robert Mueller is investigating Mike Flynn for an attempt to abduct Turkish dissident Fethullah Gullen and send him to Turkey in return for a payment of US$15m. Flynn's son was also allegedly involved in that plot.
If Zarrab, as right-hand man for the Turkish administration's dealings in the US, has information that proves such a conspiracy, then Mike Flynn has much more than the investigation into his links with Russia to worry about. With as yet no charges laid against Flynn or his son, despite Zarrab having been co-operating since October 26th, this raises the possibility that Flynn is negotiating behind the scenes to co-operate fully with Mueller's investigation into the Trump campaign's Russian links.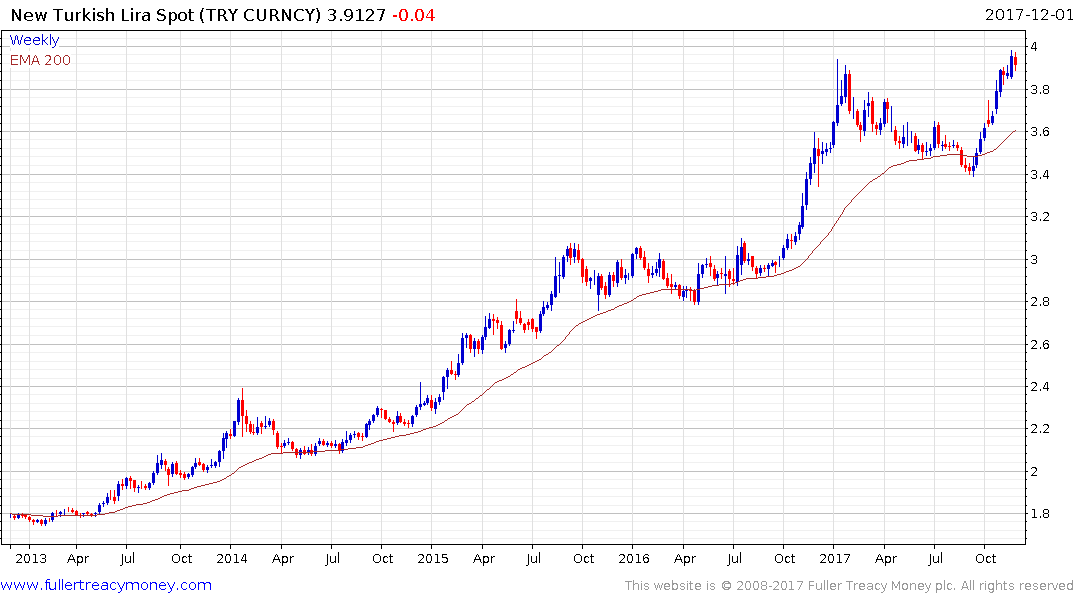 The Turkish Lira has been trending lower in a consistent manner for six years and is now testing the TRY4 level versus the US Dollar. A pause is likely in this area but a sustained move below the trend mean would be required to question medium-term scope for further weakening.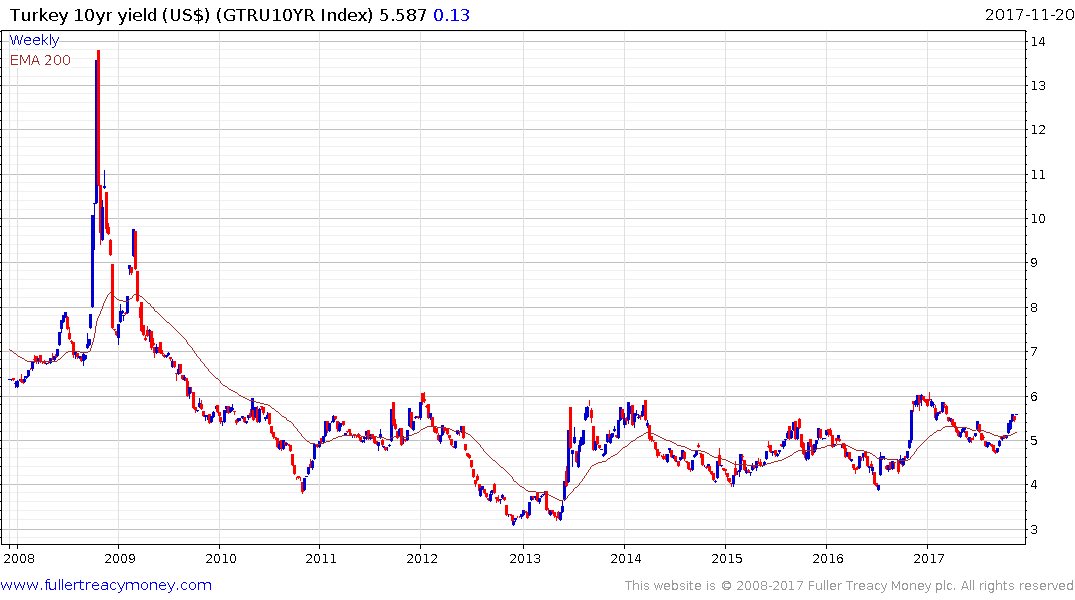 6% is big level for US Dollar denominated Turkish debt as it represents the upper side of a well-defined seven-year base formation.

I agree with Russell Napier that the global debt markets represent the epicenter of risk. It is among highly leveraged / indebted sovereigns and credits that we need to be most vigilant for signs of trouble. Right now, these are suppositions of where problems might arise but there are no signs of immediate issues.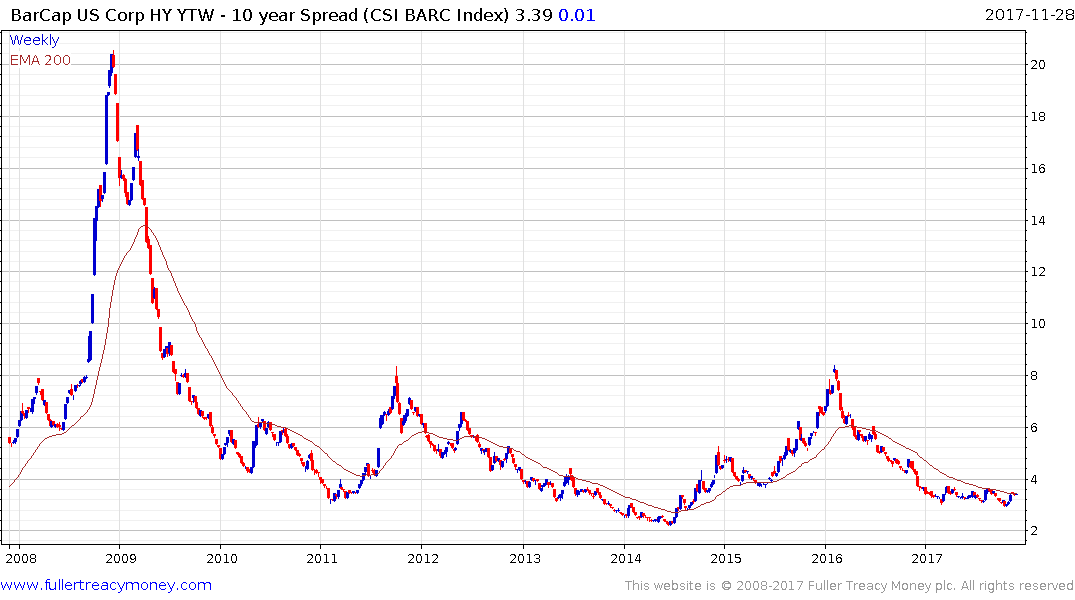 The Barclays High Yield 10-year Spread chart is still trading below the trend mean and remains within its almost yearlong base formation.
Back to top