How retail stores are using virtual reality to make shopping more fun
This article by Shan Li for The Los Angeles Times may be of interest to subscribers. Here is a section:
Virtual reality is also being used to add an experiential aspect to in-store shopping, unrelated to the actual buying of products. Retailers are dabbling in virtual reality for the same reason they are adding other conveniences like curbside pickup — to lure people back into stores. They figure that the sci-fi aspect of VR is a form of entertainment that can't be replicated from behind a computer screen.

"Retailers have been down for so long, they have got to differentiate themselves to get people to shop," said Ron Friedman, a retail expert at advisory and accounting firm Marcum in Los Angeles.

Toms, which started as a shoe company before branching into eyewear and coffee, put virtual reality headsets from Samsung into more than 100 stores around the world last year. The video shown depicts a trip to Peru as part of the company's popular one-for-one campaign, in which it donates a pair of shoes for every pair it sells; viewers can see a video with panoramic views of a schoolyard as children are handed boxes of shoes.

On a recent weekday, Tyler Costin, 32, slipped on a Samsung Gear VR headset while shopping at the Toms store on Abbot Kinney Boulevard in Venice.

"That's amazing," he said, swiveling in his chair to take in the 360-degree views. At one point, Costin lifted his hand to greet the students before quickly putting it back down. "You want to wave back," he said sheepishly.

The Westwood producer, who had never used a VR headset before, said the experience was "pretty incredible."

"It's like you're there," Costin said, joking that "Peru was lovely that time of the year."

That kind of immediacy is why virtual reality trumps photographs and traditional videos, Toms founder Blake Mycoskie said.

"It just touches more of your senses," Mycoskie said. "It gives you a more immersive experience — you really get the feel of motion."

Sensory drama doesn't come cheap. Filming was about $250,000, and outfitting each store costs about $1,000 each, Mycoskie said. The biggest expense was training at least one employee per shop to operate the equipment and walk shoppers through the process.
Virtual Reality is launching now and the availability of content on the main platforms is expanding rapidly. The cost of new technology is almost always high but the speed with which this is rolling out and the potential for a company to differentiate its offering by reaching customers, in a wholly new way, means there will be ample supply of VR content not least advertising. The major growth trend is dependent the total cost of ownership coming down and people investing in domestic systems.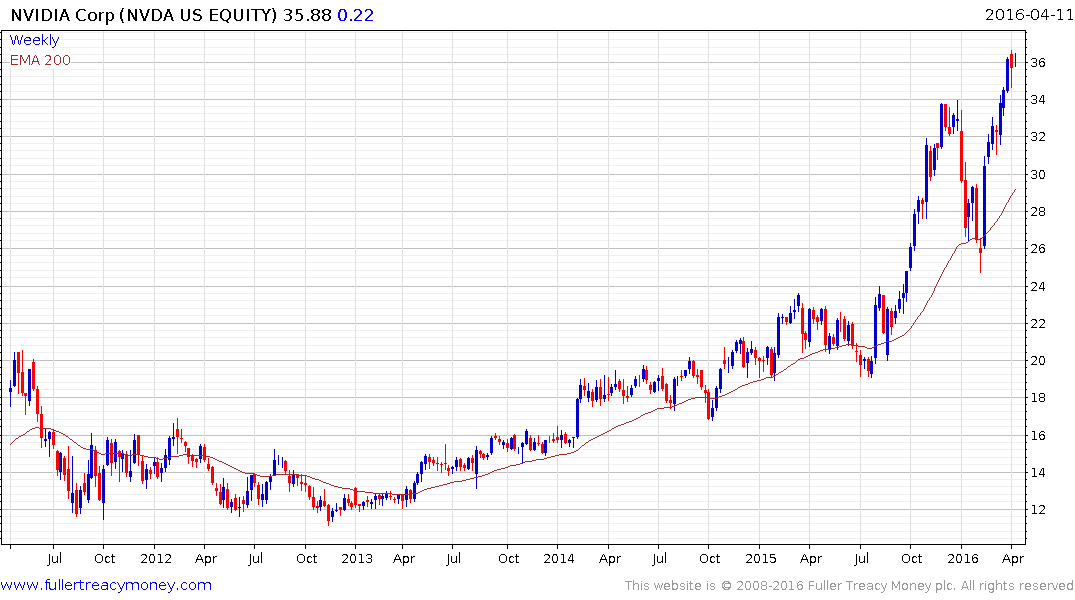 VR might be launching now but this has been anticipated by investors for much of the last year. Nvidia which supplies the most commonly used graphics card for VR, has surged higher since testing the region of the trend mean in early February. It is increasingly overbought relative to the trend mean and the risk a reversion towards the 200-day MA has increased.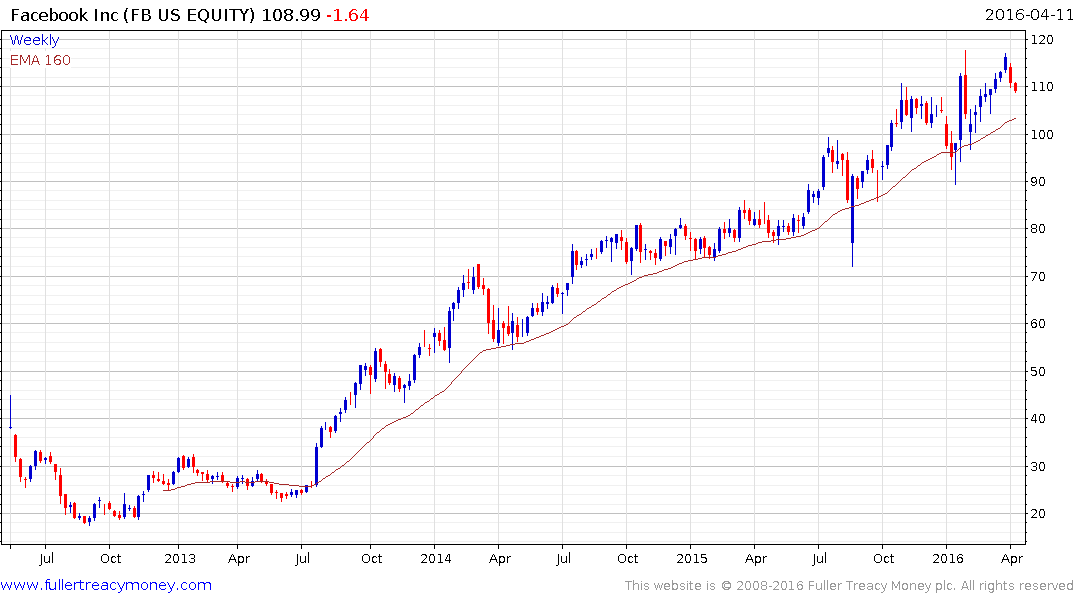 Facebook, which owns Oculus Rift is now also reverting back towards the mean.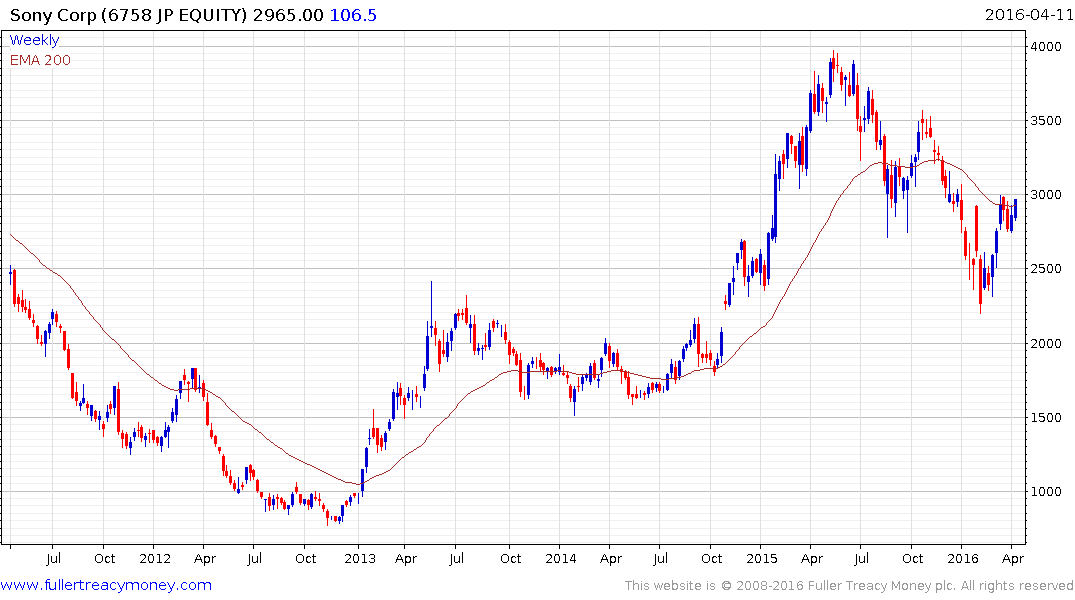 Sony which has released a version compatible with its PS4 system has been consolidating in the region of the trend mean for the last month and a sustained move above ¥3000 would break the yearlong progression of lower rally highs.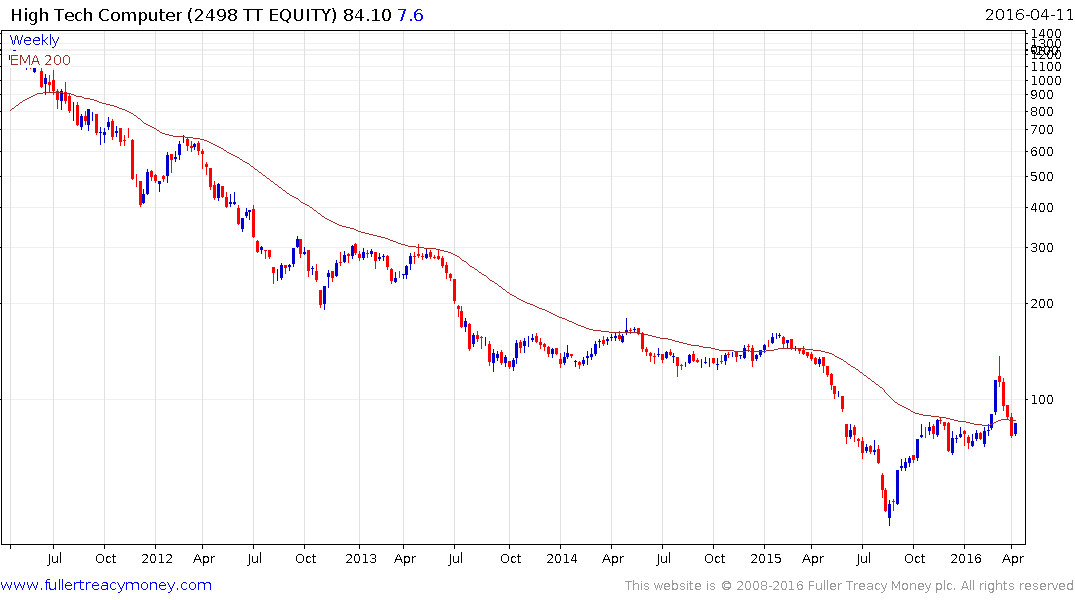 HTC, in cooperation with privately held Steam (the largest seller of PC games with 70 million subscribers), has released its own version which is the most expensive but offers the ability to walk around the physical environment. The share unwound just about its entire early March rally and firmed today in the region of TWD80. A clear downward dynamic would be required to question potential for some additional steadying.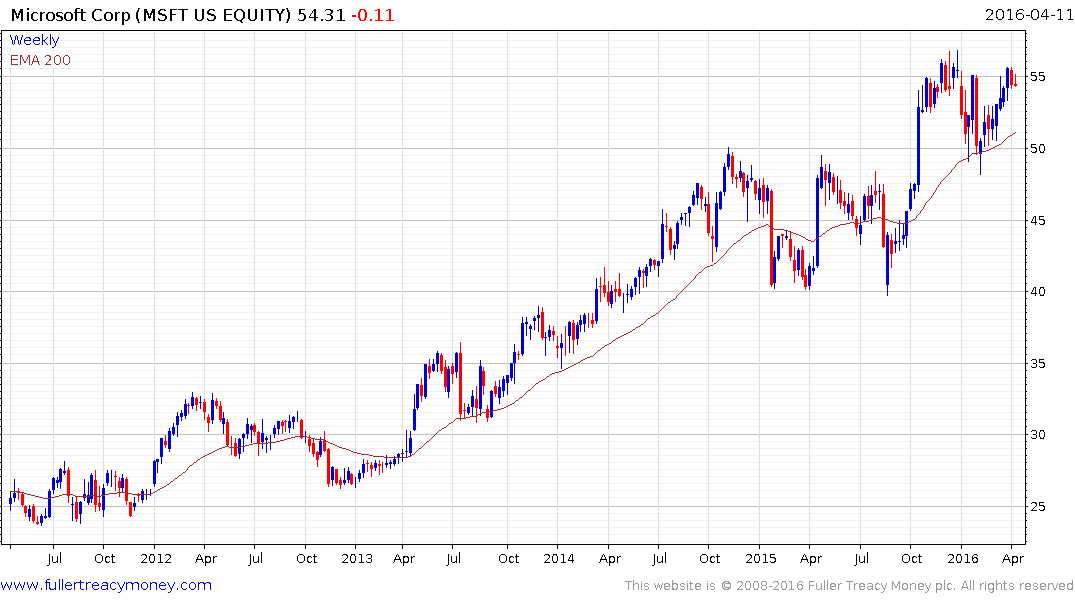 Microsoft's take on augmented reality, its HoloLens system, is now also being launched. The share has paused in the region of its highs and some additional consolidation looks likely.
Back to top