How Low Will Retail Go? Look at the Railroad
This article by Stephen Mihm for Bloomberg may be of interest to subscribers
And that is the likely fate of conventional retail. Like the railroad, there's an extraordinarily surfeit of retail space built with little consideration of what the market will actually sustain; recent declines in the retail revenue per square foot in brick-and-mortar stores suggests that things are getting worse, fast. And like the railroad, there's a new way of doing business on the block, except that instead of changing how we move people and goods, online retailing promises a new way of delivering them to the end consumer.

If the per capita retail footprint declined as much as the railroads did, it would fall all the way down to 2.82 square feet per capita. That's a lot of empty malls and defunct big box stores, but retail won't disappear any more than the railroads have gone extinct.

In fact, in 2014, the inflation-adjusted revenue that railroads earn per mile of track is 2.7 times what it was a century ago. More startling still, the so-called "ton miles" of freight carried on the nation's railroads (a ton mile is one ton of freight carried one mile) has tripled since 1960, even as the total size of the operational railroad system has declined dramatically.

That points to the likely future of conventional retail: a drastic reduction in the per capita footprint, with the remaining stores capable of earning far more money per square foot. It's not the brightest of futures. But it's also not the end of the world.
Near where I live in Los Angeles, a large mall is close to shutting since it's primary tenants, Macys and Nordstrom, have decamped to the newly refurbished Westfield mall in Century City near Beverly Hills. The two malls are about a mile apart but until a couple of years ago Macys seems to have been comfortable with the idea of having two large stores within close proximity of one another. In between the two malls the only businesses that have survived are universally service oriented. So, what is going to be done with all the empty commercial space sitting on valuable pieces of real estate?
In Marina Del Rey Costco acquired the neighbouring big box premises Albertsons left behind, knocked it and expanded its car park. However, for most space left vacant by the decline of retail, the most likely scenario will be for apartments to be built. Just because the shops are gone does not make an area any less desirable and there is a shortage of housing in such areas.
Right now, the REITs sector is under pressure because of the prospect of rising interest rates. As bond proxies they are falling in sympathy. Nevertheless, rents can be raised, offering some inflation protection, so it is likely to be a sector worthy of closer scrutiny as the contraction in the retail sector runs its course.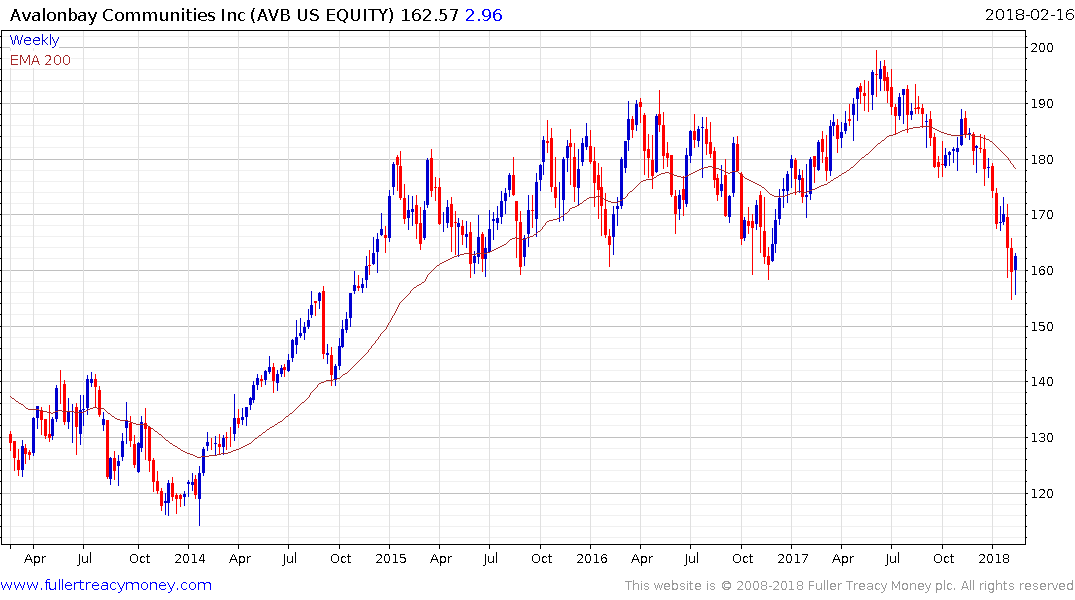 Avalon Bay is one of the largest multifamily oriented REITs. It currently yields 3.82% and is currently testing the lower side of a three-year range. It will need to hold the $160 if type-3 top formation completion characteristics are to be avoided.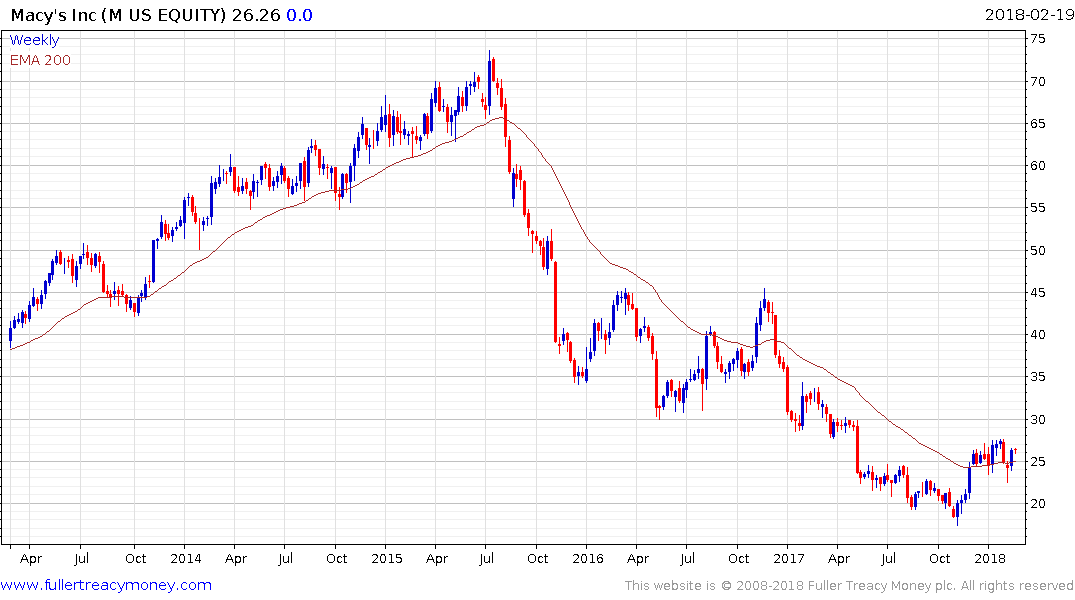 Meanwhile Macy's is now trading on an estimated P/E of 7.27 and yields 5.75%. The share has broken its progression of lower rally highs and is currently consolidating in the region of the trend mean. A sustained move below the early February lows near $22.50, would be required to question the support building hypothesis.
Back to top