How London Transport Is Preparing for Life After Lockdown
This article from Bloomberg highlights just difficult social distancing is in a dense city environment. Here is a section:
According to the city's transit manager, Transport for London (TfL), maintaining social distancing means that buses and London Underground trains will only be able to carry around 13–15% of the 9 million passengers who use the services daily. One of eight carriages on a Central line train can carry 131 people in a typical peak hour crush. Only 7% of these passengers could travel if 2-meter distancing was achieved.

TfL has imposed a limit of 20 passengers on its double-decker buses, that can usually carry up to 87.

To help alleviate this precipitous drop in passenger capacity, TfL and London Mayor Sadiq Khan unveiled their 'London Streetspace' program in May, which aims to accommodate a possible 10-fold increase in cycling and a fivefold increase in walking. "Many Londoners have rediscovered the joys of walking and cycling during lockdown and by quickly and cheaply widening pavements, creating temporary cycle lanes and closing roads to through traffic we will enable millions more people to change the way they get around our city," Khan said.
I'm all for walking or cycling to work but a 90% drop in occupancy for the Tube and a 75% drop in bus occupancy is completely unworkable. The age of the Tube network has always mean ventilation is a problem. The 10 to 15 degree pick up in temperature when entering the network has long been a testament to that fact.
The only possible way the network will be usable is with a mammoth effort to deep clean constantly and enforce personal hygiene. Even then, the need for constant testing, contact tracing and isolation is essential. The problem seems to be there is no real enthusiasm for joined up thinking in the administration. Having missed the narrow window for early action, the UK is now mired in a lengthy process of recovery.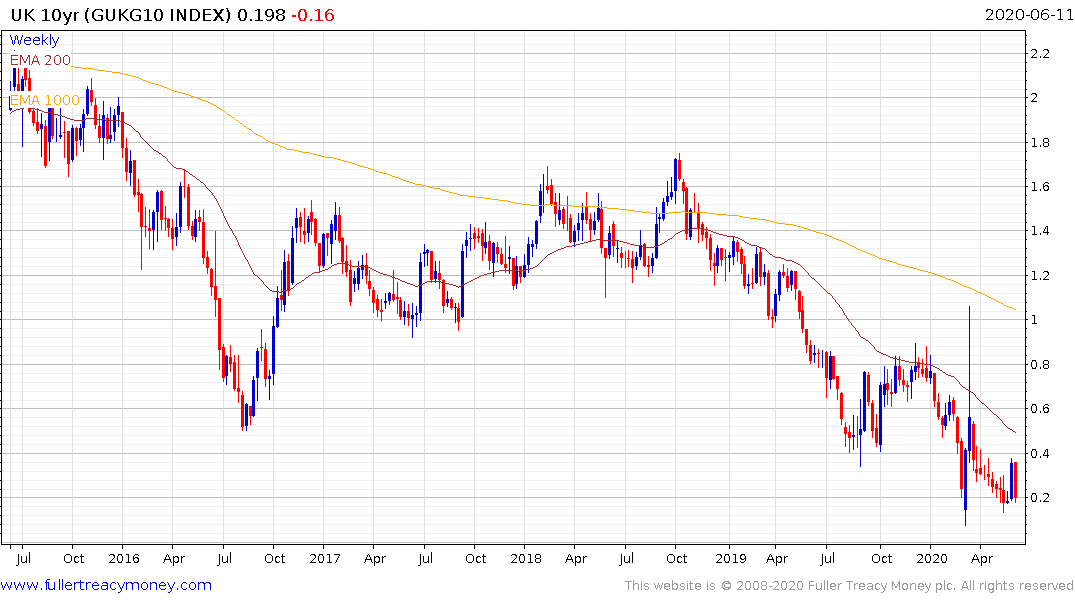 10-year Gilt yields have fallen back test the lows near 0.20%. Maturities between 2 years and 6 years and negative but the very short-term yields are still positive. That suggests bond investors are still predicting additional interest rate cuts and/or stimulative measures.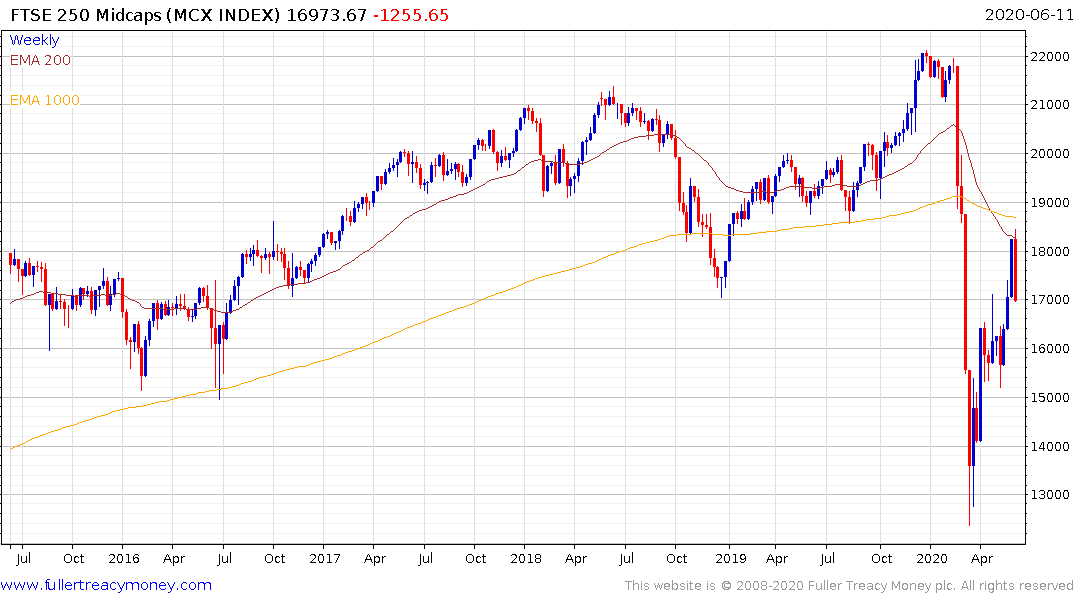 The FTSE-250 unwound most of the overextension relative to the trend mean and has now paused in the region of the lower side of the overhead trading range. The Index is now testing the upper side of the underlying short-term range which is the first area of potential support. It's probably too much to ask that this level hold, the next will be the region of the sequence of higher reaction lows near 15,000. A clear upward dynamic, which holds for more than a day or two, will be required to confirm a return to demand dominance.
Back to top