How have traditional safe haven assets been performing?
Three points agitated investors on the 30th and contributed the largest decline on the stock market seen in months. Amazon, JPMorgan and Berkshire Hathaway announcing a plan to reduce healthcare costs for their employees hit the healthcare sector, there were fears that President Trump's State of the Union address would focus on trade, the Dollar and China but the speech was noticeably light on these topics. Meanwhile any investment manager looking to sustain a 60/40 split in bonds to equities had until today's close rebalance some of their overweight equities into bonds.

With 2-yr yields now well in excess of what the S&P500's yield investors are beginning to question at what level government yields will pose a headwind to the stock market's expansion. This latter consideration did not contribute to bond buying yesterday and the Treasury yield continues to hold its breakout suggesting 3% may be a more important level than 2.7%.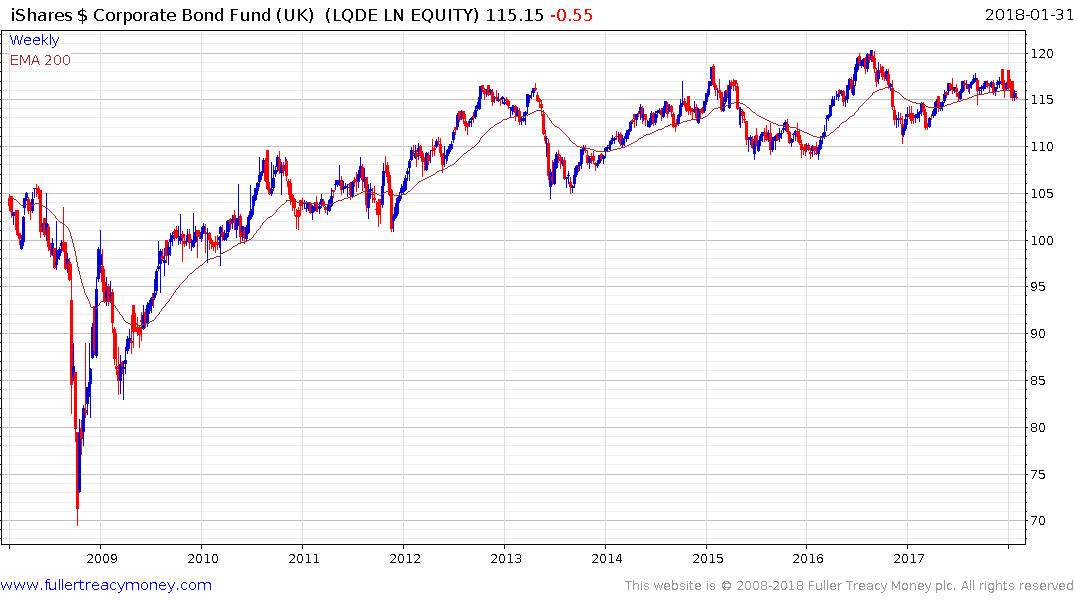 The iShares iBoxx US$ Investment Grade Corporate Bond ETF steadied today from the region of the trend mean and will need to hold the $119.5 area if top formation completion is to be avoided.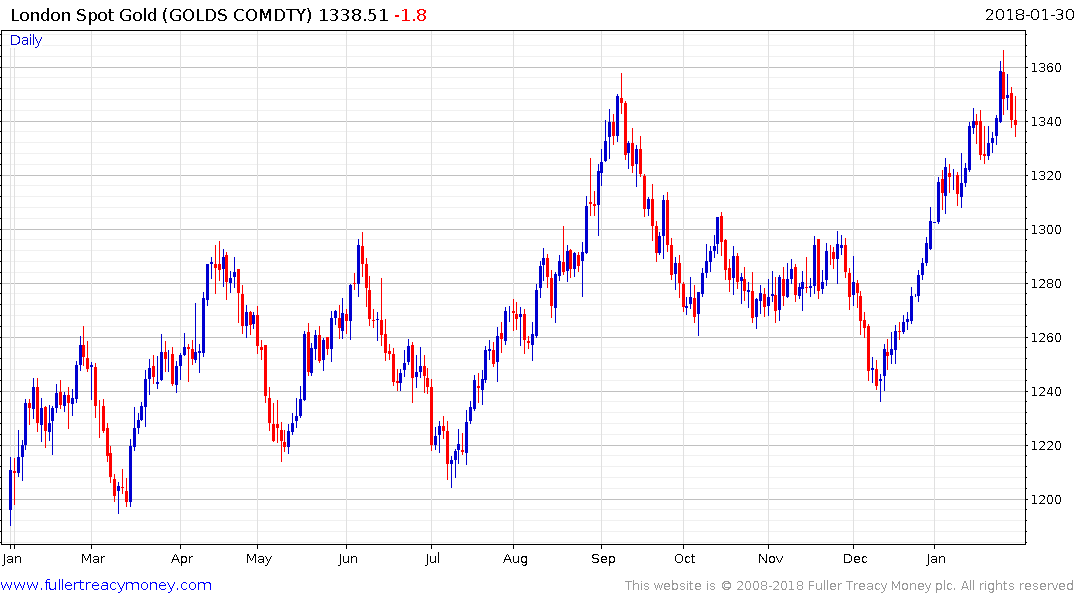 Gold continues to steady in the region of the upper side of an 18-month range and a sustained move below the trend mean would be required to question potential for an eventual successful upward break.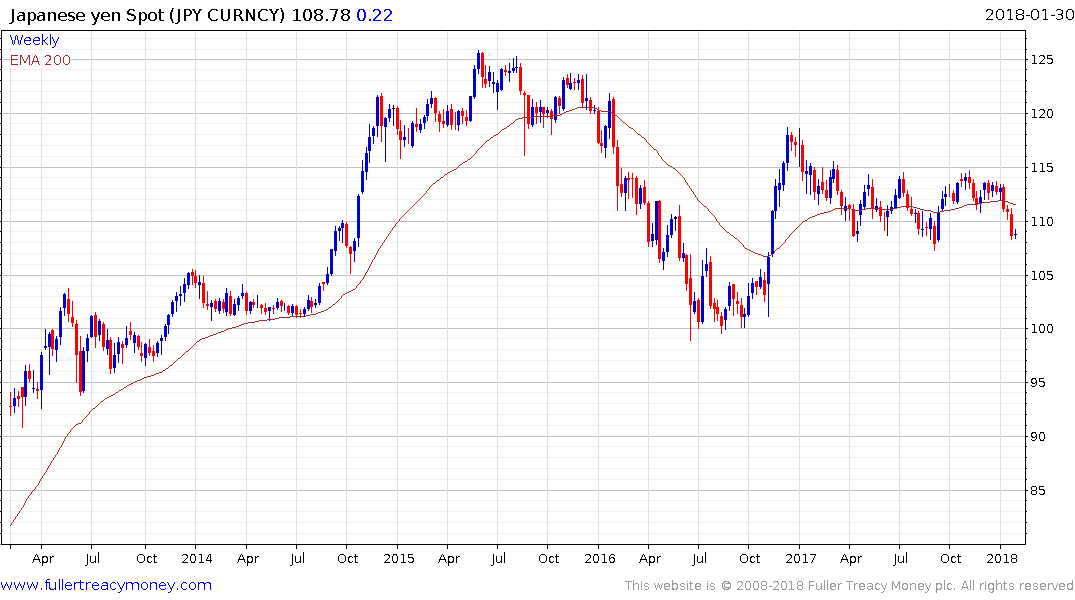 The Dollar is back testing the lower side of its yearlong range against the Yen and will need to continue to hold the 108 level if support building is to be given the benefit of the doubt.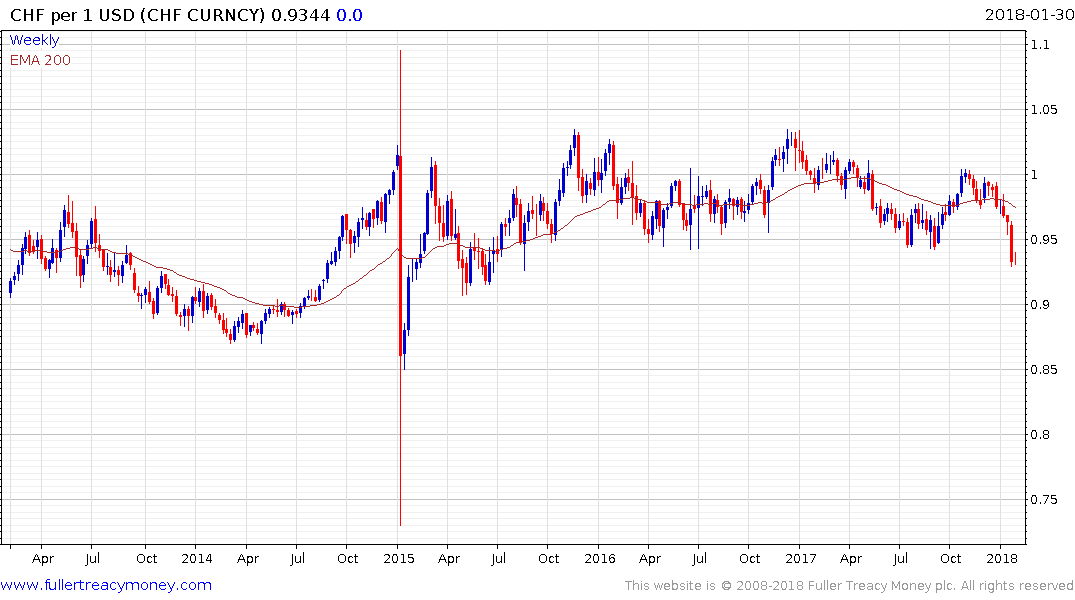 The Dollar tested parity against the Swiss Franc from late October but trended lower since and moved to a new reaction lows this week. A clear upward dynamic will be required to check the slide and countermand medium-term type-3 top formation completion.

The big question for many investors who are looking at the above considerations is how much the expected bump in earnings have already been discounted by the price action in stock markets. Facebook announced its earnings after the close today. Revenue was ahead of forecast, but active users disappointed and the share was down about 4% in afterhours trading. Since the mega-cap technology shares were relatively unaffected by yesterday's selling the potential them to experience more volatility suggests there is scope for this to turn into lengthier consolidation than we have seen in the last 15 months.
Back to top