How fintech companies are wrestling with commercial banks in Nigeria
This article from Nairametrics may be of interest to subscribers. Here is a section:
Nevertheless, while banks have the customer base and staff numbers to tackle the disruptive potentials of fintech startups, their responses have been quite passive.

Fintech companies like Paystack, PiggyVest, Kuda Bank and others are innovating past traditional institutions by making digital financial services like lending, savings, or investing readily available to people. They have been able to recognize the pain points for users, which have not been addressed by commercial banks.

Other fintech startups have fueled the growth of alternative lenders which offer both higher yields to investors and faster, cheaper, more convenient loans for borrowers compared to traditional banks. Startups like Carbon and Branch offer lower loan rates than commercial banks and this is mostly because fintech companies are not subject to the operational costs involved in running a traditional bank with multiple branches.

In an exclusive interview with Nairametrics, Femi Oshinlaja, the COO of Cassava Fintech, a pan-African Fintech Group that enables digital financial services for Africa's mobile consumers, explained why digital solutions are fast spreading across the African continent by stating;

"With the growth in smartphone penetration and greater pervasiveness of the internet, we see the convergence of the online channels with more consumers opting to use digital channels to send money home as they see the convenience of doing so from the comfort of their homes and not having to queue to make the transaction in addition to the affordability of the online option."
Massive populations of young ambitious people represent outsized potential demand for banking and credit services. Since the vast majority of Africans have no experience of the traditional banking relationship, they represent fertile growth for the fintech sector. As a result, Africa is likely to where we see active efforts to introduce a blanket form of digital payments.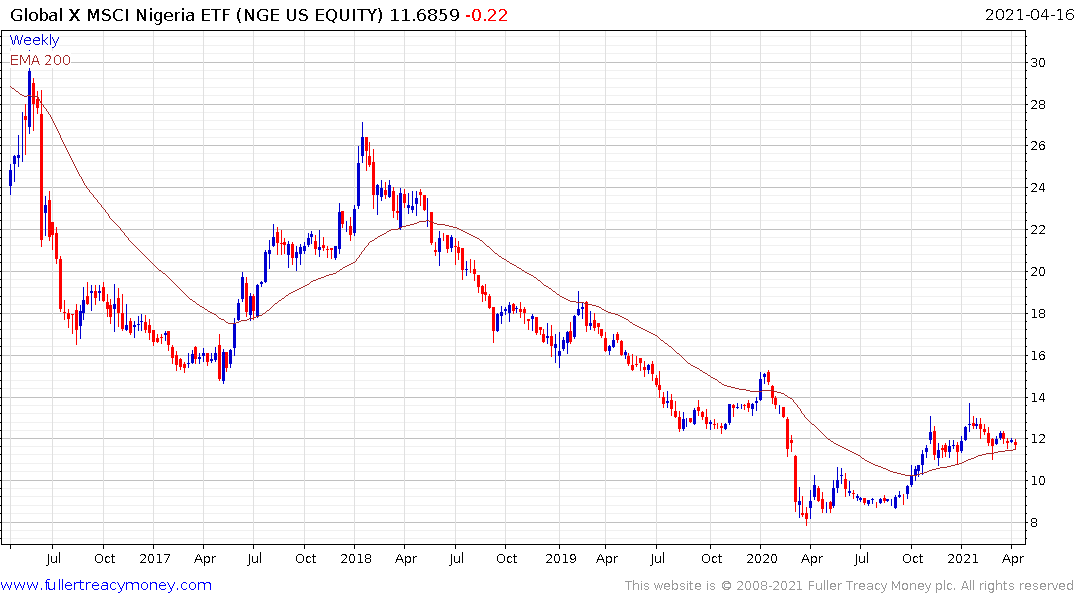 The Global X MSCI Nigeria ETF is firming from the region of the trend mean at present.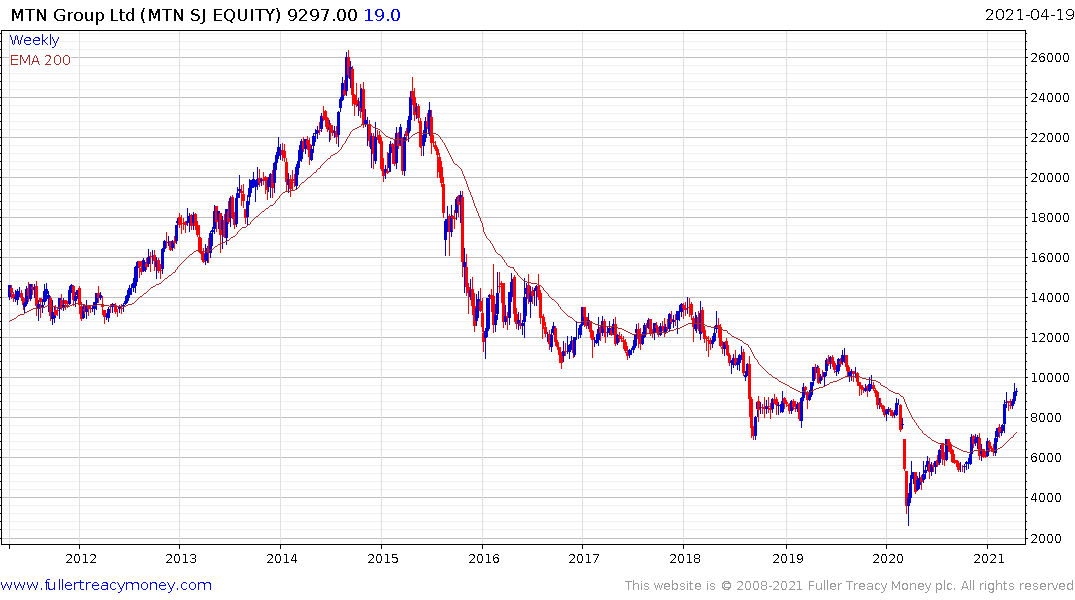 MTN Group has rebounded over the last year to test the seven-year downtrend and the psychological ZAR10,000 level. A sustained move above that area would confirm a return to demand dominance beyond the short term.
Back to top