How Erdogan's Plan to Halt the Lira's Fall Is Meant to Work
This article for Bloomberg may be of interest to subscribers. Here is a section:
3. What does it mean for inflation and public finances?
Potentially, the Treasury takes on foreign-currency risk of 3.3 trillion liras ($265 billion) now deposited in retail banking accounts. If the lira depreciates beyond deposit rates, that would impose a burden on the budget. If the central bank prints money to make up the difference, then inflation would spike.

4. Does this plan address the crux of the problem?
While the worst may be over for the lira for now, with some confidence restored among retail depositors, "until interest rates provide a credible anchor against inflation, the lira will tend to be volatile and subject to downward pressure," said Todd Schubert, head of fixed-income research at Bank of Singapore Ltd. Much will also depend on whether depositors believe the policy can actually be implemented, according to Brendan McKenna, a currency strategist at Wells Fargo in New York. "Right now, Turkish institutions don't have a ton of credibility, so there may be challenges getting lira depositors on board," McKenna said.

A commitment to ensure retail depositors are made whole regardless of currency volatility is an attractive offer and was behind the massive short covering rally in the Turkish Lira yesterday. A grand gesture was necessary because the central bank intervention earlier this month did not gain traction and the Lira's accelerated decline persisted.
This program is a medium-term solution to the challenges Turkey's economy faces. It helped to put a floor under the currency that should hold for a while. The domestic outlook for inflation will be the deciding factor in how long this newfound stability lasts. Without the potential to hike rates significantly, the measures are unlikely to be sufficient to solve the problem. Ultimately, the government's coffers will be pressured by foreign exchange volatility and the program will be abandoned.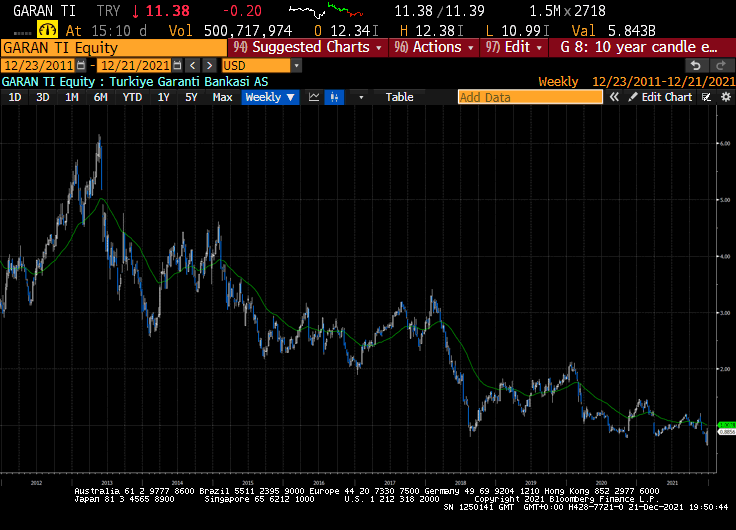 Between now and then Turkish banks are cheap and have effectively been backstopped by this government action. Turkiye Garanti Bankasi is already talking about continuing to diversify. The share trades a price to book of 0.67 and forward P/E of 3.6 with a 1.3% yield. In US Dollar terms, it is bouncing from the lower side of its base. In local currency terms it is testing the upper side of a length range.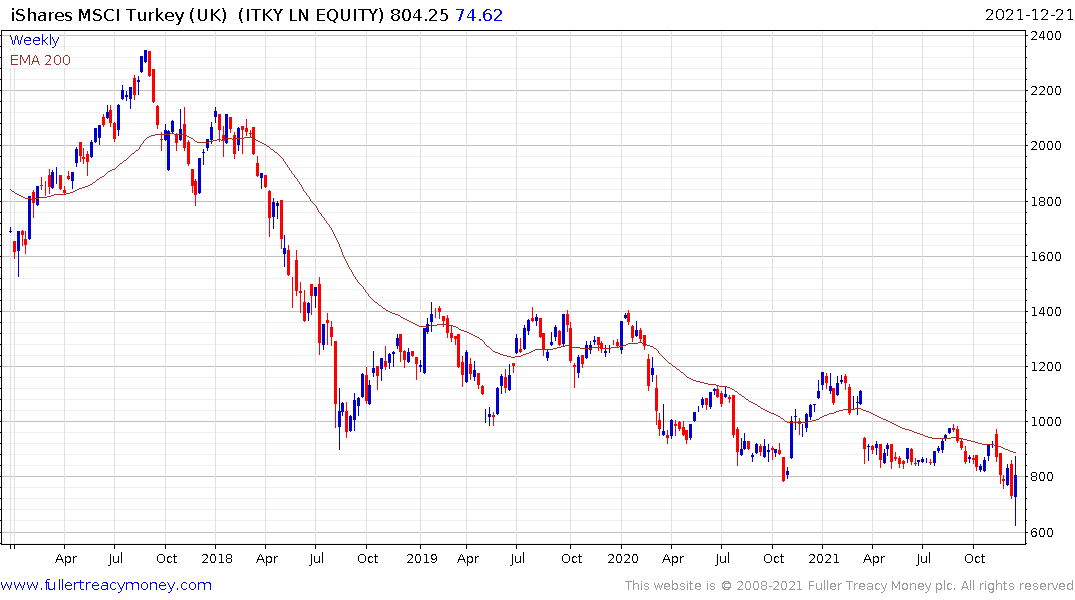 The iShares Turkey ETF unwound two days of declines following the announcement but needs to follow through on the upside to confirm the change of trend.
Back to top