How COVID-19 is changing the world of beauty
Thanks to a subscriber for this report from McKinsey which is dated May 5th but is no less relevant today.
Digital continues to rise. Pre-COVID-19 trends will likely accelerate, with direct-to-consumer e-commerce, such as brands' websites, shoppable social-media platforms, and marketplaces becoming more important. Across the globe, consumers indicate they are likely to increase their online engagement and spending. Beauty-industry players will need to prioritize digital channels to capture and convert the attention of existing and new customers. On the operations side, the use of artificial intelligence for testing, discovery, and customization will need to accelerate as concerns about safety and hygiene fundamentally disrupt product testing and in-person consultations.

The pace of innovation accelerates. As the COVID-19 crisis has shown, the world can change quickly, bringing substantial shifts in demand. Sometimes, supply cannot catch up. Even before the pandemic, brands were under pressure to overhaul their product-innovation pipelines, inspired by the ability of digital-native direct-to-consumer brands to go from concept to cupboard in less than a month. Now, the need for speed is even greater. To achieve it, there may be a greater role for contract manufacturers, both to diversify (and thus reduce production risks) and to serve as thought partners in product innovation. There is also potential for closer collaboration—among brands and retailers, in particular—through data sharing and inventory pooling.

M&A rises as multiples fall. With the COVID-19 crisis causing significant damage to the balance sheets of brands, retailers, and suppliers, many companies will need to find new sources of capital. At the same time, given the hits to revenues and the global economy, multiples could fall from precrisis levels, when some brands were trading for more than eight times revenue or 10 to 15 times earnings.
The clearest trend in online retail is the evolution of the in-person sales experience. Most men think of shopping in a perfunctory manner but most women think of it as a pleasurable experience which is part of a daily social experience. It is very difficult to replace the sales experience of in person contact online and from a purely technological experience it is inefficient. That's where livestreaming comes in.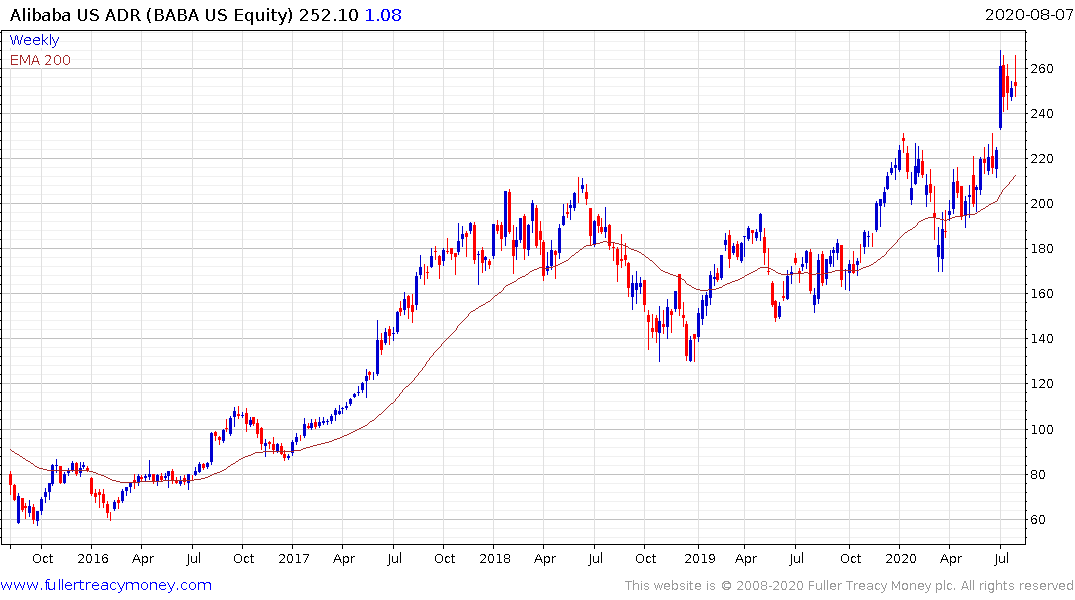 Alibaba sellers are now running livestream QVC-type programming where viewers can simply click to buy. Amazon introduced the same feature about three months ago. It's likely to be a significantly online sales avenue for the holiday season, particularly if social distancing is prolonged into the last few months of the year as appears likely.
One thing that is worth considering is the flu season in the southern hemisphere basically did not happen this year because of the measures taken to the avoid the coronavirus. The one thing most health agencies seem to agree on is that the number of cases will surge again when the weather gets colder and wetter because people will be forced to seek shelter inside. Less outdoor activity is a normal part of the autumn and winter but the measures already in place to ensure social distancing may moderate the spread of the disease. Nonetheless, everyone should get the flu vaccine this year to diminish the potential for misdiagnosis.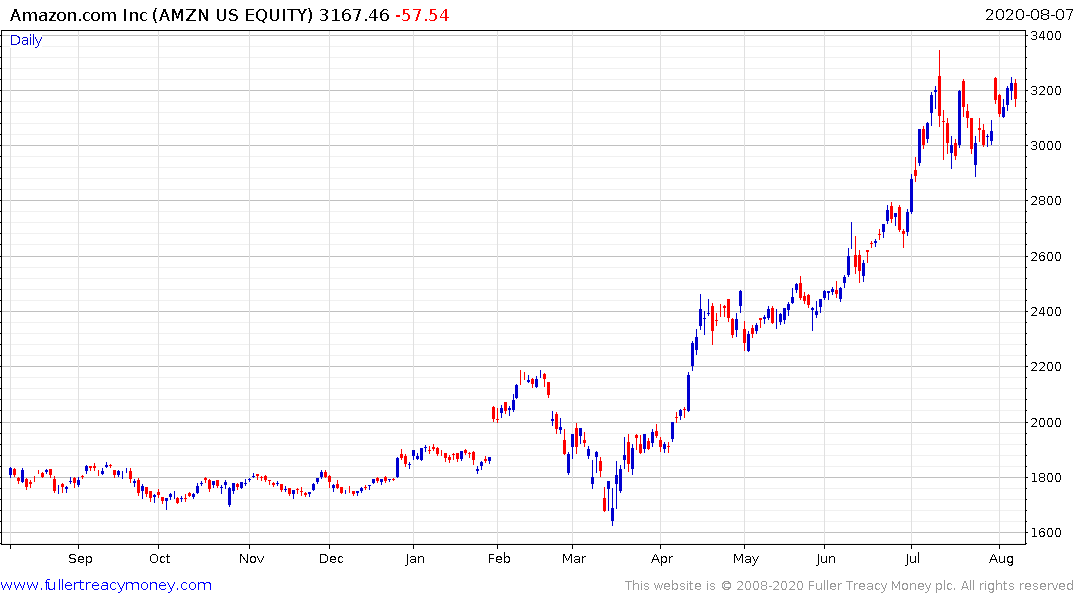 With than being said this holiday season is likely to be a blockbuster for online sellers and disappointing for the brick and mortar stores that still exist. Amazon exceeded its holiday sales in the 2nd quarter but the big question is whether this bullish outlook has already been priced in. Following a more than 100% trough to peak swing since March, at least some consolidation looks likely.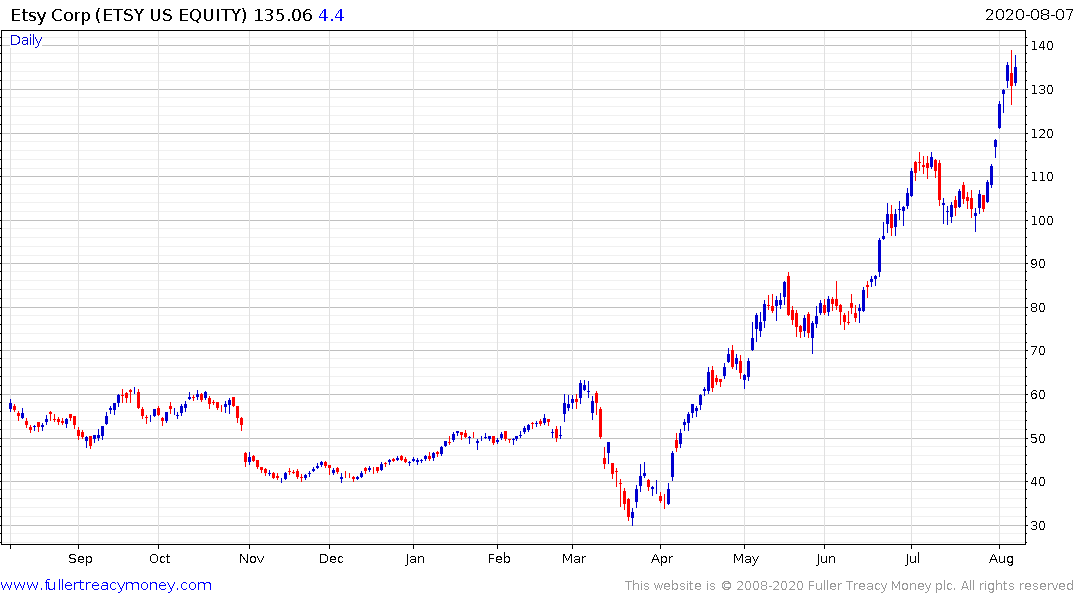 If Etsy's uptrend remains consistent the current pause will be limited to a pullback of less than $20.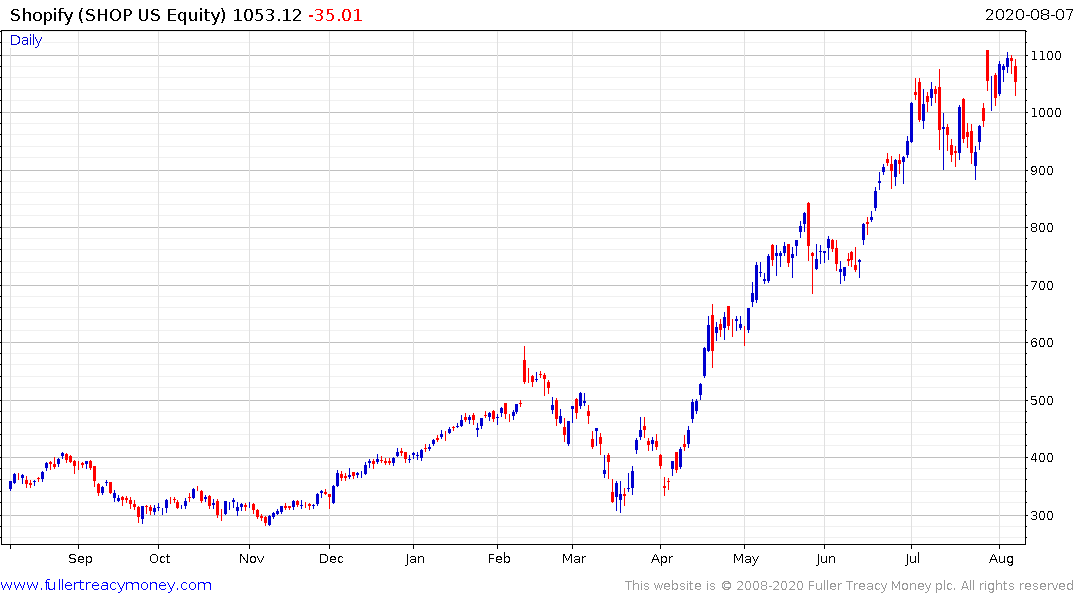 Shopify has not sustained its breakout to new highs as it continues to pause around the psychological $1000 level. The $900 needs to hold if the trend is to remain consistent.
Back to top