How Chinese Chip Giant SMIC Can Evade Trump's Newest Crackdown
This article from Bloomberg news may be of interest to subscribers. Here is a section:
Within the company, engineers are scrambling to assess the fallout and figure out workarounds to secure the equipment it needs, much like Huawei did two years prior, another person familiar with the matter said. At issue is the administration's focus on drawing a line at 10-nanometer technology, banning the sale of equipment intended for use in more advanced processes. SMIC could conceivably repurpose 80% of older-generation gear to crank out more advanced chips, but that tactic won't sustain production for the longer term and much depends on how far President-elect Joe Biden decides to take the rules, a third person close to the situation said, asking not to be identified discussing sensitive matters.

"The company has already got critical equipment and materials needed to continue production," said Xiang Ligang, Beijing-based director-general of the Information Consumption Alliance. "In the past, China wasn't too sensitive about the technological bottlenecks it has. But now, Beijing is fully aware of the potential damage and is determined to solve these issues."

Chinese government-backed SMIC, a manufacturer of chips for global names from Qualcomm Inc. to Broadcom Inc., relies on U.S. gear for its longer-term technology road map. While its engineers may be able to sustain research and output in the short run, the latest sanctions basically freeze its capabilities while the industry advances. If a Biden White House takes it to the max, SMIC could be blocked from 7nm or more advanced technology while overseas rivals like Taiwan Semiconductor Manufacturing Co. dominate the market. The heightened scrutiny may also discourage clients leery of dealing with the uncertainty.
Self sufficiency in semi-conductors is a central policy objective for China. It is the basis on which the country seeks to compete with the USA in future. China may be able to do without Australian coal or wine but it has no hope of competing effectively on the geopolitical front without securing the supply line for technology's basic ingredients.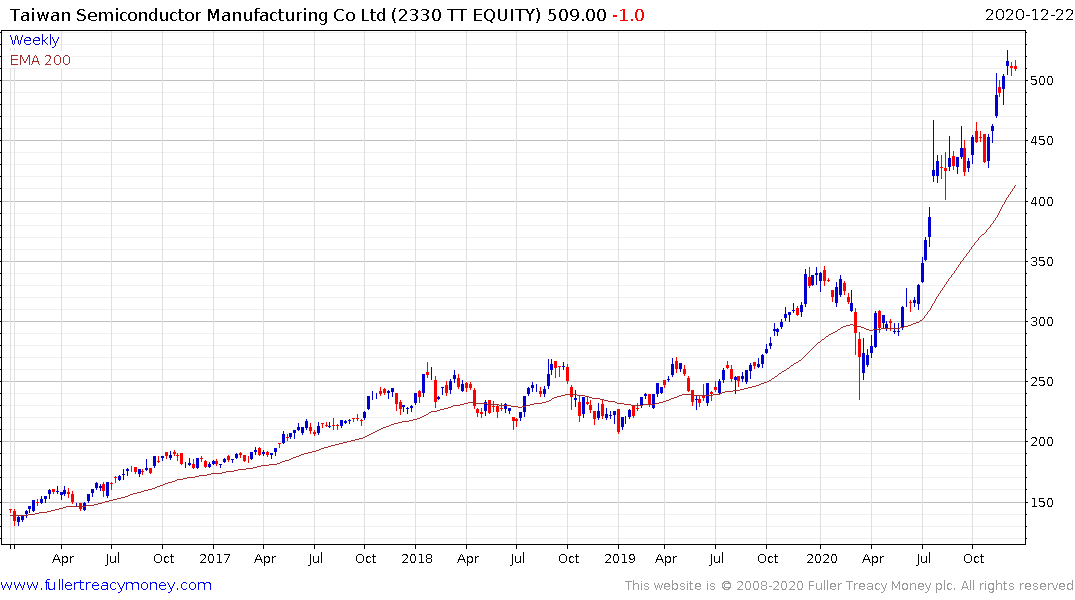 Taiwan Semiconductor did particularly well from the measures to curtail Huawei's ascendency. Not only is the company leading in developing next generation chips but it is also seeing massive demand from China. That is likely to continue as measures to curtail China's rise are amplified.
Meanwhile China is not standing still. This article from Nikkei highlights the fact that Chinese firms are actively poaching staff some of the largest chip design toolmakers. Here is a section:
"We are seeing more and more people who previously worked with big U.S. chip design tool companies joining startups because they think it's a once-in-a-lifetime opportunity," said a source from a China-based chip developer and Synopsys client. "Previously very few people would want to start up a chip design tool company, because it's a very niche market already dominated by huge players, but now they see growing customer demands for local software in China for the very first time."
That new demand has led to the launch of at least three startups.
X-Epic, based in Nanjing, was founded in March by Wang Libin, a former vice general manager at Synopsys China, according to company data. TC Lin, former vice president of Cadence with more than 30 years' experience in EDA tools, joined the company as its chief scientist on Aug. 3.
To date, the efforts to build domestic high-tech manufacturers has produced spotty results at best.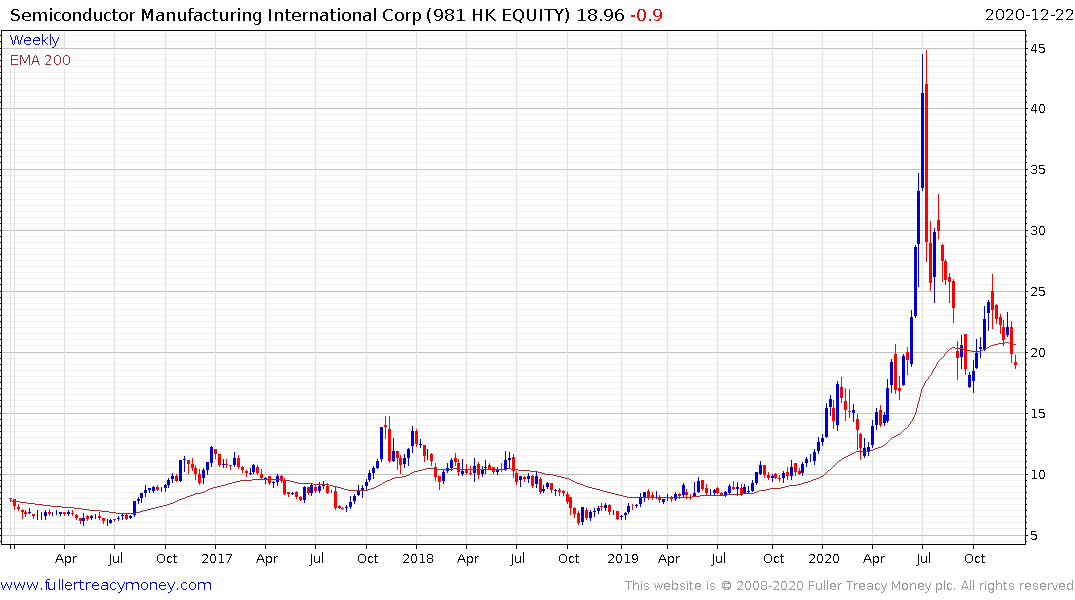 SMIC's share price continues to trend lower, with wasteful spending and a lack of results weighing on sentiment. It's very hard to identify the Chinese companies which will eventually succeed but in the meantime the Taiwanese, South Korean and Japanese markets are clear beneficiaries of the trend despite short-term overbought conditions.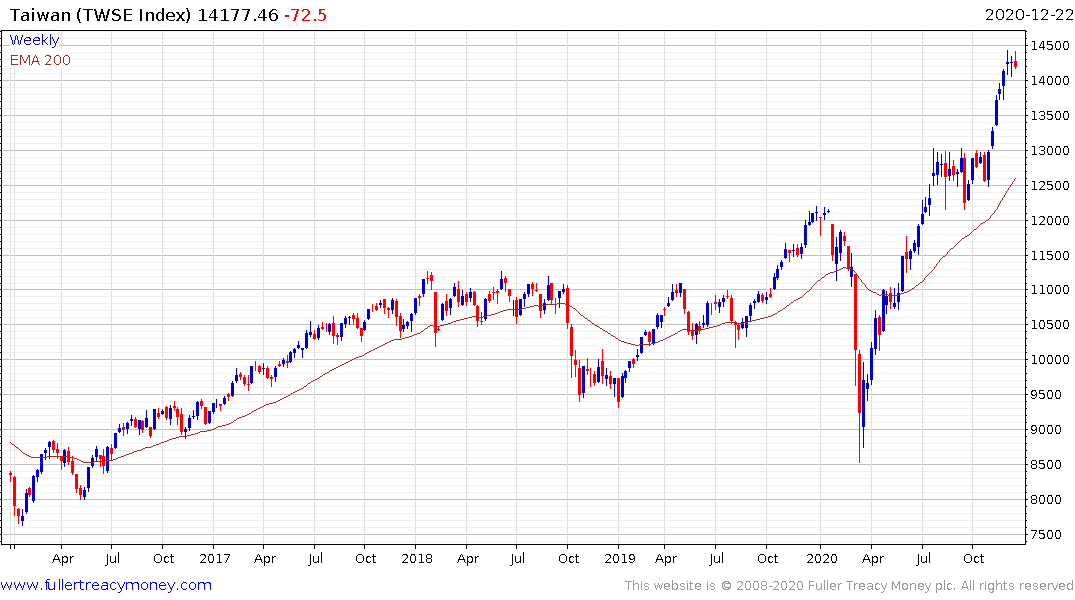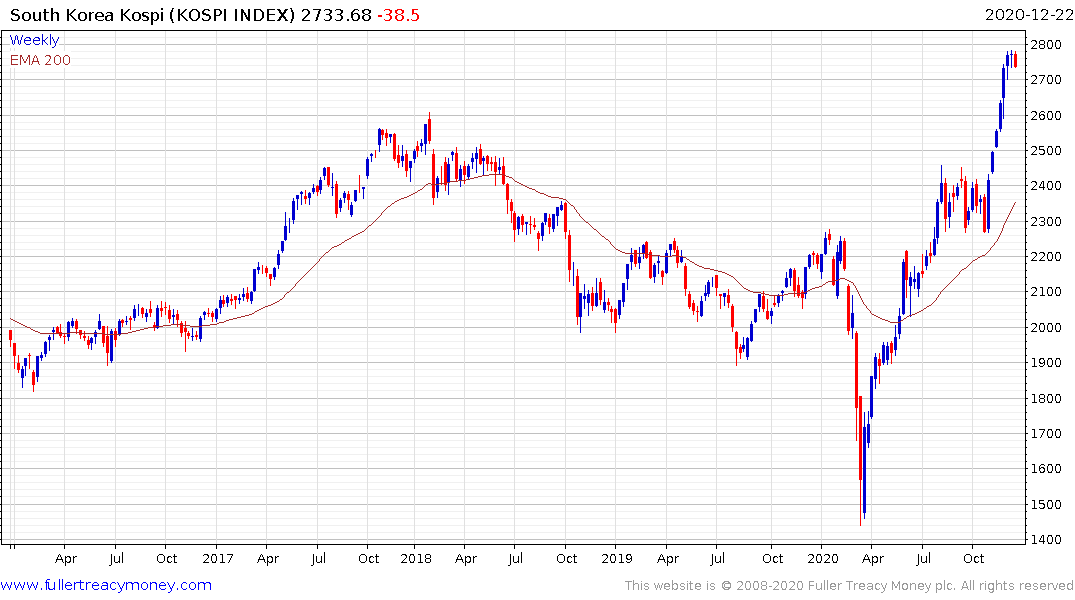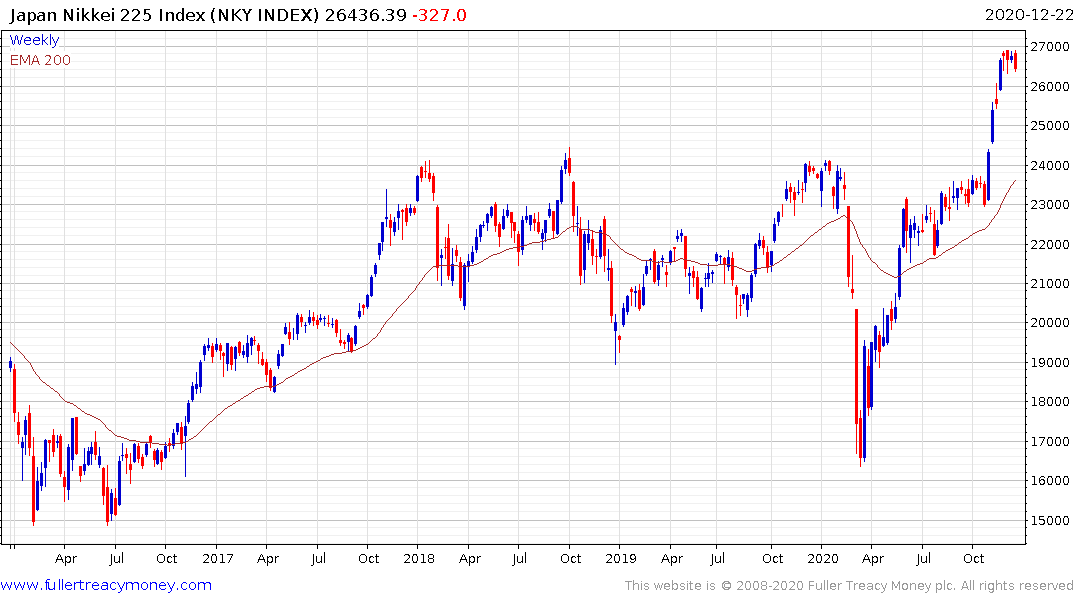 Back to top