How China's Pollution Fight Is Roiling Commodities
This article from Bloomberg may be of interest to subscribers. Here is a section:
The growing importance of the environment in Beijing's policy mix has left commodities markets caught between decelerations in both supply and demand. Iron ore prices more than halved between mid-May and mid-September as the steel production limits slashed demand for the steel-making ingredient. Aluminum, meanwhile, has jumped 46% so far this year as Chinese production -- more than half the world's total -- of the energy-intensive metal is cut. The curbs on coal are particularly eye-catching because China has been wrestling with an unprecedented spike in the cost of the fuel. Coal futures in Zhengzhou hit a record in September, defying what should be a seasonal slowdown in demand. Any further cutbacks on output would run counter to the government's pledges to stabilize prices by encouraging more domestic supply. It also would make another round of power rationing for industry more likely. Since coal is the major energy source in China for the production of fertilizer, its price has also soared.
The big question for many commodity investors is how serious is China about curtailing emissions? Perhaps a better question is how important is it to China's leadership that the country look good ahead of the Winter Olympics in less than five months? Very important, is probably an understatement.
Measures to roll back excess steel production, aluminium smelting and coal mining all support the view that cleaning up the winter air ahead of the world's camera crews arriving is a major political motivation. That should represent a medium-term tailwind for aluminium prices.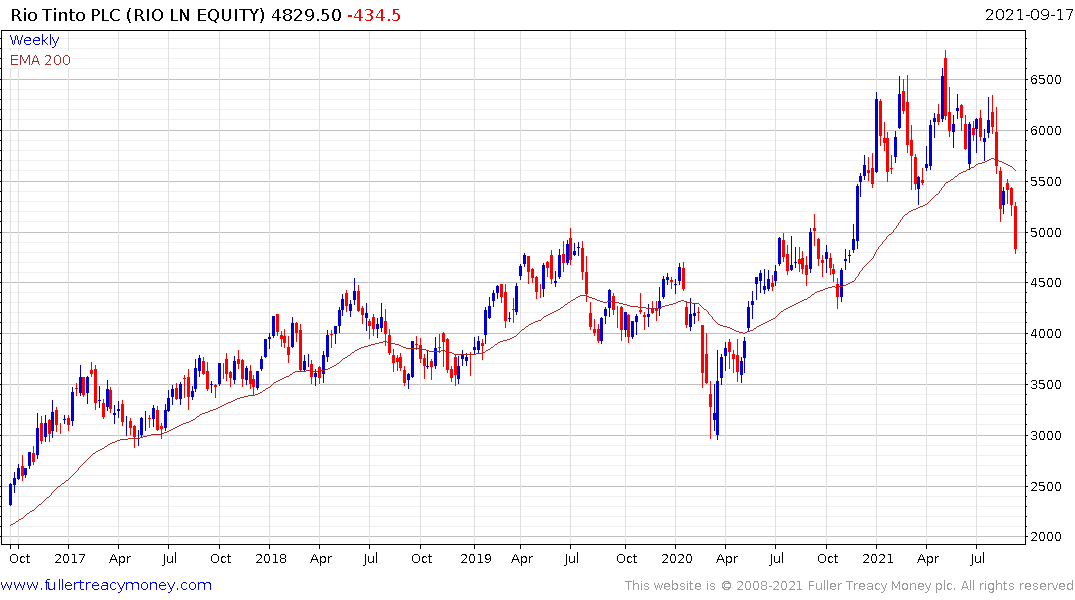 So far, the hit from iron-ore's collapse is outweighing the surge in aluminium prices for Rio Tinto. The price extended its downtrend this week and is now trading back below the psychological 5000p level. A sustained move back above that area will be required to signal a return to demand dominance.
Quite how China is going to keep the north of the country warm this winter, without the aid of coal, is something of a mystery. That implies the surge in coal prices will encourage new supply into the market regardless of official pronouncements.
Back to top