How Bezos Lost Out to Billionaire Ambani in Poll-Bound India
This article by P R Sanjai and Saritha Rai for Bloomberg may be of interest to subscribers. Here is a section:
Modi's Bharatiya Janata Party is still licking its wounds after being trounced in three key recent state polls and a year ago fighting an unexpectedly close contest in Gujarat -- Modi's home state. Among small businesses, which are a traditional support base, the government's popularity has been eroded by 2016's surprise cash ban and the subsequent chaotic roll out of a new sales tax.

The rules now bar Amazon and Flipkart Online Services Pvt. Ltd. from owning inventory, and require them to treat all vendors equally, throttling discounts and exclusives -- a huge advantage to homegrown companies including Ambani's new venture. His Reliance Industries Ltd., which owns India's largest retail chain and third-biggest telecom network, has the potential to evolve into a local version of Amazon or Alibaba Group Holding Ltd., UBS AG said last month.

"Whether serendipitous or not, India's tightened regulatory regime for online retailers is a huge win for Reliance with its new retail ambitions," said Sanchit Vir Gogia, chief executive officer of consultancy Greyhound Research. "This could be a field leveler for them."

Under Mukesh Ambani, Reliance industries has morphed from a focus on oil refining to become India's primary provider of broadband, a major retail force and is now embarking on becoming the online retailer of choice for India's burgeoning young community.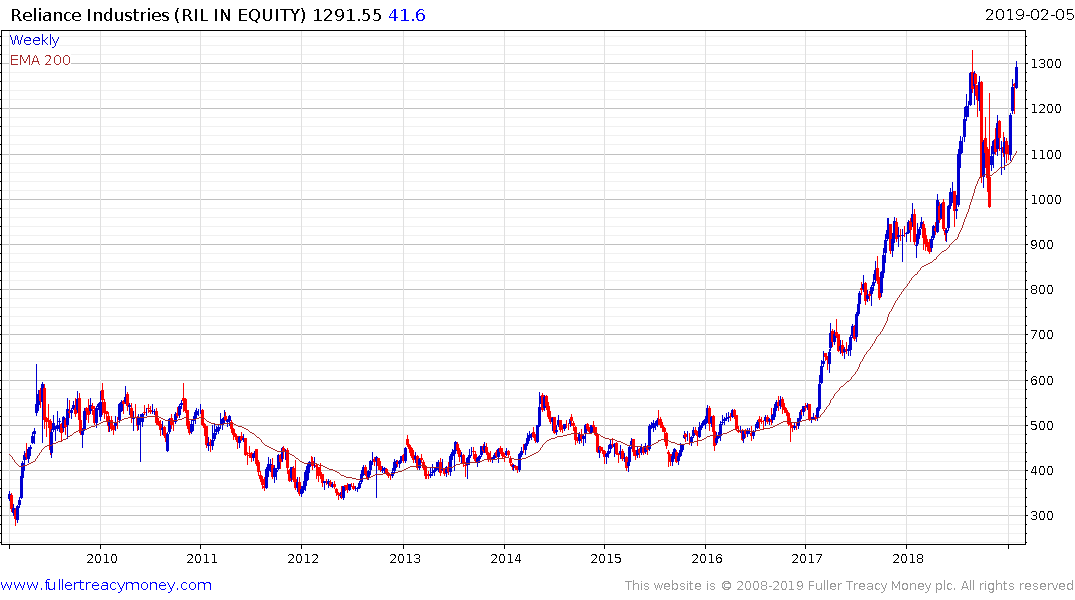 The failure of his brother, Anil Ambani's Reliance Communications to gain traction following a bad bet on fibre optics looks likely to further concentrate control of the broadband network in Reliance Industries' hands.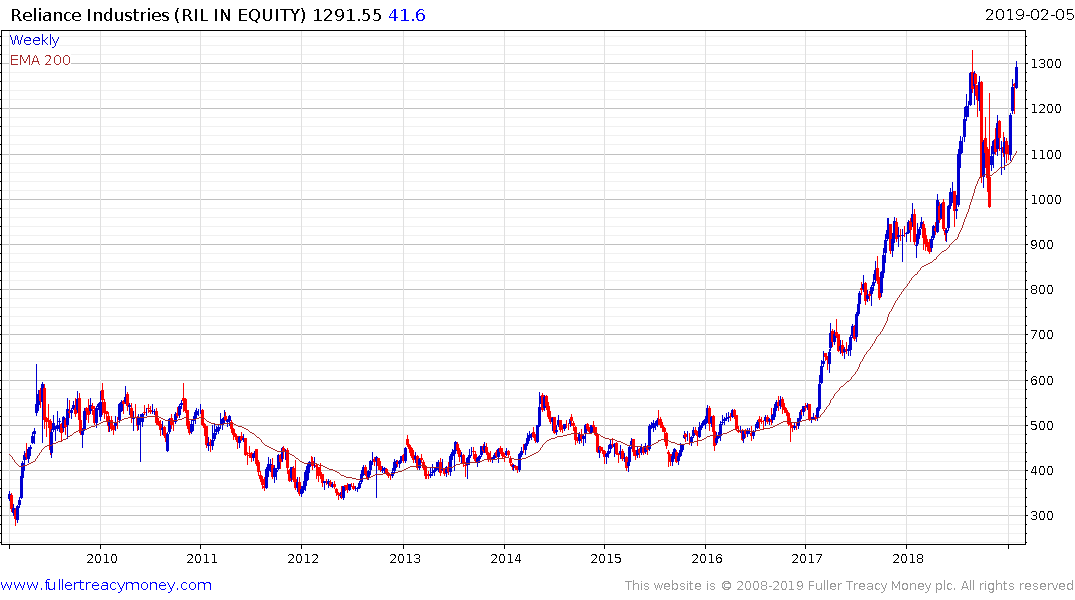 The company is now India's largest. With the potential to harness the massive potential spending power of India's population, which is enjoying among the world's fastest growth rates, the company is likely to account for a good deal of the stock market's growth over coming years.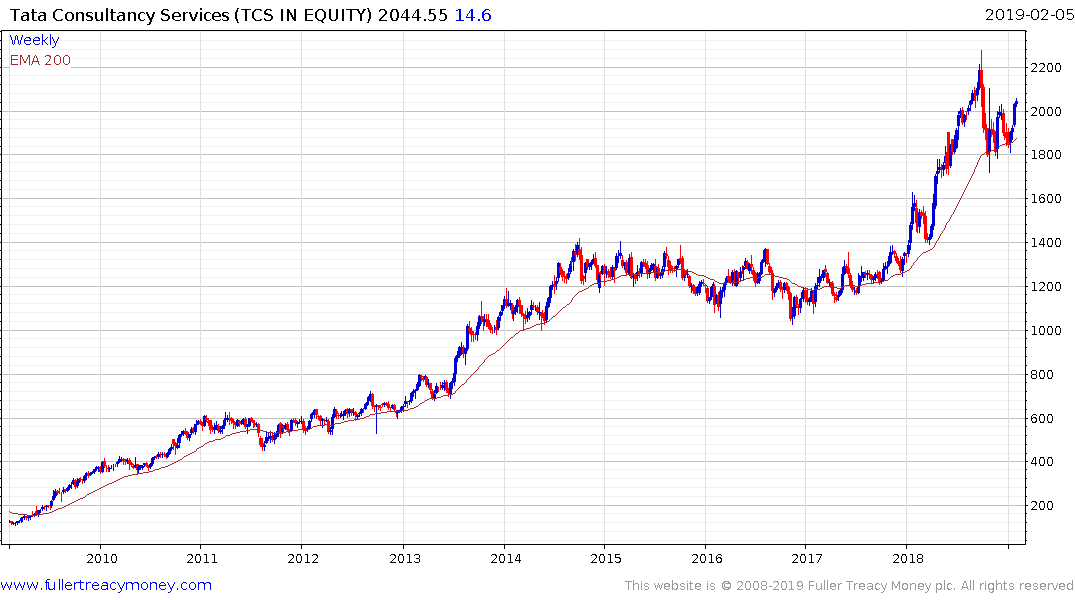 Tata Consultancy, which is the global leader in IT outsourcing, has a similar market cap to Reliance Industries. The share continues to consolidate above the trend mean.
If I return to the first item in today's commentary above, which claims emerging markets are resource driven that is not true of India. It already has a well-developed consumer economy. That helps to highlight the fact it does not make sense to talk about emerging markets. Each needs to be weighed on their individual merits and therefore a market cap weighting is not appropriate.
Additionally, the relative strength of Alibaba compared to the domestic Chinese economy is a further testament to the rise of knowledge-based businesses in Asia.
Back to top