How Bad Could It Get, Counting the Cost of a Global Trade War
This report from Bloomberg Economics may be of interest to subscribers. Here is a section on the factors that led to the current tensions on trade and tariffs:
There were also losers:

U.S. labor groups, it turns out, were right to be suspicious of China's arrival in the global market. Taken together with a shift toward more capital—intensive production, the result was stagnant wage growth. Between 2001 and 2016, real income for the bottom 20% of U.S. households didn't rise at all, and wages for the middle 20% managed only a 4% increase.

Mercantilist policies in China (combined with an irresponsible approach to financial regulation and mortgage lending in the U.S.) resulted in a buildup of major global imbalances. China's current account surplus ballooned to 9.9% of GDP in 2007 from 1.3% in 2001. U.S. current account deficit peaked at 5.8% of GDP in 2006. The recycling of China's surplus back into U.S. Treasuries kept U.S. borrowing costs too low for too long, an important background condition for the real estate bubble and financial crisis.

For foreign policy hawks, the strategic benefits were outweighed by the costs. China didn't democratize, in fact it doubled down on its single—party model. Worse still from Washington's point of view, China's rise means it now jostles with the U.S. for global influence, and on straight—line projections may overtake in terms of economic size in the next decade.
Taken in the context of the total trade between China and the USA and indeed the USA and everywhere else, the total amount announced as tariffs is comparatively small but the knock-on effect to sentiment has been severe and quick.
Following the collapse of the short volatility trade in February sentiment was already on tenterhooks. The relative immunity of the FAANG+ shares to that event helped to calm nerves but the Cambridge Analytica scandal has raised the prospect that these companies are not Teflon-coated after all. Meanwhile the boost to spending represented by the Trump tax cuts is filtering through the economy and represents a tailwind at least until interest rates become a more powerful obstacle to growth.


It would be tempting to think that Trump's targets are going to remain overseas but rumours are spiraling that he wants to introduce antitrust legislation against Amazon. That raises potential for the share to extend its reversionary pullback which even after today's decline is $200 above the trend mean.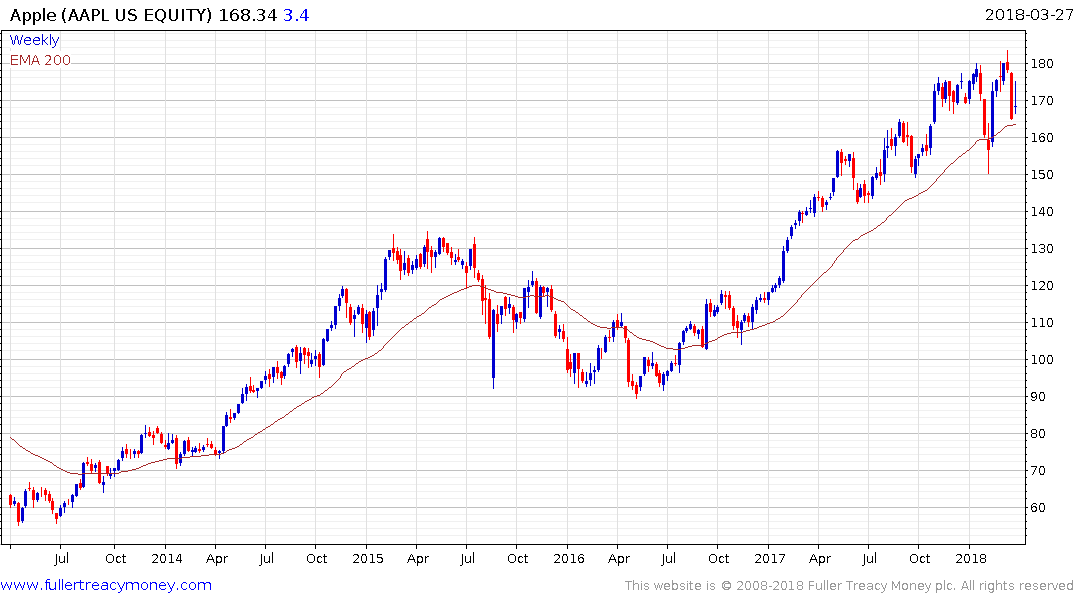 Apple has posted two medium-term corrections in the last decade and each of those has been preceded by a loss of consistency at the penultimate peak. The share pulled back sharply in February but rebounded to hit new high before failing to sustain it. It needs to hold the region of the trend mean if another medium-term correction is to be avoided.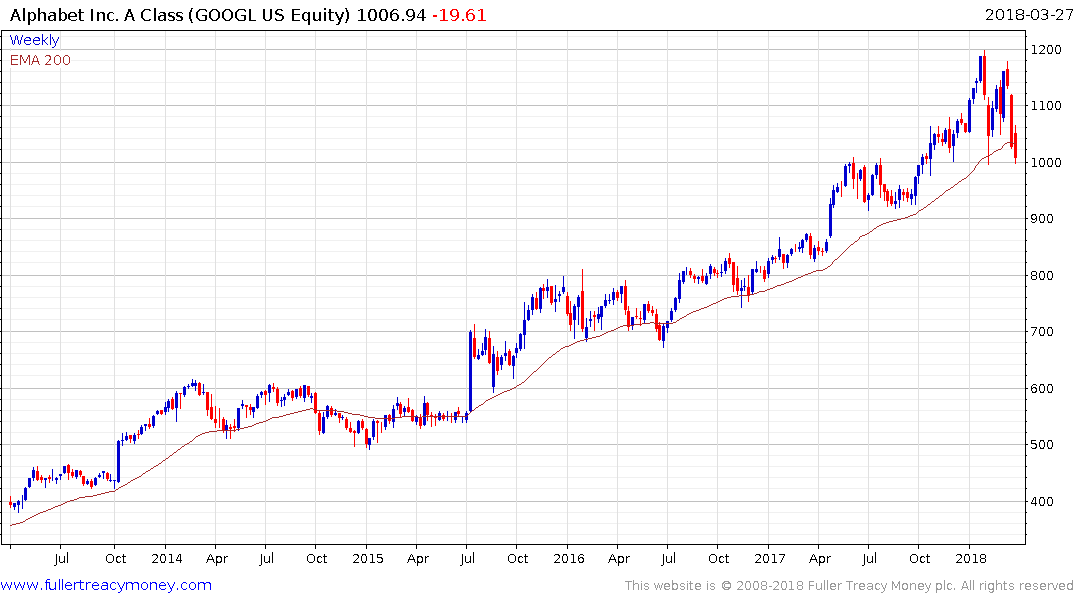 Alphabet (Google) previously had one of the most consistent trends anywhere but has now posted a pullback double the size of any seen since 2008. That is a major trend inconsistency and it needs to hold the $1000 level if a deeper and lengthier pullback is to be avoided.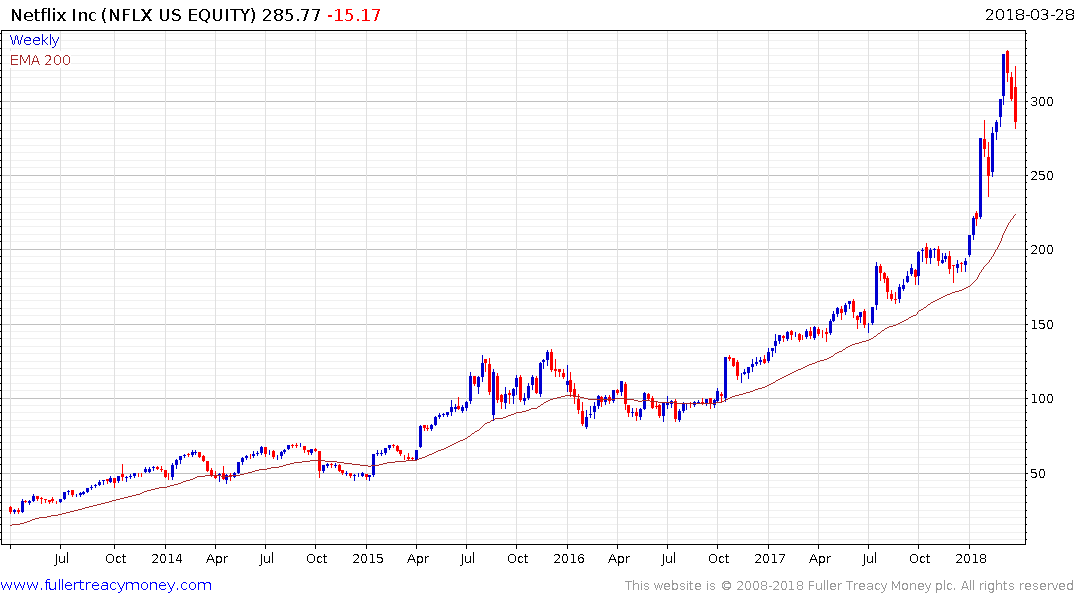 Netflix is trading on the assumption its earnings are going to double every year but everyone I know already has it. It accelerated to its recent peak and is now pulling back in a dynamic manner.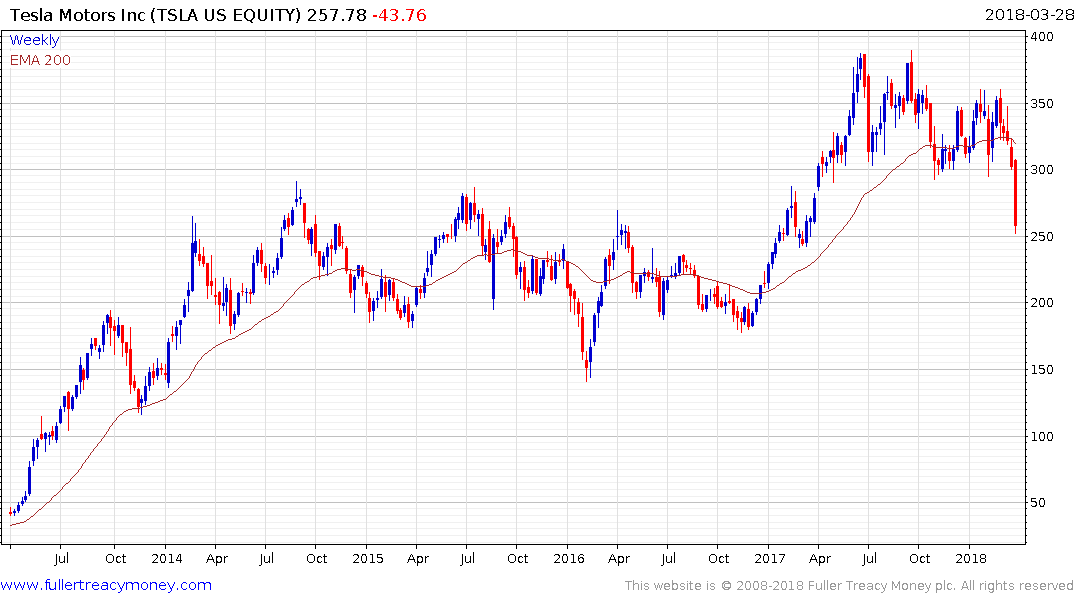 Ranges are explosions waiting to happen and Tesla collapsed down from its congestion area today. As a B- rated credit it represents much more risk than companies like Apple or Alphabet (Google) and is potential bankruptcy candidate if investors finally decide to stop feeding it fresh capital.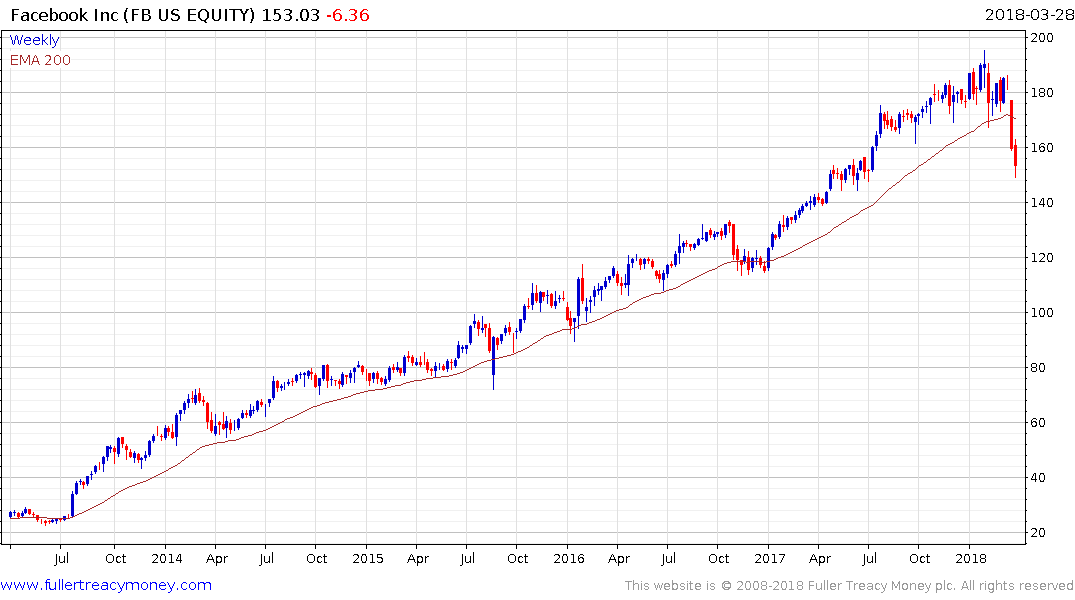 Facebook has broken its five-year progression of higher reaction lows in a massive reaction against the prevailing uptrend. Some consolidation is possible but a sustained move above the trend mean will be required to question the corrective environment.
Back to top