How a Donald Trump-Kim Jong Un Summit Scrambles the Calculus for Key Players
This article by Jonathan Cheng in Seoul and Alastair Gale for the Wall Street Journal may be of interest to subscribers. Here is a section:
President Donald Trump's decision to accept a meeting with North Korean leader Kim Jong Un caught the world off guard.


In agreeing to sit down with North Korea's third-generation leader, Mr. Trump has boosted the stature of Mr. Kim—a man he has ridiculed as "Little Rocket Man" and threatened with "fire and fury"—with a surprise diplomatic opening that left some allies wrong-footed.

For Mr. Kim, who is half the age of Mr. Trump, just getting a summit meeting with the U.S. president is a big win. Neither his father nor his grandfather succeeded in getting a face-to-face meeting with a sitting U.S. president.

Mr. Trump's move represents a victory for South Korea's president, Moon Jae-in, who has pleaded with the U.S. to tone down its rhetoric and worked assiduously to get negotiations off the ground, and others who have pushed for engagement and diplomacy.

Other U.S. allies and some veteran negotiators, however, expressed concern that while a summit meeting could lead to a breakthrough in what has been a protracted standoff, it is a risky move that could lead to ill-considered concessions to Pyongyang.
Agreeing to a meeting with Kim is a big risk because of the polarity of the potential outcomes. These kinds of win/lose scenarios are not attractive from the perspective of any diplomatic corp but are not at all unusual in business where the first lesson is you have to be willing to walk away with nothing if you do not get the price you want.
On the one hand the North Korean team could use this as an opportunity to circumvent the increasingly onerous sanctions it is now forced to endure without having to give up what it will surely now considers to be a highly effective nuclear deterrent. On the other hand, the USA has the potential to negotiate the terms of a de-escalation and even denuclearization on the peninsula which would exhibit the success of its efforts to intensify the sanctions against North Korea.
Against that background, North Korea's long-term aim has always been reunification with South Korea, but on its terms. The Gordian knot remains how to get there from here. Kim is a young man and the elite of North Korea's administration are unlikely to agree to any form of reunification without ensuring they become party of South Korea's chaebol system of oligarchies. Even in a best of all possible scenarios, a positive resolution to the reunification question is likely to be punitively expensive for South Korea over the medium-term.
The only example we have of reunification costs from recent history is Germany which still has the additional reunification tax on its books despite the fact the Berlin Wall fell 30 years ago. However, the reforms Germany pushed through to smoothen reunification are also what helped created its competitive advantage relative, in particular to the rest of the EU, so despite the initial cost it has come out ahead.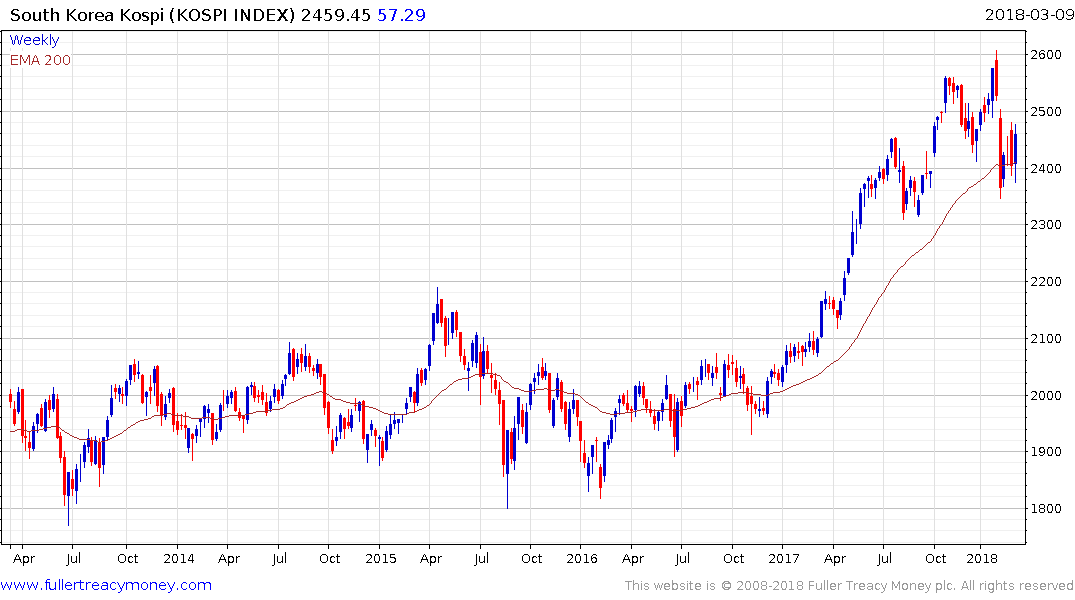 The South Korean Kospi Index us currently bouncing from the region of the trend mean and a sustained move below it would be required to question medium-term scope for additional upside.
Back to top