Hong Kong Imports of Gold Coins From China Jump on Haven Demand
This article by Ranjeetha Pakiam for Bloomberg may be of interest to subscribers. Here is a section:
Hong Kong's purchases of gold coins from China surged last month as demand for haven assets soared amid the ongoing social unrest.

Imports of coins jumped to 3,246.5 kilograms in November from 14 kilograms a month earlier, according to data from the city's Census and Statistics Department obtained by email.

"The import of gold coins by Hong Kong shows that its citizens are worried about the situation in Hong Kong and prefer to have gold coins as safe haven," said Georgette Boele, senior FX and precious metals strategist at ABN Amro Bank NV.

The increasingly violent pro-democracy protests have undermined Hong Kong's economy, discouraging tourists from visiting and slashing retail sales. Gold demand typically strengthens ahead of the Lunar New Year, which will fall in late January.

Data from the department also showed that total exports of gold from Hong Kong to China continued their decline from a peak in 2013. Figures for November showed shipments dropped to 5,717 kilograms from 14,896 kilograms in October. Hong Kong's total imports from China were 5,824.5 kilograms, bolstered by the surge in gold coin purchases, which meant Hong Kong had net imports of gold from China for the first time since January 2011.
Gold coin imports suggest retail demand rather than from institutions. That's hardly surprising considering the strife on the streets but is also representative of the fact China is the world's largest producer and the price is rising. Demand for gold as a safe haven against the concerted efforts of governments to debase their currencies is more relevant today than it has been in years as the trend of synchronised global fiscal stimulus progresses.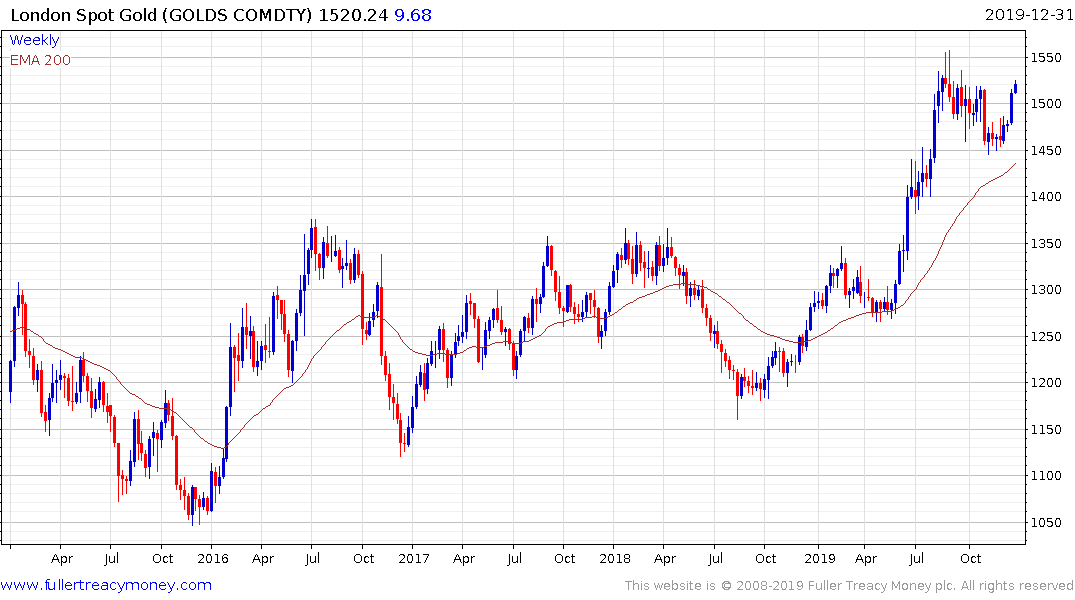 Gold rallied this week to break the sequence of lower rally highs from its peak in September. While there is potential for some near-term consolidation, it is looking increasingly likely we are in the latter stages of the first step above the base phase of the gold recovery.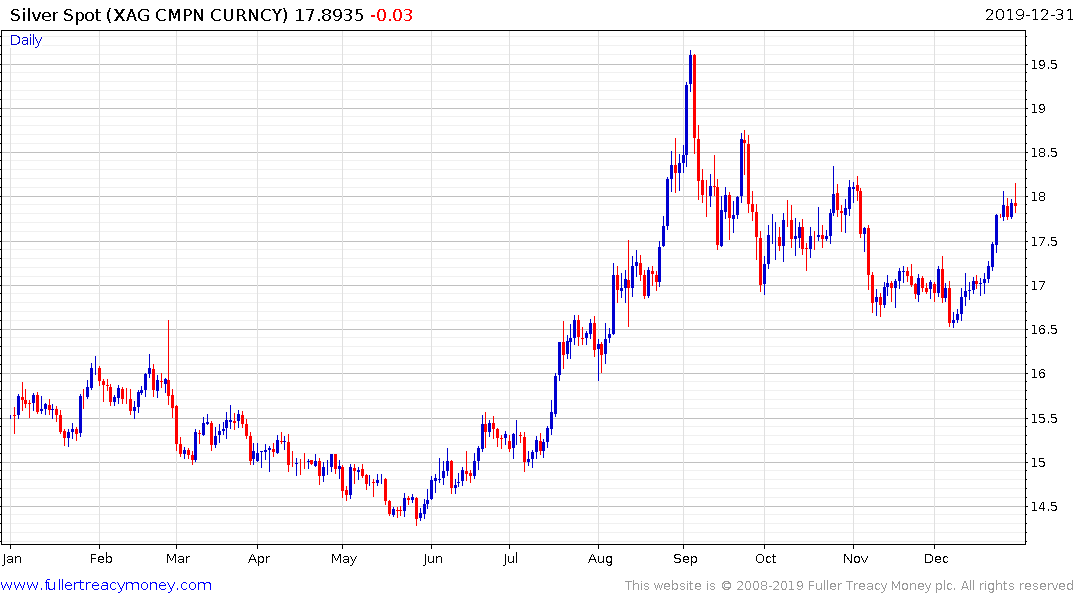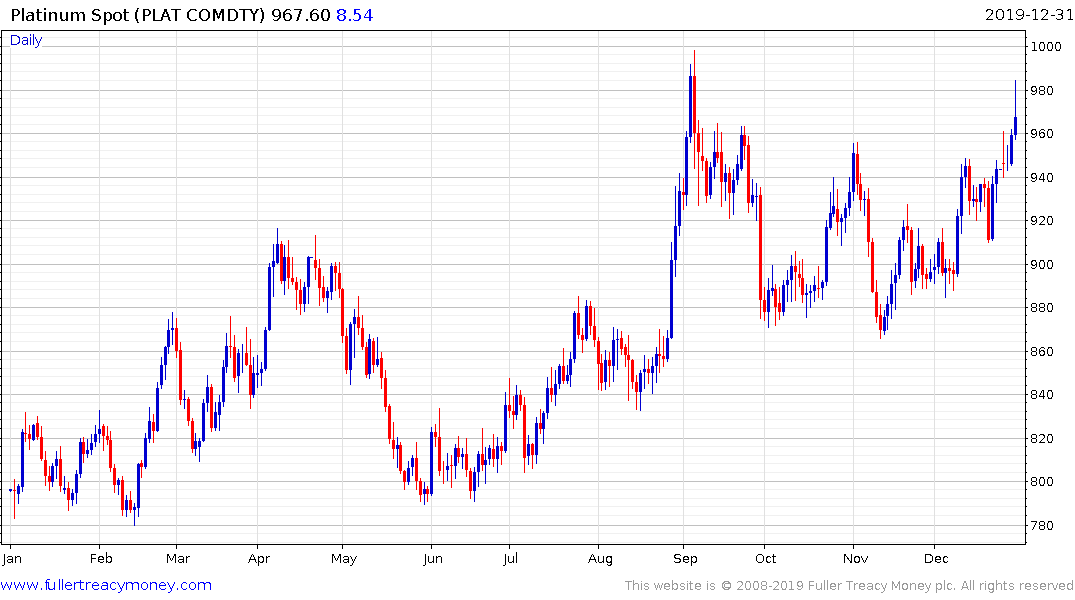 Both platinum and silver failed to hold their intraday highs today, suggesting some consolidation of recent gains may be getting under way.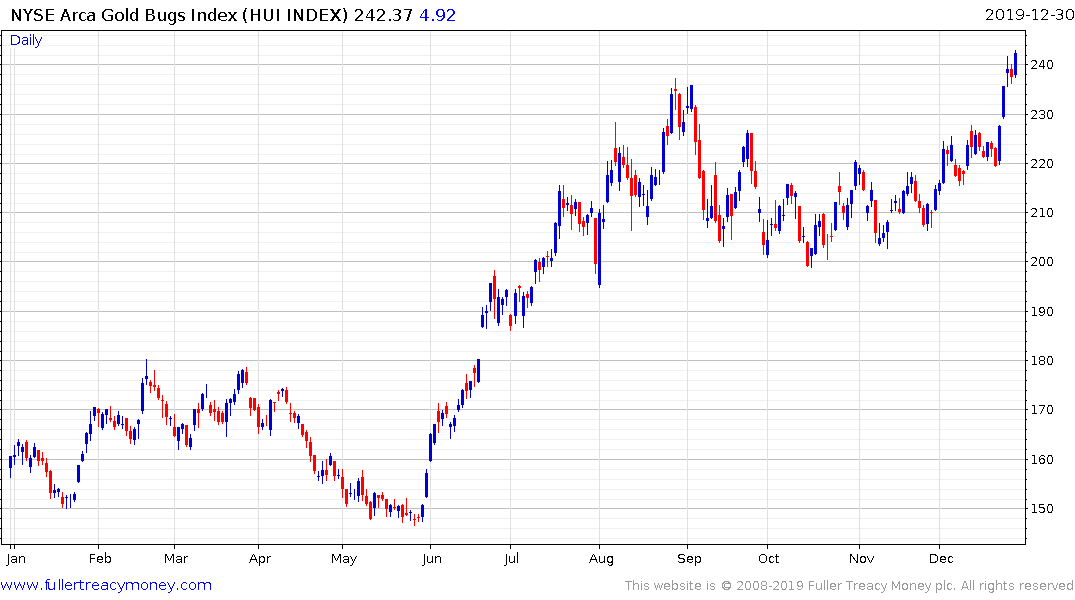 Unhedged gold miners continue to outperform and potentially represent a lead indicator for the wider GDX ETF.
Back to top