Hollywood, Apple Said to Mull Rental Plan, Defying Theaters
This article by Anousha Sakoui for Bloomberg may be of interest to subscribers. Here is a section:
Movie studios are considering whether to ignore the objections of cinema chains and forge ahead with a plan to offer digital rentals of films mere weeks after they appear in theaters, according to people familiar with the matter.

Some of the biggest proponents, including Warner Bros. and Universal Pictures, are pressing on in talks with Apple Inc. and Comcast Corp. on ways to push ahead with the project even without theater chains, the people said. After months of negotiations, the two sides have been unable to arrive at a mutually beneficial way to create a $30 to $50 premium movie-download product.

The leading Hollywood studios, except for Walt Disney Co., are eager to introduce a new product to make up for declining sales of DVDs and other home entertainment in the age of Netflix. They have discussed sharing a split of the revenue from premium video on demand, or PVOD, with the cinema chains if they give their blessing to the concept. But the exhibitors have sought a long-term commitment of as much as 10 years for that revenue split, which the studios have rejected, the people said.
Movie theatres are in real danger of being disrupted in the much the same way as big box retail because many people would prefer to watch movies at home, studios would have to wait less time to monetise the movie and it would combat piracy. It seems to be only a matter of time before streaming replaces movie theatres in their current format.

News this week that one of Netflix's founders is attempting to start a subscription based movie theatre experience is an innovation that could forestall the decline of the sector. Meanwhile iPic Entertainment's luxury theatre offerings with waiter service and fully reclining seats is another alternative offering a select experience in smaller theatres. Superleague.com is also a fresh innovation which allows large numbers of people to play games like League of Legends and Minecraft in movie theatres.

The reality is many theatres make more money from the food they sell than the movies so the answer to their troubles has to be in how to get more people in seats. It's a big question whether established movie theatre companies have the wherewithal to change enough to ensure survival.


AMC Entertainment is accelerating lower and a clear upward dynamic will be required to signal a return to demand dominance.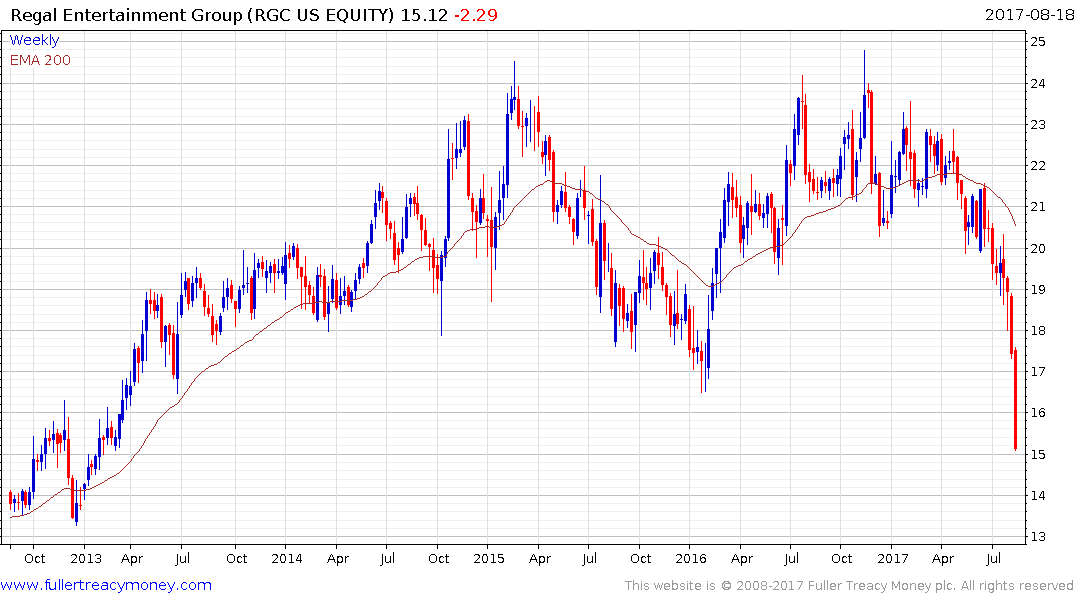 Regal Entertainment is also now accelerating lower.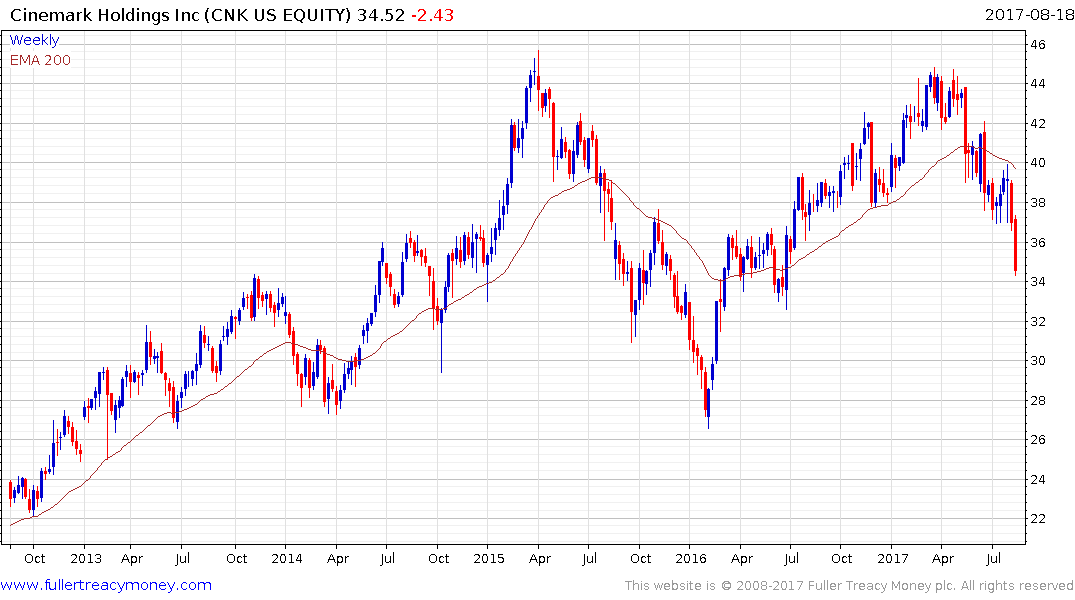 Cinemark encountered resistance in the region of its previous peak in March and continues to extend its decline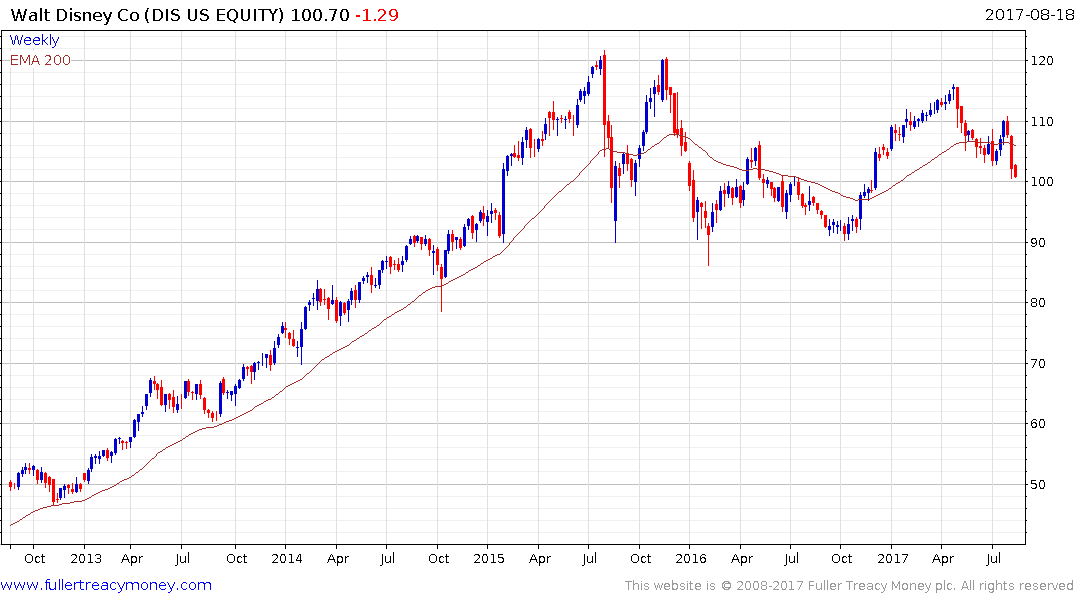 Disney hit a medium-term peak near $120 in 2015 and has been largely rangebound since. It is now testing the $100 area and clear move back above the trend mean will be required to check potential for a further test of underlying trading.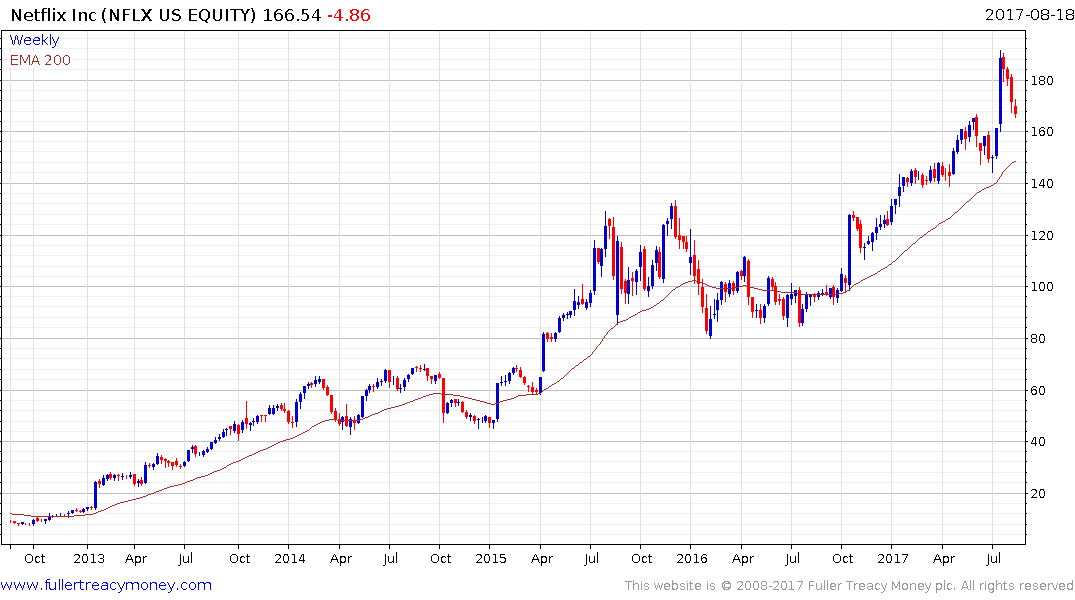 Netflix surged higher in July on strong subscriber growth numbers and is now unwinding its overbought condition relative to the trend mean.
Back to top