Hacktivists Are Piercing Russia's Propaganda Bubble
This article from Bloomberg may be of interest to subscribers. Here is a section:
Moscow users of Google Maps were greeted earlier this week with something they rarely see: photos of horrific scenes from Ukraine, including bombed out homes and injured civilians, and of captured Russian soldiers. The images showed up in the "latest photos" tab of landmarks on the app until Google blocked new photos from its maps of the region this week.

While a blockbuster cyber-attack from Russia has so far failed to materialize, hacktivists have waged dozens of digital skirmishes. The Ukrainian government has created a volunteer "IT Army," attracting hundreds of thousands of people who have knocked major Russian websites offline and helped distribute an air raid siren app. Never before has a government crowdsourced hacktivists in this way, and in a country already teeming with expertise; Ukraine is one of the world's biggest markets for remote software engineers, with an estimated 200,000 tech employees.
Foreign citizens willing to sign up to the cause of freedom from oppression or the cause of standing up for their common values is as old as war itself. Legions of people all over Europe signed up to fight in the Spanish civil war, on both sides. ISIS successfully recruited adherents through YouTube videos.
In the digital age, the ability of individuals to harry countries is amplified by the skill sets of IT workers. Only two weeks ago there was the story of the IT professional who was waging war on the North Korea internet single-handedly. His efforts were in retribution for them hacking him and the FBI doing nothing to held.
Today, we have the Ukrainian government asking the hacking community for help. Last week, the Anonymous group came back on line in support of Ukraine and is reportedly behind the Google Maps hack. This is a small taste of what is possible if a larger conflict were to breakout.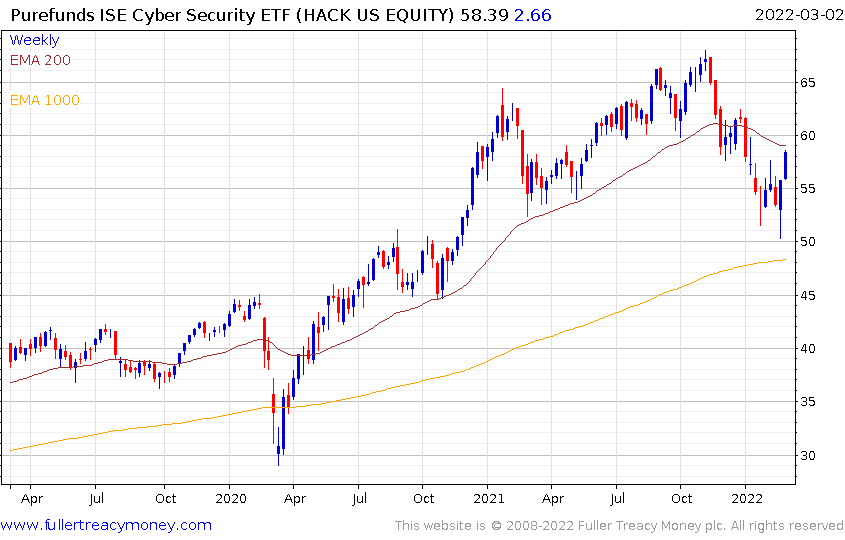 The Cyber Security ETF is currently ranging between the 1000-day and 200-day MAs. A break above the latter will be required to signal a return to demand dominance.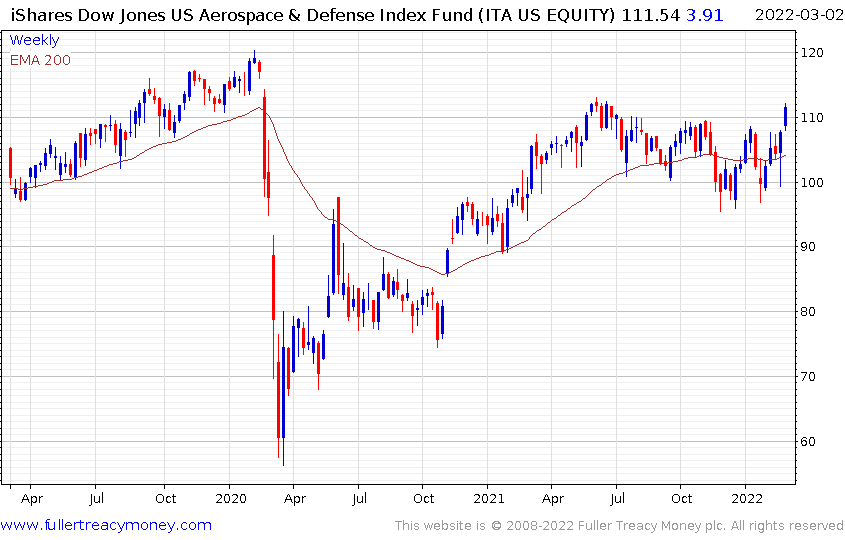 The iShares US Aerospace & Defense ETF has broken the short-term sequence of lower rally highs as it firms from the region of the trend mean.
Back to top