Hacked vs. Hackers: Game On
This article by Nicole Perlroth for the New York Times may be of interest to subscribers. Here is a section:
While much progress is being made, security experts bemoan that there is still little to prevent hackers from breaking in in the first place.

In May, the F.B.I. led a crackdown on digital crime that resulted in 90 arrests, and Robert Anderson, one of the F.B.I.'s top officers on such cases, said the agency planned to take a more aggressive stance. "There is a philosophy change. If you are going to attack Americans, we are going to hold you accountable," he said at a cybersecurity meeting in Washington.

Still, arrests of hackers are few and far between.

"If you look at an attacker's expected benefit and expected risk, the equation is pretty good for them," said Howard Shrobe, a computer scientist at the Massachusetts Institute of Technology. "Nothing is going to change until we can get their expected net gain close to zero or — God willing — in the negative."

Until last year, Dr. Shrobe was a manager at the Defense Advanced Research Projects Agency, known as Darpa, overseeing the agency's Clean Slate program, a multiproject "Do Over" for the computer security industry. The program included two separate but related projects. Their premise was to reconsider computing from the ground up and design new computer systems that are much harder to break into and that recover quickly when they have been breached.

?" 'Patch and pray' is not a strategic answer," Dr. Shrobe said. "If that's all you do, you're going to drown."
The first experience many of the world's emerging consumers will have of banking will be online. Many emerging markets do not have the retail branch network we are accustomed to in the West and the cost of building one versus installing an online system means they may never exist. As banking, retail, wholesale, entertainment, groceries and other parts of our lives move further online and become increasingly mobile, the need to protect our personal data is a growing imperative.

At last week's talk to potential investors in the FP WM Global Corporate Autonomies Fund, it was a pleasure to meet up again with David Brown. He took me through a brief summary of the presentation he will be giving at the Markets Now event on the 23rd. Quite simply if I were in London on the 23rd I wouldn't miss this talk. It will offer a unique perspective on the evolution of the Third Industrial Revolution, where we are in the cycle, and what to expect next. Here is a link to his bio.

One of the slides in particular got me to thinking. It contains a quote from Cisco Systems' CEO "there are two types of companies: those who have been hacked, and those who don't yet know they have been hacked." Cisco's website makes some bold claims about where it sees the evolution of the Internet of Everything and its place in the new order but does not mention its network security credentials.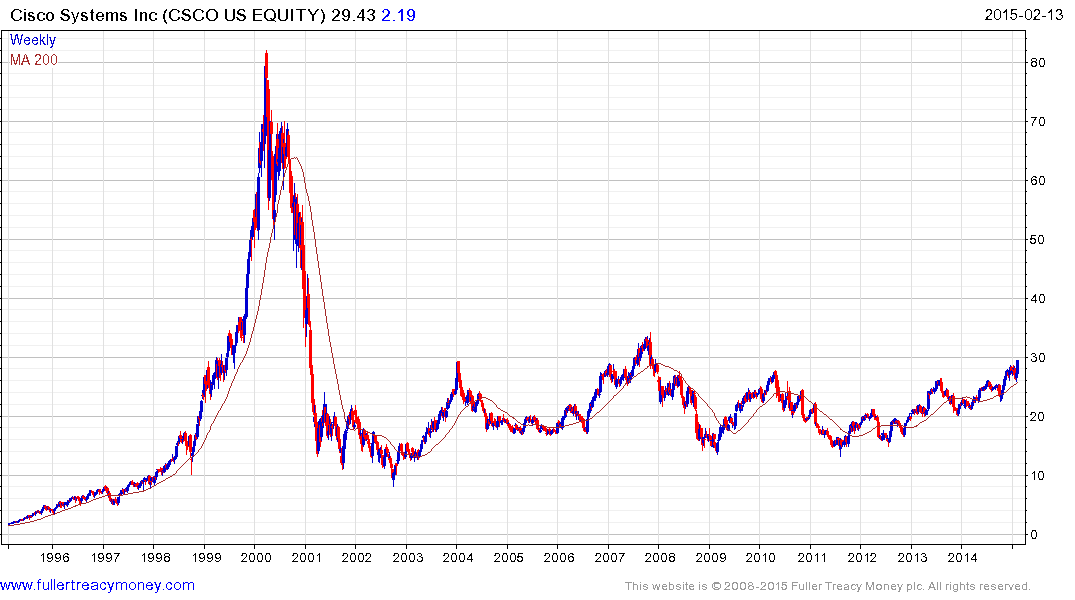 The share has been largely rangebound since crashing in 2000. It is now testing the psychological $30 area and while some consolidation in this area is likely, a sustained move below the 200-day MA would be required to question medium-term scope for a successful upward break.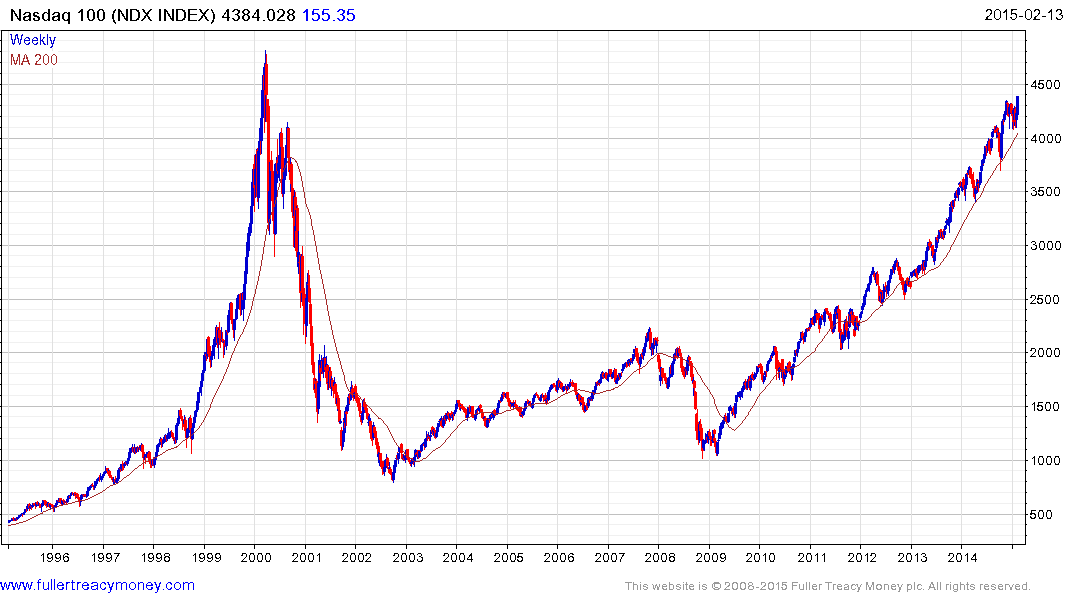 Over the last decade the Nasdaq has proved to be a rich seam delivering a number of medium-term theme-based uptrends; not least cloud computing and biotechnology. I clicked through long-term charts of the Nasdaq-100's constituents this morning looking for "sleeper" bases. Cisco is one.


Broadcom is also rallying back to test the upper side of a 15-year base.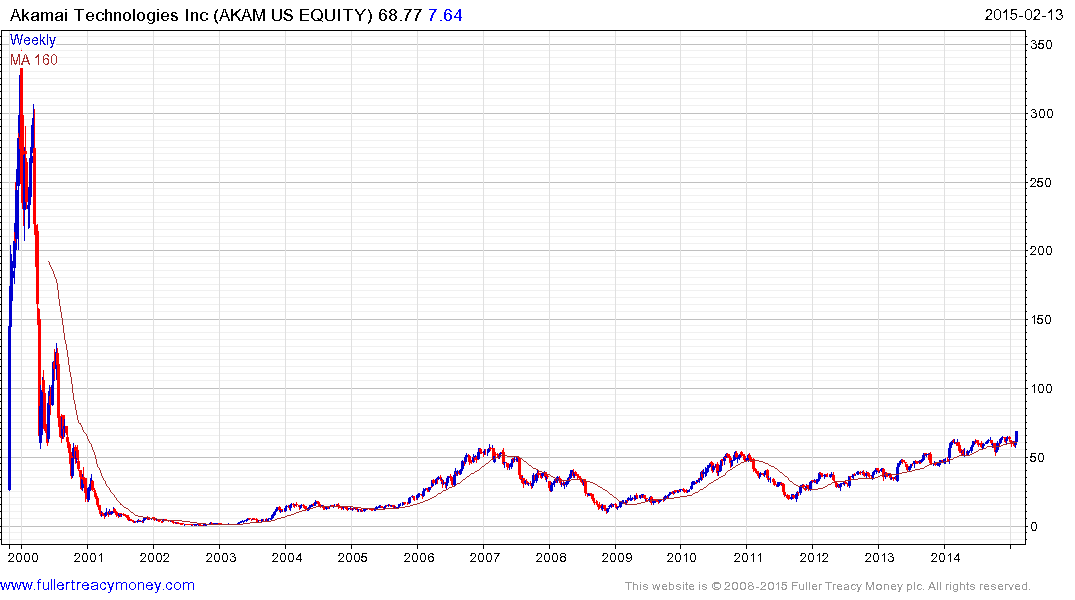 In the infrastructure software sector Akamai Technologies has held a progression of higher reaction lows since 2011 and hit a new 15-year high last week.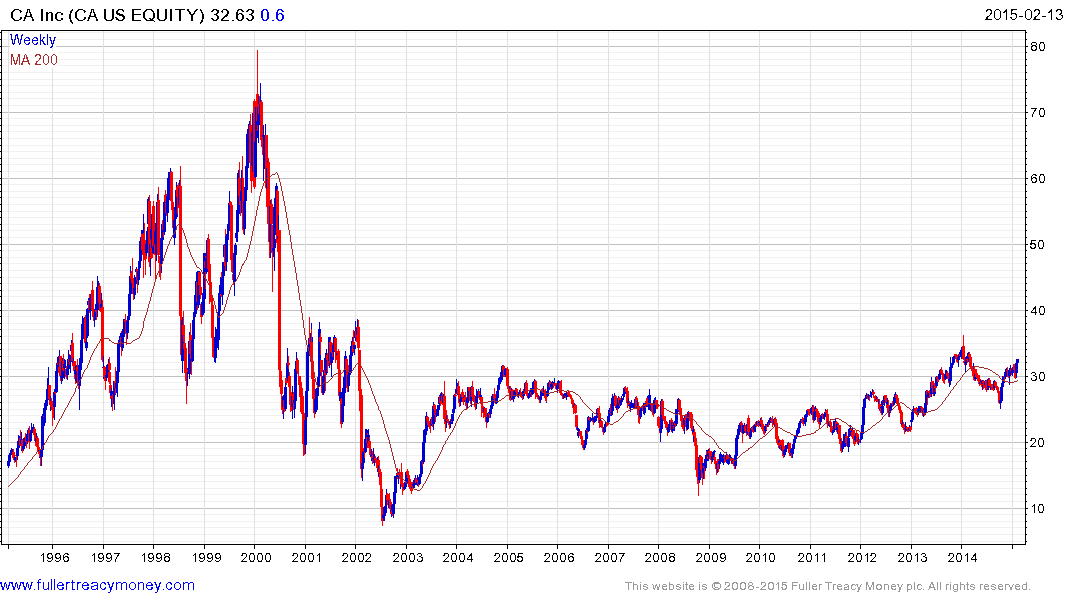 CA Inc trended lower for much of 2014 but found support from October and found support once more in the region of the 200-day MA from December.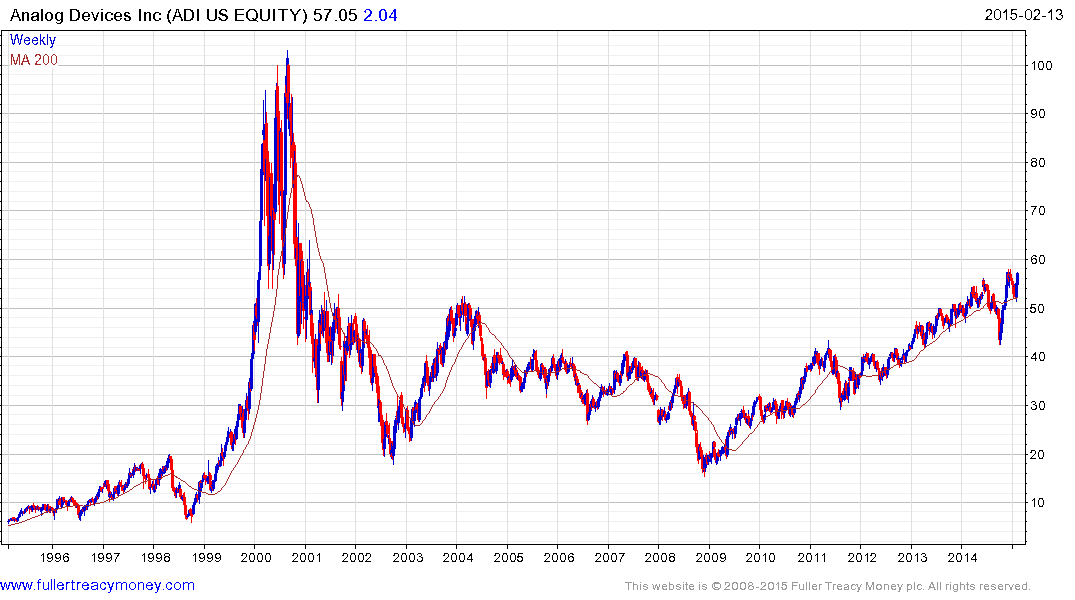 Analog Devices has outperformed CA Inc but has a broadly similar pattern.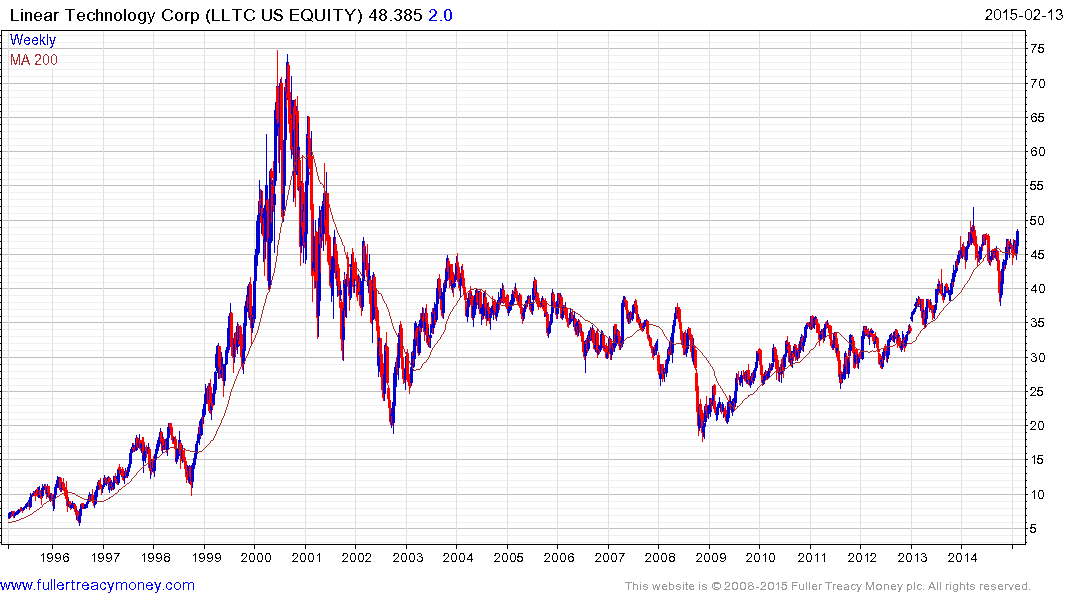 Linear Technology has a similar pattern.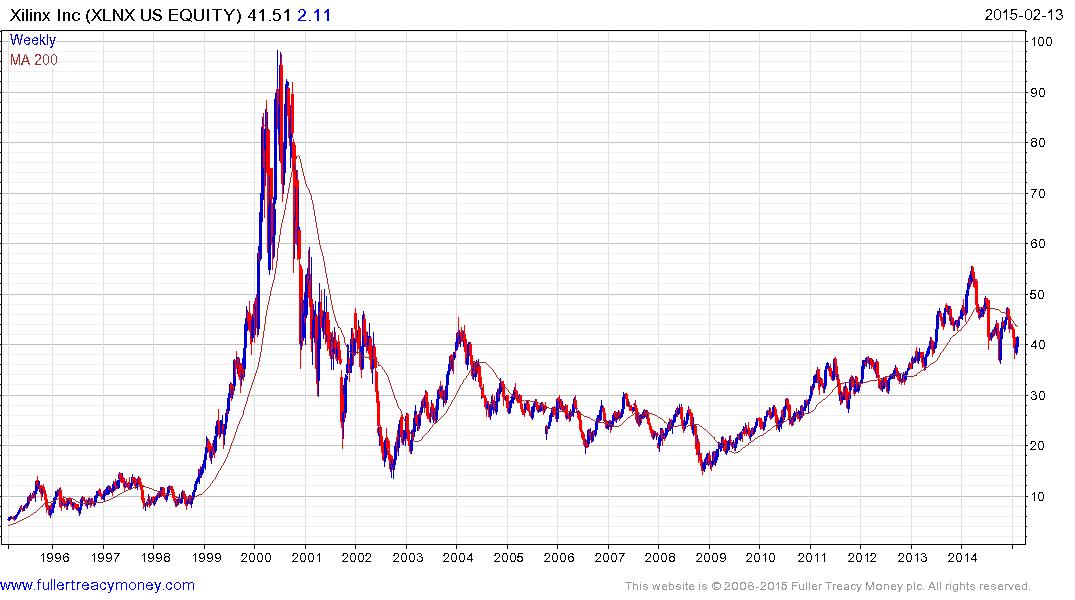 Xilinx is firming from the $40 area which represented an area of resistance between 2002 and 2013.

Generally speaking there is no guarantee that these long ranges are now in the process of being resolved to the upside but clear evidence of resistance at the upper side of these congestion areas would be required to question medium-term potential for additional upside.
Back to top