Google bets anew on smartphones, pays $1.1 billion for HTC's Pixel division
This article by Jess Macy Yu and Paresh Dave for Reuters may be of interest to subscribers. Here is a section:
The all-cash deal will see Google gain 2,000 HTC employees, roughly equivalent to one fifth of the Taiwanese firm's total workforce. It will also acquire a non-exclusive license for HTC's intellectual property and the two firms agreed to look at other areas of collaboration in the future.

While Google is not acquiring any manufacturing assets, the transaction underscores a ramping up of its ambitions for Android smartphones at a time when consumer and media attention is largely focused on rival Apple Inc (AAPL.O).
"Google has found it necessary to have its own hardware team to help bring innovations to Android devices, making them competitive versus the iPhone series," said Mia Huang, analyst at research firm TrendForce.

The move is part of a broader and still nascent push into hardware that saw Google hire Rick Osterloh, a former Motorola executive, to run its hardware division last year. It also comes ahead of new product launches on Oct. 4 that are expected to include two Pixel phones and a Chromebook.
I keep a close eye on what my children and their peers use because it is an expedient way of identifying what is going on in the wider world outside of the sanitised environment of the market. At their acting class, last week one of the kids was showing off his new Pixel phone and their school has pretty much ditched iPads in favour of Chromebooks. The reason for that decision was apparently because high schools use laptops and they need to have some familiarity with them before moving up.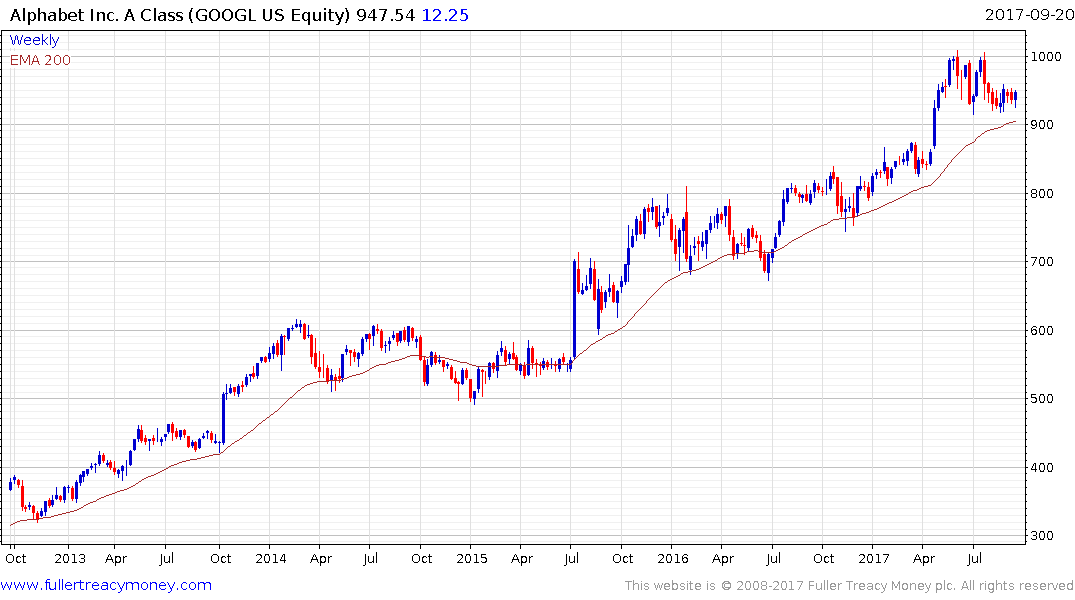 Alphabet/Google already has the most widely used mobile device operating system so it makes sense that it would have an interest in the hardware as well. That will pit it against both Apple and Samsung as well as Microsoft. The share remains in a relatively consistent uptrend.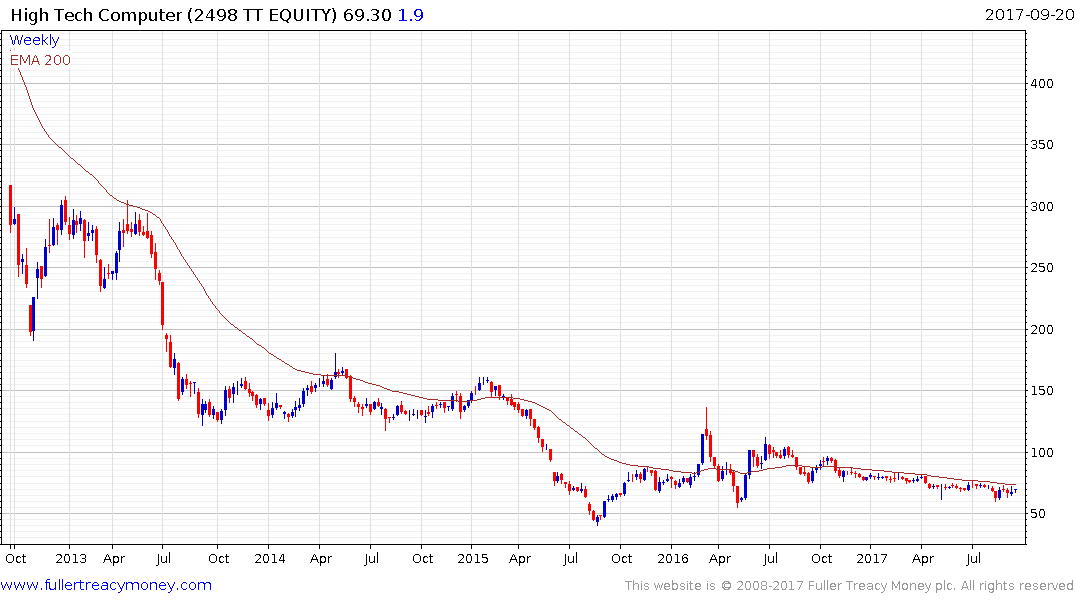 By handing over a 2000-person strong hardware team, HTC is increasingly becoming a pureplay on virtual reality hardware since it will now be almost wholly focused on delivering the Vive system in partnership with Steam. Trading was halted today in the share but has been in a base formation for nearly two years and is in need of a catalyst to drive prices higher.
Back to top