Goldman Says Asia's Trade Slump Is Showing Signs of Bottoming
This article by Enda Curran for Bloomberg may be of interest to subscribers. Here it is in full:
There are signs that Asia's export slump is bottoming out. That's according to Goldman Sachs Group Inc. economists who highlight a substantial pick up in exports to the U.S. from Asian economies including Taiwan, Vietnam and India that's effectively canceling out the fall in shipments from China.

"Initial shocks from the trade war might be behind us, with Asian exports to China recovering and tech exports catching up with stable non-tech exports," Goldman economists led by Andrew Tilton wrote in a note. "Also, a rebound in the Asian trade cycle seems overdue, with Asian exports undershooting trade partners' activity growth and the current downturn being sustained longer than past cycles."

Chinese and American trade negotiators meet again in Shanghai this week for the first round of meetings between both sides since talks broke down in May.

Even if trade tensions escalate, an expected wave of supportive measures from governments and central banks to underpin economic growth will aid the trade recovery, Goldman argues. The Federal Reserve is tipped to cut interest rates this week for the first time in a decade.

For sure, additional U.S. tariffs on Chinese goods would have an impact. "Our view is, however, that the escalation would likely be temporary ahead of an eventual trade agreement, and potential damages could be mitigated by ongoing shifts in supply chains,"

Goldman's economists wrote. "In the event of further escalation in the trade tensions beyond our baseline, Asian trade may undergo another downturn which, if sustained for the coming year, could make the current downcycle the longest since the 1990s."


Is global growth troughing? That is one of the biggest questions for investors right now. There is no doubt that slowdown risks have been a major factor in investor sentiment over the last year and that has prompted a massive response from both governments and central banks and is a good part of the reason nearly $14 trillion in bonds are trading with negative yields.
If recessions can in fact be avoided that holds out the prospect of reacceleration of the liquidity-fueled bull market. One of the greatest challenges in monitoring the performance of markets outside of the USA, Europe and Japan is the indices tends to be market cap weighted and heavily influenced by China.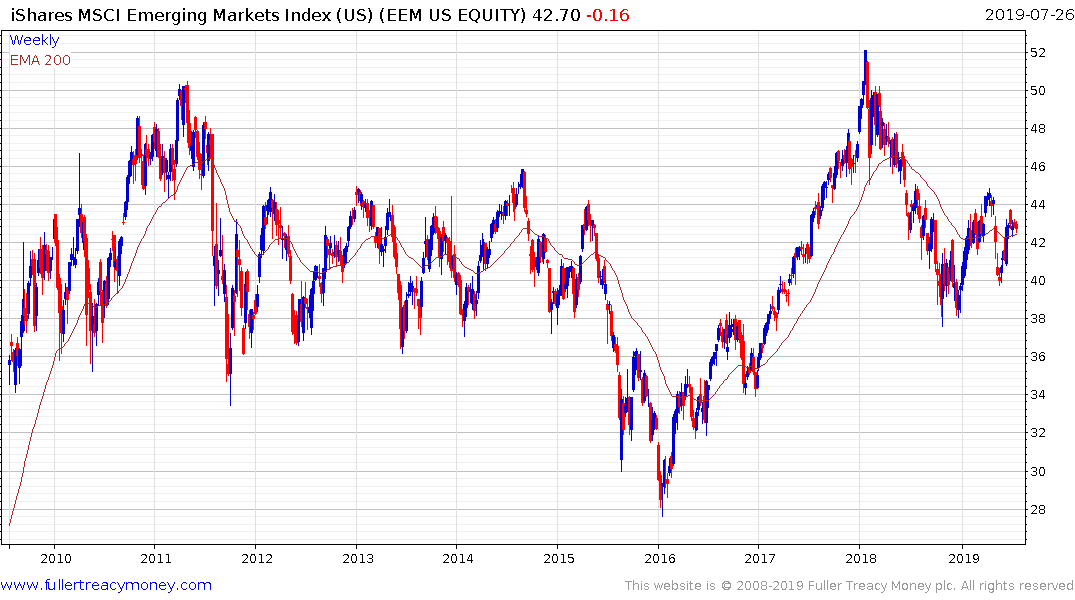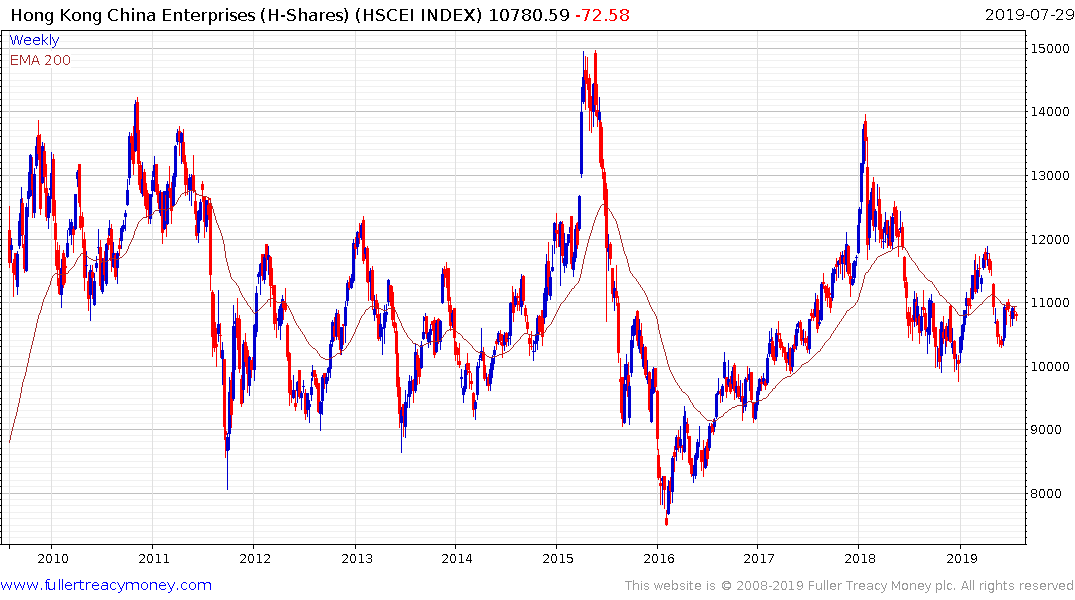 The MSCI Emerging Markets Index is in most respects an Index of China and the nations which depend on it are doing. The ETF bears a striking resemblance to the China Enterprises (H-shares) Index. It needs to hold the region of the trend mean if potential for continued higher to latera ranging is to be given the benefit of the doubt.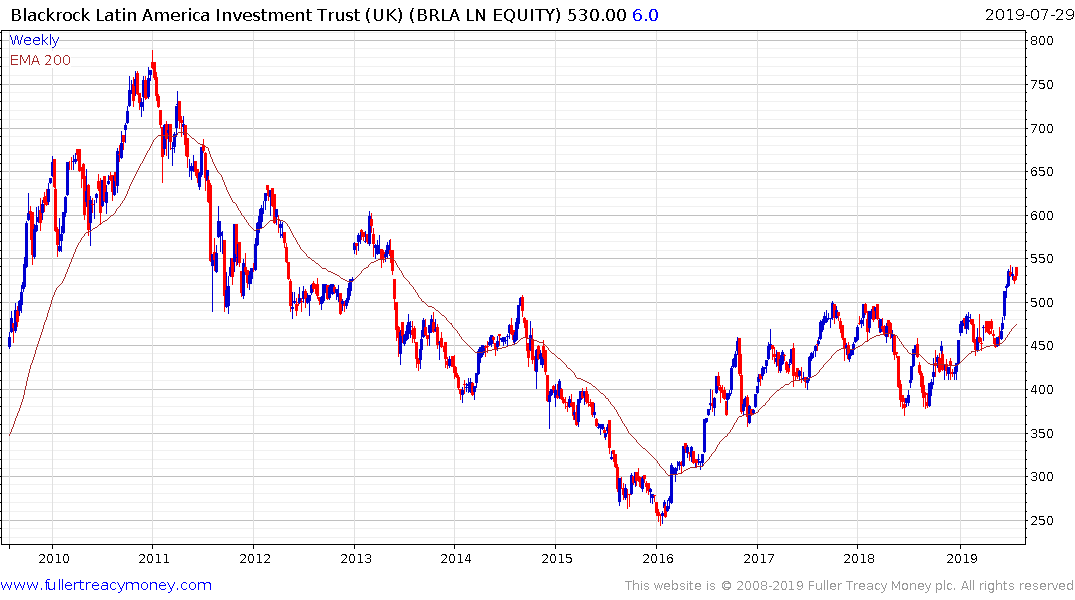 The Blackrock Latin American Investment Trust completed a six-year base formation in June and is currently consolidating above the psychological 500p level. It is currently trading at an 8.68% discount to NAV.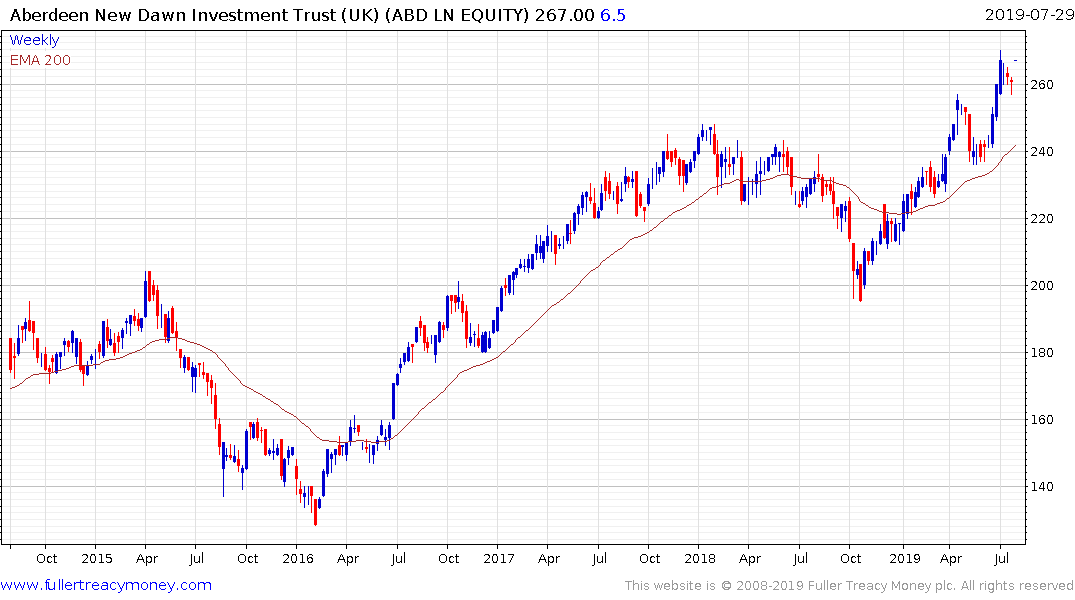 The Aberdeen New Dawn Investment Trust trades at a discount to NAV of 9.61% and continues to extend its breakout to new highs.
Back to top