Goldman's Biggest Office Beyond New York Attests to India's Rise
This article from Bloomberg may be of interest. Here is a section:
"Over the last 30 years, while China specialized in becoming the world's factory, India specialized in becoming the world's back office," said Duvvuri Subbarao, a former governor of the Reserve Bank of India. "Over the years, India moved up the value chain," he said. But it can't "take its comparative advantage for granted."

India has roughly 1,600 of the centers, more than 40% of the number worldwide, according to Nasscom, a trade body for the country's technology industry. Dotted around Bengaluru, formerly known as Bangalore, are the offices of luxury retailer Saks Fifth Avenue Inc., aircraft-engine maker Rolls-Royce Holdings Plc, US bank Wells Fargo & Co. and Japanese e-commerce firm Rakuten Group Inc. Some 66 global companies set up their first GCC in India in 2022. Even the lingerie brand Victoria's Secret & Co. has a Bengaluru GCC.

The Siemens Healthineers GCC in Bengaluru. India has roughly 1,600 of GCCs, more than 40% of the number worldwide, according to Nasscom.

The offices generated about $46 billion in combined revenue in the fiscal year ended March, more than the output of Nepal.

The qualities that turned India into the world's back office starting decades ago are propelling GCCs' metamorphosis: a vast pool of young people, an education system that emphasizes science and technology, and the lower staffing costs that made India attractive in the first place. Add an unforeseen catalyst: the pandemic, which convinced decision-makers jobs can be done anywhere, including far-flung shores.

"India's story starts with its demographics and its talent," said Gunjan Samtani, the country head of Goldman Sachs Services Pvt, the entity that operates the bank's GCCs in India. A software engineer by trade, he still codes from time to time. "What brought us here even two decades back was our ability to get access to technology and talent."
The Chindia theme between 2003 and 2010 was aimed at highlighting the fact that two countries account for more than a third of the global population and are among its strongest growth engines.
China had what India did not and vice versa. China excelled at infrastructure development, commodity refining and manufacturing. India had a large domestic consumer market and highly developed value-added services businesses to cater to demand for offshoring.
My argument was that China was following a grid system development model similar to the USA. India was following a private capital model similar to the UK during the industrial revolution. The existence of central railways stations in the USA versus the absence of a single central terminal in London are graphic examples of that differing development model.
Over the last twenty years China has developed a burgeoning domestic demand consumer market. They originally encouraged tech companies to generate the same kind of buzz around social media and consumerism as occurred in the USA. Today, they are not so happy with the results and actively attempting to control the sector's evolution.
Simultaneously, the focus on attention has moved to high end manufacturing, particularly of chips and EVs versus the low end labour intensive variety that drove the initial economic miracle.
Meanwhile, India has gradually built infrastructure and sanitation, provided everyone with a bank account and is having more success with manufacturing.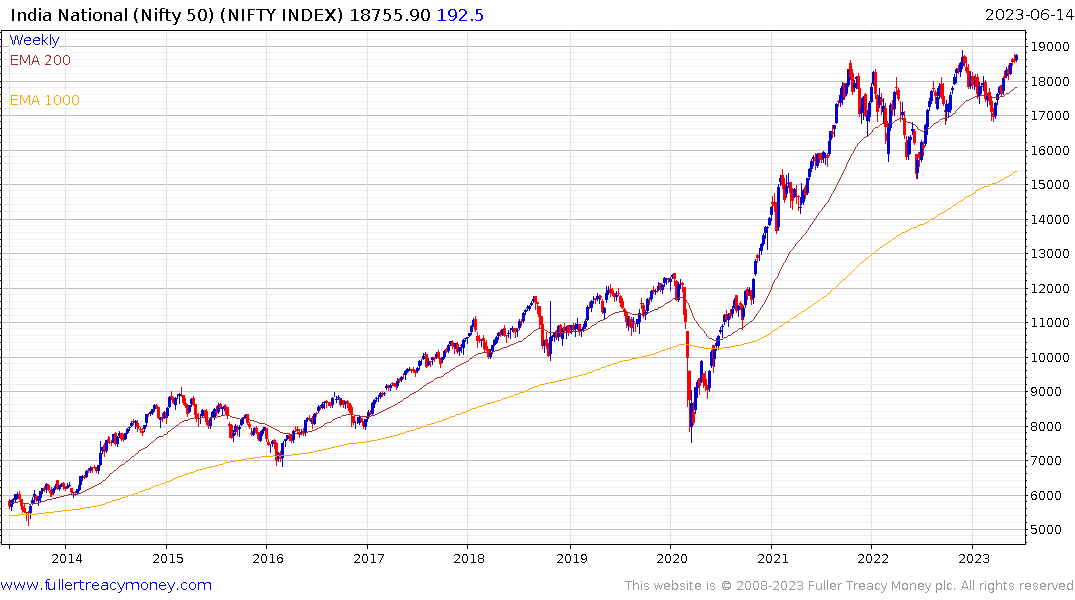 India's low wages and large young population put it in a more favourable position to attract additional flows over the coming decade. For investors, India is a friendlier destination for capital. The Nifty Index continues to appreciate and hit a new closing high today.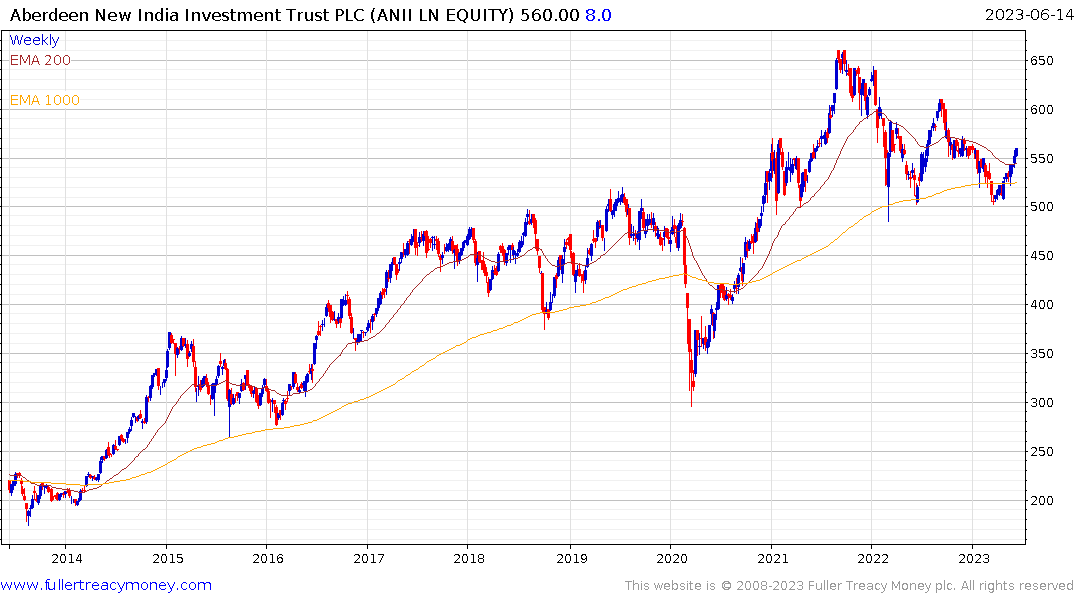 The Abrdn New India Investment Trust is trading at a discount to NAV of 17.79% which wide by historical standards. It is rebounding from the region of the trend mean.
Back to top