Gold Slides as Hotter US Inflation Keeps Hawkish Fed on Track
This article from Bloomberg may be of interest to subscribers. Here is a section:
"A shockingly hot inflation report pulled the rug for gold as investors are now starting to price in more Fed tightening. A 75-basis-point rate increase is a done deal for September and it is starting to look like we might not see a downshift in November," said Ed Moya, senior market analyst at Oanda.

Gold fell 1.1% to $1,706.18 an ounce at 9:42 a.m. in New York, after slumping as much as 1.6% earlier. The Bloomberg Dollar Spot Index rose 0.7% after falling 0.4% on Monday. Spot silver, platinum and palladium also fell.
We have had negative real interest rates for a decade. In that time gold has gone through significant periods of strength and weakness. Intuitively, negative real interest rates should support gold because inflation is outpacing the return from cash for a prolonged period. However, that is not a sufficient condition to support a bull market.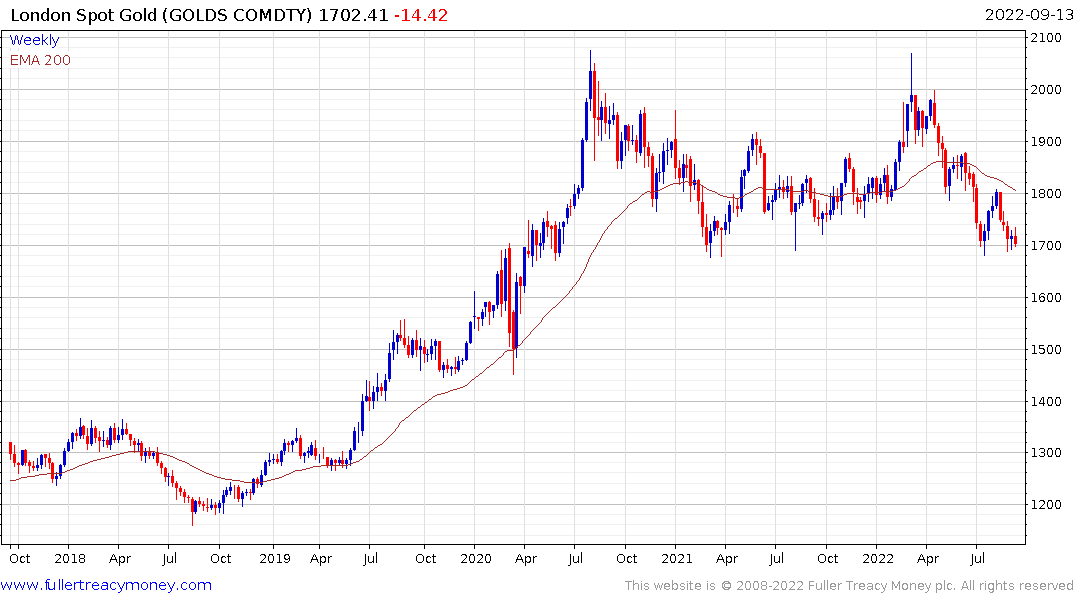 The times when gold does best are when it is appreciating versus every currency. At present the Dollar is trending higher and surged today following the higher than expected inflation reading. The bond market appears to still be of the opinion the Fed will persist in aggressively raising rates. That's weighing on gold. The price is back testing the $1700 area and a clear upward dynamic will be required to check potential for some additional weakness.
The cost of servicing debt at significantly higher yields has been clouded by record tax intake at both the federal and state level. However, that appears to now be peaking. I was very wary of the Dollar at the beginning of this year because of the debt overhang. The issue has not gone away. Those bills will come due and potentially at a very inconvenient time, since tax returns decline during recessions. That could easily see the Dollar reverse its gains but there is no sign of it yet.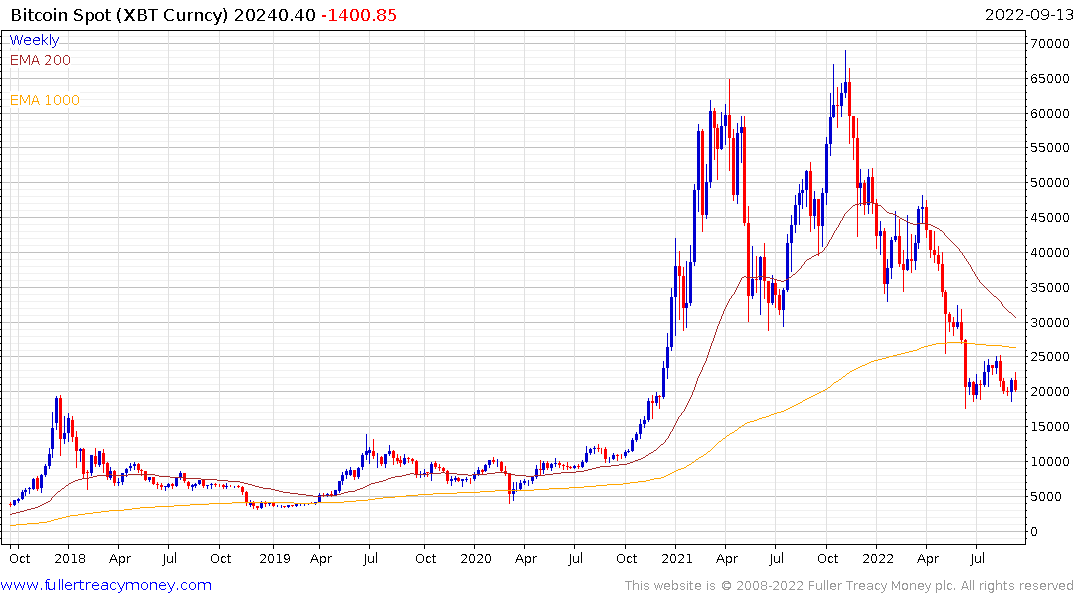 Bitcoin is also struggling under the burden of tighter liquidity and a strong Dollar. It pulled back aggressively today to retest the $20,000 level.
Back to top