Gold Rush how the safe haven asset shines by enhancing portfolio returns and reducing drawdown risks
Thanks to a subscriber for this report from Citigroup which may be of interest. Here is a section:
Here is link to the full report and here is a section from it:
With policy uncertainty creeping higher amid murky global growth and 2020 US election outcome prospects, it is an opportune time to assess the important role gold can play in an equity and bond portfolio. Indeed, global stock market benchmarks have rebounded to record levels in recent weeks, as trade and US growth sentiment improved. And despite Comex fund gold holdings hitting a record in 3Q'19, the ratio of global gold financial AUM (ex-OTC) versus world equity market capitalization remains light at ~0.215%, only about half the cyclical peak of ~0.40%. Despite optimism about a US-China phase 1 "skinny deal", Citi economists remain unconvinced that trade tensions will fully resolve before 2021 and indeed the trade spat could escalate again. Meanwhile, the stabilization of the US Manufacturing ISM after flashing a recessionary signal in October does not alter our US rates strategy team view of 2-3 Fed cuts in 2020 and lower for longer yields.
Gold is a safe haven asset during periods of market volatility and macro risk aversion, evident in historical gold market outperformance during periods of heightened geopolitical tensions and steep asset market drawdowns. Late 4Q 2018 is a recent and poignant example, when the S&P 500 total return index declined ~13-15% on the back of a hawkish December FOMC, escalating US-China trade tensions, and fears of a severe global growth slowdown. While most commodities sub-indices (agriculture, energy, industrial metals) also ended the 4Q risk unwind period deeply in the red or at best unchanged, gold gained ~8%.
Christine Lagarde's first speech was today and she made a point to saying the EU's governments need to step up and make a contribution to providing stimulus. The USA, UK, Australia, Canada's provinces and China are already engaged in fiscal stimulus. The USA is also now inflating the size of its balance sheet and the total asset figure for the world's major central banks is up by a commensurate amount suggesting the other central banks have not yet embraced the need for major additional asset builds.

Synchronised global monetary and fiscal stimulus is a very real possibility if global economic growth does not recovery soon. The pricing in of that possibility is one of the primary reasons stock markets have been firm and are, so far, holding breakouts.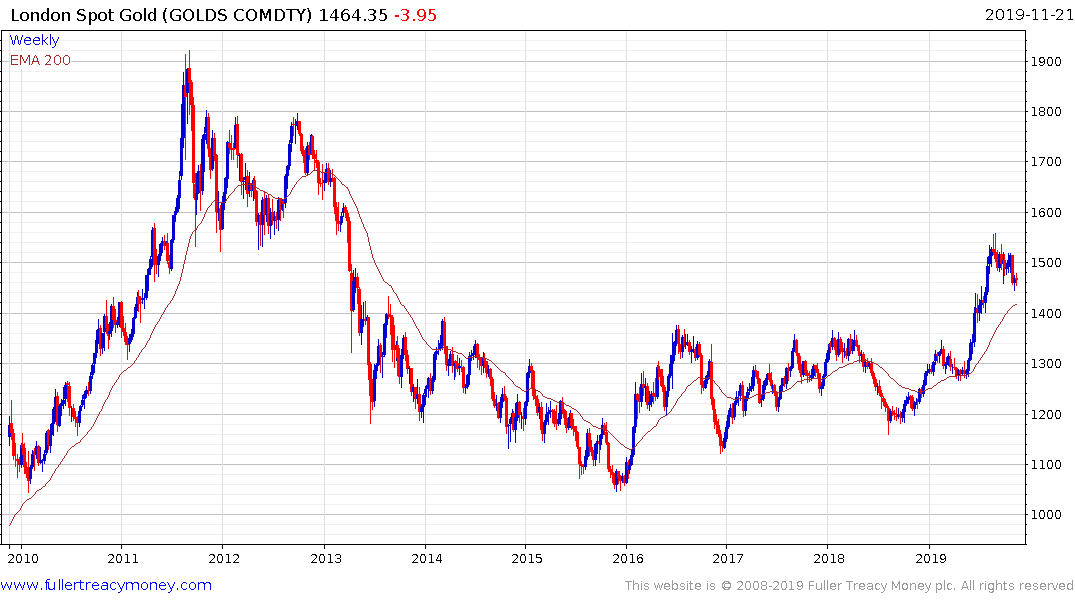 It's also why gold has completed its base formation. The debasement of fiat currency resulting from massive stimulus measures suggests a hedge in the form of real asset which cannot be lent into existence makes sense.
Back to top